Abu Dhabi GP 2016
NOVEMBER 27, 2016
Sunday Team Quotes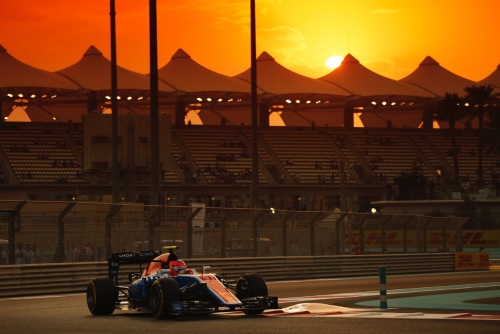 © Active Pictures
Mercedes GP
Lewis Hamilton (1st):
Nico Rosberg (2nd):
Paddy Lowe:
Toto Wolff, Technical Director:
Ferrari
Sebastian Vettel (3rd): "I think it was an important race for us today: in the final laps, I would have liked to gain two more positions, because the speed was there; but it was difficult to make the move because the car in front also benefited from a tow. Nevertheless as a team we deserve this podium, and I hope it gives some momentum to all of us. It has been a tough year, with lots of up and downs, so I am really happy with this result. About our global performance in 2016, I think we don't need to find any story or invent something. I think we expected more; but after the first half, where we could have scored more points, I think we showed real strength by coming back. In the last couple of Grand Prix we had very good race pace, always enough to match Red Bull, and probably even a bit quicker: but that was not the case on Saturdays, and that made Sundays more difficult. Overall we showed the stamina that the team has. The spirit is unbroken, and I know that we will work hard, because Ferrari deserves to come back. All in all we learned a lot, we made a lot of progress. Today is Nico's day, well done to him. I think you don't win the Championship by luck, and it is a sign of respect to give him this. He is a deserving champion."
Kimi Raikkonen (6th): "It was not an easy race for me, the car was pretty ok, but I suffered with the tires, to make them last. I was constantly trying to keep the fronts alive. After the start I was in a good position, but I struggled with the first set of Softs: at the end of the stint they kind of came back and improved, but we kept losing places. When Seb came close to me, I knew that he was on a different strategy and I let him go. Obviously it has been quite a tricky year, far from what we want as a team, but lately we have been working well, doing the right things. Now we need to keep working this way and hopefully next year, with the new car, we'll be where we want to be."
Maurizio Arrivabene, Team Principal: "This podium finish is a boost to the motivation of the whole team, for the people back home, who have been working so hard since this summer, and for the ones at the track, who never gave up. It's clear that we did not reach the targets we had set for ourselves, yet this last race shows that something is moving in the right direction."
Williams-Mercedes
Felipe Massa (9th): "Well, I'm really proud to have been fighting up to the last lap of the race in the same way I fought in the first lap of my career! I want to say thank you to everyone - everyone who has been with me all the way, racing together. Thank you to the fans and to Williams, who I will keep supporting in the future! Thank you to everyone who has been part of everything I have been through. I have finished my career with my head up, the same way I started my career. I also took a little extra care with the car seeing as it will now be my car - thank you again to Williams for that gift!"
Valtteri Bottas (DNF, Suspension): "It is disappointing to finish the race after only a few laps. When I was running P9, I felt something suddenly break in the rear of the car with the suspension and the car was pretty undriveable after that. We tried to fix it in the garage, but it was not possible so we had to retire. It is a shame to end the season like this, but it does mean that I'm now very much looking forward to next year."
Rob Smedley, Head of Performance Engineering: "It was a tough race, as we expected it to be. Unfortunately, Valtteri went out with a rear suspension failure so we will look into that. Felipe drove a really good race in the car that he had and it was a fitting end to his career. Fernando Alonso gambled on a different tyre strategy but Felipe was able to hold him off until the end and finished ninth. It's not where we really want to be but it was a good job by all the guys. Thank you to all of the race team for the brilliant job they've all done. We know the car pace isn't quick enough but they've never given up, always strived to get more performance and, between them all, they've done a really good job. And of course, thanks to the two drivers. It's unfortunate what's happened today but Valtteri has had a really strong season. We've got to deliver him a better car and he will keep pushing himself because there's a lot more there that we can do together. I've known Felipe since he was a child; he's one of my best mates. He's not only a great driver with an outstanding career, but a really good human being as well. Then there's his family, who have supported him throughout his career - I don't think he ever does a race without one member of his family - and they deserve some credit for that. I wish him all the best for his life in the future."
Red Bull-Tag Heuer
Max Verstappen (4th): "I am very pleased with my result and how that race went. After being last after turn 1, having to fight my way back and doing it all on a one-stop was the best we could do and I am happy we pulled it off. I knew I was going to come under attack from the two-stop guys as they obviously had more life left in the tyres, I don't think I could have held Seb off at the end. When you still finish in front of guys who did an extra stop you have to be pleased with the result, especially as we also finished so close to P1. It was an unfortunate tap at the start which caused the spin, it was just a racing incident though and these things happen. I think Lewis was trying to back us up, and I probably would have done the same, you have to try these things to win a championship. It is very nice to finish the season fifth in the championship and to have had some really good results along the way. After yesterday I wasn't too happy, so now we finish it on a high. It has been a special season for me this year and I am really excited to get next year underway and hopefully bring more success."
Daniel Ricciardo (5th): "I don't want to be too down as I'm still fifth. I'm just frustrated in how the strategy played out in the end. We had the supersofts at the start and it was still going pretty well and we tried to make a move on Kimi. For sure it was close but we didn't pull it off and that really hurt me. I think we should have just gone long and one-stopped but in hindsight it's always easy to say. I saw Max spin in mirrors in turn 1, so I thought he was out of the race and then he does a one-stop and fights for the podium so he did well. I just feel we hurt with the two-stop strategy as the supersoft was a good tyre today. Hats off to Nico. It must be an amazing feeling to be world champion. They both pushed each other until the end and it's nice to see the title go down to the line like that. Looking at the season overall I'm super happy and very pleased with the year. It's definitely been more highs than lows this year with a lot of podiums, satisfying races and a good chunk of points. I got amongst it when I could so I think it was a good 2016 for sure. I'm not going to get too caught up with thinking about next year, but if we woke up in February for testing and the car's quick then you'll see me fighting for it (the title)."
Christian Horner, Sporting Director: "Congratulations to Nico Rosberg on becoming a very worthy world champion following an exciting race today in Abu Dhabi. It always looked likely that Lewis was going to drive the slowest possible race should he be in the lead, and that's exactly what happened. Unfortunately our race took a bit of a knock from the start, firstly with Max when he spun round at the first turn dropping him to the back of the field. Thereafter his recovery was quite phenomenal using the best of the supersoft tyre to make a one-stop race feasible. He fought right to the end but he didn't have enough left in his tyres to fend off the challenge of Sebastian Vettel who was on the fresher supersoft, however it was a great result to finish P4. Daniel had quite a big lock up into the first turn which gave him a big flat spot during that first stint. Although he managed to undercut Kimi on the second stint, unfortunately he spent most of the afternoon tucked up under someone's rear wing and that gave his tyres quite a hard time and P5 was probably about the maximum. This race brings to a close a really exciting year. It has been a great season for the team, we've worked tremendously hard and finishing second in the Constructors' Championship with two victories has been an incredible achievement. I'd like to take this opportunity to thank the team for their effort and commitment this season; to thank Red Bull and all of our partners who support us so well, and also to thank our engine partner and the hard-working team at Viry."
Force India-Mercedes
Nico Hulkenberg (7th): "It was quite a simple and lonely race actually, mainly racing with my teammate because the top six cars were just out of reach. Turn one was quite interesting because I got hit by Max [Verstappen], which damaged the floor of my car and made things a bit more difficult. Fortunately we had the pace to hold position and bring home the result. It's great to end my time at Force India with a strong result and help the team finish fourth in the championship. Everybody deserves congratulations and big credit for the amazing job this year. I leave this team with lots of happy memories and Force India will always be a part of my life. I've learned a huge amount here and they have made me a better racing driver. We've grown up together and I'm proud of what we have achieved."
Sergio Perez (8th): "I am pleased with my race. I finished where I started and it was a quiet race for most of it, but it got a bit tense in the final laps when I had to fend off Felipe [Massa]. I pushed really hard at the beginning of my stints, trying to close the gap to Nico, but in the end I finished just behind him. It was great to finish the season with some points and to end an incredible year with a good result. Now that the season is over, I will go back to Mexico and enjoy some rest. It's been a long and intense year and I am looking forward to some downtime with friends and family. They're going to be happy holidays, thinking about what we have achieved this year. I'll chill out a bit and then it's back to work for 2017!"
Robert Fernley, Deputy Team Principal: "To end the season with two cars solidly inside the points and with fourth place in the constructors' championship feels fantastic. It has been a tremendous year for us and it's important to pay tribute to each and every member of the team for all their hard work and hours of dedication back at base and at the track. All the effort has paid off and we can now celebrate the best ever year in our history. Both drivers did a super job today, as they have done all year long. It's great that Nico could end his time with us on a high note and we thank him for everything he has done for us during his five years as a Force India driver. He's been a big part of our journey up the grid and it has been a pleasure working with him. Credit to Sergio, as well, who becomes the first Force India driver to cross the 100 points in a season milestone. He's been exceptional this year and fully deserves to finish seventh in the drivers' championship."
Renault
Jolyon Palmer (17th): "I had a really good start - up to eleventh - and was keeping pace with the Williams for a while, but unfortunately the tyre degradation was unbelievable for us. The overall pace was okay, but the tyres were running out, which meant I had to do three stops. I was trying to fight with everyone through the race but I had no grip which makes it very difficult. I tried to pass Carlos as he left a gap, but he braked a bit early and I had no grip to slow down. It's a real shame."
Kevin Magnussen (DNF, Suspension): "I made a poor start then was in a fight with Kvyat at turn eight when I had contact from another car - I think it was a Manor or a Sauber - and my suspension was damaged by this. We tried to continue but it was clear that something was broken. It wasn't the way I wanted to end what I thought was a good season with a great bunch of people. Results-wise it hasn't been the best but I've learned a lot, I've had a great time with the team and I got to know a lot of really good people. I wish Renault Sport all the best in the future and I'm sure we'll all still have fun in the paddock."
Fred Vasseur, Team Principal: "That was not the Grand Prix we wanted to end our season. Kevin's race was cut short as a result of front suspension damage sustained on the first lap then Jolyon's great start didn't translate to a great finish come the chequered flag. Today's result should not detract from all the progress made at Viry and Enstone over the last year as we will be in a far better position to fight for more points next season. Thank you to Kevin in his final race for us, he is a popular driver and we wish him well for the future. Congratulations to this year's champions, Nico Rosberg and Mercedes AMG. They have shown us how championships can be won with fine displays through the season. We hope to be giving them more of a challenge over the next few years."
Toro Rosso-Ferrari
Carlos Sainz (DNF, Damage): "I think it was a positive race up until the accident: I was racing in P14 after staring from P21, overtaking the Manors, Saubers and Renaults... So it was being a good, clean race, but it's just a big shame that Palmer hit me from behind! I was really enjoying myself and I'm also happy with the fact that we managed to recover well after what's been a very challenging weekend. It's just a pity that we were not able to finish the season seeing the checkered flag, but it's been an amazing 2016 and I'm very happy and proud of my season overall. I take home 46 points, a number I would've never said at the start of the year! So I think we can all be very pleased. I'm now very much looking forward to 2017! I'd like to thank the whole team for all the effort and hard work, it's been an unforgettable year and we couldn't have done it without each other!"
Daniil Kvyat (DNF, Gearbox): "It's a shame we had to retire, as the race wasn't looking that bad after only having completed five laps in the practice sessions... We were fighting with Haas and Renault and I had a lot of fun, recovering many places at the start and overtaking a few more later on. It's unfortunate that we had a gearbox issue which meant I had to stop the car, retire from the race... So I decided to go for a stroll on a push bike! It's like my whole season has been summed up in one race weekend! J. I'm now really looking forward to 2017, but first it's time to rest a bit, spend some time with friends and family before training very hard over the winter in order to come back stronger than ever next season. I'm feeling confident, which is a good way to end the season and this is what I will take into the new year. Finally, I'd like to thank the team for supporting me during this year full of ups and downs - I've felt they've always been there for me and that we've kept growing together until reaching a point where I feel very comfortable, like at home. This is something very valuable for me and it will definitely help me next year, when we will push again all together."
Franz Tost, Team Principal: "First of all, I'd like to say that it was an exciting race and I congratulate Nico Rosberg for winning his first Formula 1 World Championship! Regarding our race today, it wasn't the result that we were expecting here in Abu Dhabi, because not finishing with both cars is quite disappointing. Daniil, who was really well placed and driving a strong race, suffered a gearbox problem and therefore had to stop the car. Until then, he showed a really good performance. Unfortunately, Carlos' race also ended prematurely because of Palmer crashing into him. The gearbox got damaged and he therefore couldn't continue racing. This was definitely not our weekend - we already had problems on Friday with what seems like being a rear suspension issue. We still need to investigate this, even if next year it will look completely different, we need to know why this happened. We will now work very hard over the winter in order to be prepared in the best possible way for 2017."
Sauber-Ferrari
Marcus Ericsson (15th): "It was quite a challenging race. We completed the 55 laps with a one-stop strategy, and I think we executed it quite well. Overall, I am satisfied with my performance today, but obviously the result does not show that. I managed the tyres well for a fair amount of laps, so I could push without too much tyre management. However, we just did not have the pace today. With the season finale we go into the winter break, during which we will recharge our batteries for 2017. I am excited going into this new era of Formula One. A big thanks to everyone, both here at the track as well as in Hinwil at the factory, for a challenging and tough year. We have been sticking together and worked hard - this will make us stronger in the future."
Felipe Nasr (16th): "I had a very good start, climbing up to P14 on lap one. I did fight hard to stay there as long as I could, but we just did not have the pace to keep the competitors behind us. In the middle stint we were looking ok, just making sure to keep the Manors behind us, but unfortunately there was contact between one Manor and myself. The floor as well as the rim were damaged, and we also thought that the front wing was damaged, which forced me to come in for an earlier pit stop than originally planned. The race was compromised by then. If this incident hadn't happened, we could have finished a bit higher up in the rankings. But most important was to guarantee our tenth position in the Constructors' Championship. I am happy that we confirmed this position in the end. Summarising the season, I have enjoyed another year with Sauber. It was a challenging and difficult season, but I think these are the times when we learn the most. My relationship with everyone in the team was strong while facing challenging times throughout the season. The two points at the Brazilian Grand Prix made it all worthwhile - the whole team deserves it. Many thanks to everyone."
Monisha Kaltenborn, Team Principal: "First of all, we congratulate Nico and the whole Mercedes team for the championships. We are also pleased for Force India finishing fourth in the Constructors' Championship. In our last race of the season it was all about securing tenth position in the Constructors' Championship. We adjusted our strategy to achieve that, and it worked out in the end. I really want to say 'thank you' to the whole team, at the track as well as at the factory in Hinwil. Marcus and Felipe did a good job as well as keeping focused, especially in difficult times. What we have achieved in this tough season is credited to our team work. We have stuck together, continued to work hard and fought throughout the season. We can build on that next year and we already look forward to 2017."
McLaren-Honda
Fernando Alonso (10th): "The race was good; fun, but difficult as well. There wasn't really much I could do against the Force Indias and the Williams, but I fought until the last lap and got quite close, so I'm happy with the point we scored today, and pleased that we secured our positions in the constructors' and drivers' championships. Overall, this season has been positive: we've shown big progress compared to 2015, but we want to win the world championship - and there's still a long way to go before we can achieve that. Still, we have a long winter ahead of us, and we'll make a huge effort in order to arrive in Australia with a more competitive package. It's a shame that Jenson's final race came to an early end, but he'll still be around next year, and he'll be a huge asset for us in his new role. Finally, I'm very happy for Nico [Rosberg]. He's had a fantastic season and he deserved to be champion. He always believed in his possibilities and he managed his advantage perfectly. Both he and Lewis did a great job but it was time for Nico to win this year, as Lewis has three titles already!"
Jenson Button (DNF, Suspension): "A suspension component failed on the car - which very rarely happens to us. I had a failure on the right-front - and I'm just glad I was able to figure it out before I hit the brakes [for Turn 11]. It's always been a massive strength of our team that components so rarely fail, but today - of all days - something did, which is just unlucky. Nonetheless, I enjoyed today massively. My race was short, but I loved everything else. I was really emotional before I got in the car - it was such a special atmosphere to have the whole team and all my friends and family cheer me on my way into the garage. I'm just glad I was wearing my sunglasses at that moment... I'm very content with all I've achieved in my career. Now, it's done. I live in the moment, though, and tonight's going to be a helluva lot of fun!"
Eric Boullier, Racing Director: "Fernando drove faultlessly to 10th place today, earning us a single world championship point; but, without wishing to detract from yet another strong drive from him, today was all about Jenson as far as we were concerned. I'm sad and sorry that his race ended in suspension failure - but, having said that, the minor placing he thereby lost will mean little to him in what I gather from my British colleagues is called the grand scheme of things. His McLaren record speaks for itself: eight Grand Prix wins, some of them utterly superb, and seven great years in which he won the hearts of McLaren's staff and fans alike. On behalf of us all, JB, I salute you. Next year, of course, he'll still be around, assisting us in many ways, but racing our cars will be Fernando, arguably the greatest racing driver in the world today, and Stoffel [Vandoorne], whose potential is almost limitless. If you regard a balance of proven experience and youthful promise as the optimal blend in a Formula 1 driver line-up, and many people do, then I challenge you to name a better pairing than our 2017 duo. As the curtain goes down on 2016, I want to praise Honda for the impressive progress they've made during the course of the past season, and I'd like to thank our sponsor-partners also for their crucial ongoing support. Our staff deserve a big collective pat on the back too: in difficult circumstances they've played a blinder - as our mechanics tell me a job well done is best described. And, last but very far from least, I want to pay tribute to our fans, the best in the world. Your faith and loyalty are a constant inspiration to us, and I thank you for your unstinting devotion to the cause encompassed pithily in the well-worn hashtag #BelieveInMcLarenHonda. And finally, may I offer the congratulations of all of us to Nico [Rosberg], who crowned a fine season with world championship glory here in Abu Dhabi this evening. Nico has never driven for McLaren but of course we know him well, having first welcomed him to our paddock motorhome when he was a kid, introduced to us by his famous father Keke, who drove for McLaren 30 years ago. Congrats to them both."
Yusuke Hasegawa, Honda: "First of all, I would like to thank each and every one of the McLaren-Honda team members for a job well done throughout the long 2016 F1 season. I am very proud of the achievements we have made together, in what has been another challenging year. The Abu Dhabi GP was bittersweet in that Jenson had to retire early on, but he drove a good race and fought well for the short time he had on track, which was what he was hoping to do. Fernando drove superbly, showing his fighting spirit to push hard until the chequered flag. It was a difficult race, so I am glad we were able to finish with a championship point, so in that aspect I am happy for the team. From tomorrow onwards, we push our development for 2017 to full power, and hope to step up our game over the winter months. Last but not least, thank you Jenson for being our friend, colleague and hero driver. It will be very sad not to see you at every race next year, but my bet is that you will miss us too much, and we will see you again very soon!"
Manor GP-Mercedes
Esteban Ocon (13th): "I'm really pleased. It was no secret that I was really frustrated after qualifying yesterday, so I was really fed up to be on the 10th row of the grid. Then I got a really good start and made up three places on the opening lap. I was running as high as 11th during the race and we were looking really good versus the Saubers. I had the pace to get past Nasr but we touched and actually I lost my front wing end plate. I pitted for a second time and was able to catch right up with my team-mate before I eventually got by. Nevertheless, we got both cars home in strong positions to end the season on a strong note. It wasn't enough to make up for Brazil but I think we can say that we did the best job possible over the past two weeks, so I'm happy. I can't thank Manor Racing enough for giving me this incredible opportunity to begin my F1 career. It has been a real pleasure and I have learned so much in every area that will be important experience for the rest of my career, so I will always be grateful for that. Although I will be racing elsewhere, I will always be rooting for Manor as the team has so much potential. Maybe one day soon we can have a friendly fight together on-track."
Pascal Wehrlein (14th): "It was really great to end the season with another strong race performance. I had a difficult first pit stop and I was quite far back after that, so it was pretty frustrating after a great qualifying and starting from 16th on the grid. I fought hard to come back from that and we even gained a few places along the way. I was on a different strategy so it wasn't possible to prevent my teammate from passing me at the end because I was on really old softy tyres, but at least we finished ahead of Sauber one final time. It was a fantastic race to end the season and my thanks to the whole team for the way we have fought together right to the end. I had a really, really great first season in Formula 1, thanks to everyone at Manor Racing. I guess it makes me sad that we held onto our point for so long but lost 10th in the Championship. It was really unlucky for us but I think we will always remember that day in Austria and celebrating together. My thanks to everyone in the team for all the hard work and pushing so hard so we can make some real progress together."
Dave Ryan, Racing Director: "Well, it's hard to believe that the 2016 season is finally over but I think I speak for everyone when I say a few weeks at home without the pressure of preparing for the next race will be very welcome indeed. First and foremost, huge congratulations to the entire team both here and back at Banbury for the effort that has gone into this season. It hasn't been easy but when you look at just how far we've come in the space of 12 months, our improvement is incredible and something to be really proud of. Having said that, we know we still have big strides to make, but it's a challenge we are all looking forward to as we strive to move Manor up the grid in 2017. I would also like to express our gratitude to our technical partners, Mercedes AMG High Performance Powertrains and Williams Advanced Engineering, and all our Team Partners, for their fantastic support during our 2016 campaign. Finally, special thanks to Pascal and Esteban. Another great race today and no less than we have come to expect from the two of them."
Haas-Ferrari
Romain Grosjean (11th): "We've had a wonderful season and surprised everyone, ourselves included, with some highs and some lows. We didn't score points today but if you take out the top-six cars of Mercedes, Red Bull and Ferrari, we're only the third team behind, which is not that bad. There are a lot of things we can improve through the winter, mainly about the tires. Clearly today there were some laps where my pace was amazing and the car felt really good when the tires were working. Then a few laps later things are going out of sync. It's clear where we have to work. All the other teams are close to their limits where we have so much that we can improve on for next season. I'm looking forward to it."
Esteban Gutierrez (12th): "I'm very happy to have worked with everyone on this team. I really did my best to give them my best performance and the best of myself today. Hopefully, this leaves them all with a great memory. It's been very nice and I've been very grateful to work with Gene Haas and Guenther Steiner. I was proud to be with the team, which started from scratch, and to be a part of the project through the season. Big thank you to my crew, my engineers and mechanics. I wish the whole team all the best for the future."
Guenther Steiner, Team Principal: "I think we're pretty happy with today. We had a competitive car and we finished 11th and 12th, which mirrors the year. We finished the year on a high even if we didn't get in the points. I felt that today we had one of our best races with both drivers just out of the points. This is a nice way to finish our first season. I'll take this moment to say thank you to everybody, especially thanks to Gene for giving us this opportunity. Thanks to all the team who work so hard and thanks to both Romain and Esteban for their work all year long. Now we get ready for next year."