Abu Dhabi GP 2016
NOVEMBER 27, 2016
Sunday Press Conference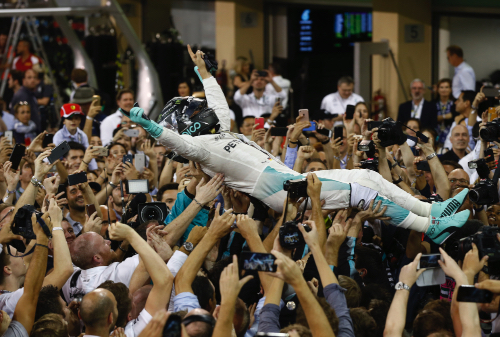 © Active Pictures
27 NOVEMBER 2016
DRIVERS
1 - Lewis HAMILTON (Mercedes)
2 - Nico ROSBERG (Mercedes)
3 - Sebastian VETTEL (Ferrari)
PODIUM INTERVIEWS
(Conducted by David Coulthard)
Q: Lewis, you're 53rd victory in Formula One but I suspect this is a slightly different feeling to some of the others?
Lewis HAMILTON: Honestly, I feel great. Firstly, I want to say a big thank you to everyone that came out to support us. I've got so many British fans out here this weekend. Thank you so much, I love you guys. Thank you to all my family for all their support and especially to the team for doing such a great job. It's been a real privilege being part of this team and achieving the success we've had this year. I never would have thought when I joined this team that I would have that many wins. I think that's 32 wins with this team so a big thank you to everyone here and back at the factory. And a big congratulations to Nico, of course, his first world championship. Good job, man.
Q: Allow me to get out of the way when you are doing the handshake. Well done [Nico] you're nice and wet. I don't want to force anything but maybe you could do the handshake again. There you go, there's the love. Nico, just another day at the office?
Rosberg: Hell, no! That was definitely not the most enjoyable race I've ever had. With Max in the beginning and then with those guys coming up in the end, really not very enjoyable those last few laps. Very, very glad it's over and unbelievably ecstatic. What do you call it when you give the win to my wife, to you [Vivian], amazing, thank you for all the support and to our daughter Ala‰§a...
Q: Don't you cry on us, Nico!
Rosberg: Oh, I'll thank everybody else afterwards... unreal.
Q: I can see the tears and we understand why. We do have to wait until a week on Friday until you are announced as champion but this time 34 years ago this was a similar time for the Rosberg family?
Rosberg: Yeah, very, very proud to have done the same feat as my dad achieved, he's going to be coming in about half an hour I think, so it will be exciting to see him.
Q: Fantastic, well Nico, we'll come back to you. We;'ll leave you with those thoughts. Now, Sebastian Vettel - it's been a while, you've not been here since Monza.
Sebastian VETTEL: Yeah, we've aged!
Q: I have, you look wonderful. Where have you been? Why has it taken this long? That was an amazing strategy and you really came back and pushed these guys hard.
Vettel: Well, before I answer your questions, congratulations [Nico]... it was tough out there in the last couple of laps. I didn't want to be in his shoes. I was trying to get close and have another go because I was thinking to, why not pass both of them, if Lewis is going that slow in front? But it was difficult because my tyres were also dropping more to the end. But you mentioned the strategy obviously. Bit stuck at the beginning of the race, couldn't really unfold my pace, I was starting to get a bit frustrated but once I had clean air I could really also on the old tyres unleash the pace we had today. The whole team deserves the podium today. I think we have worked so hard. We have had so much criticism this year - sometimes right, sometimes not justified - but that's how it goes, it's a tough game, we're fighting really tough opponents. It's been a tough year but it's nice to finish on a high and I think we take that momentum into next year. There is a lot of work going on back in Maranello, so big thanks also to everyone there.
Q: Just coming back in, Lewis, you're a man who wears his heart on his sleeve, your face doesn't lie. We've seen you celebrate some victories... tell us a little bit your thoughts, your emotions right now on where you are today?
Hamilton: Well, I did everything I could these last four races and that's really all I could ask of myself. I leave here... I'm going to have a lot of fun tonight, celebrating with the team and everyone and you can't win them all. Obviously we had a lot of problems this year, and that's inevitably why I'm in this position but I'm still grateful for all the success and the ups and downs we had as a team.
Q: Well, congratulations on this victory. Nico, coming back to you: you're holding it but you want to unleash those tears don't you?
Rosberg: No, it's OK. I also want to say congrats to Lewis, you did a great season, great competitor, massively quick always. Congrats, always tough to beat you. Guys, at the team Mercedes, please put the music on, I'm coming down in one second. And my mom, I'm really looking forward to seeing her, she's going to be coming with dad in a second, so whole family together it's going to be wonderful.
PRESS CONFERENCE
Q: Lewis, congratulations on the strong end to your season. Fairly straightforward grand prix for you really until the final laps when obviously... you were saying in the press conference earlier in the weekend that it was difficult to back the pack up but tell us your thinking in the final part of the grand prix?
Hamilton: Yeah, obviously happy with the win, it was relatively easy to get the win in the end. Great job by the team throughout the weekend and through the year so big thank you to everyone there. I knew being in the lead I knew I was losing the world championship, I was hoping that Sebastian... I heard the pace he was on and I knew I could do that pace exactly, so I was hoping that he would close up, but I guess he said his tyres were going off towards the end and Nico drove well to not make mistakes.
Q: How do you feel then about the season, looking back?
Hamilton: Good. I did everything that I could, particularly towards the end and obviously Nico had a very, very clean year without any real issues to be honest and that's why we sit in this position right now. But he did a fantastic job, so big congratulations to him, it's a great feeling to win the world championship and I look forward to fighting with him next year.
Q: Thank you. Coming to you Nico, many congratulations. Obviously a critical point in the race for you was the overtake on Max Verstappen. You were told by your engineer it was critical to pass him and it was very, very close. A heart in the mouth moment for you?
Rosberg: For sure. The feelings out there in that battle with Max... unreal, really unreal. I hope I don't experience that again any time soon. And the same again at the end, you know: pressure on from behind, Lewis driving slow at the front. It was a tough one.
Q: You've had your emotions and your whole psychology so locked down, you've talked about going one race at a time. Now it's all over, what was it like? Really, on the inside, mentally?
Rosberg: It's crazy. The thing is it was so intense - the race - it's still going to take some time I think to settle it and come out because it was really intense out there and so tough in the end. Those last couple of laps with those two guys behind. If I dropped being them it's over so not enjoyable.
Q: Very well done. Sebastian, Ferrari have been criticized a number of times on the strategy front but today they absolutely aced it. Brilliant tactic - long second stint, attacking on the supersofts, tell us your feelings and particularly your decision-making process in the last couple of laps?
Vettel: Well, in the last couple of laps it was clear. It was clear we would be able to make big progress but before it was difficult. Obviously with Max coming back, staying out so long, coming back to fight for the last podium spot, or the same positions as the group of Kimi, Daniel, myself, made it tricky. Then Max pulled in very early. That was one way to do it and the other way was to go long. When I was behind the two cars of Kimi and Daniel I was trying to save my tyres and trying to stay in reach but still having enough tyres to make it longer and once they pulled in it was clear that we would go long. Then I think those laps were really critical. Fortunately I had some tyres left and I could really make that count with consistent laps. I didn't lose too much versus the group that had pitted already. Once I came out the question was 'how long are these cars going to last' and it proved to be just enough. Daniel was fairly straightforward to pass, but then when I arrived behind Max, the problem is that you have car after car after car and you begin to slide, so my tyres got worse. Then I was behind Nico and I was faster, but I think also due to the fact that Lewis was slowing down. I tried everything but they were very, very quick down the straights. I think with the Red Bulls it was a little bit easier. I think also, Max didn't have DRS, whereas at the end I think Nico had DRS. The second straight was the spot I was having a look, but Nico defended well and closed the inside so I couldn't really go anywhere. I couldn't try something really stupid because Lewis was just ahead, so if I really dived down the inside or down the outside then I have a risk of hitting Lewis at that point. It as critical and I also saw Max coming back in the mirrors but for sure the last laps were intense, I was thinking also at some point to win the race as well, because I think the chance was there, but both of them did their job well at the end. Nevertheless, as you said, happy with the podium.
QUESTIONS FROM THE FLOOR
Q: (Ysef Harding) Lewis this season you took your fans and everyone on quite a rollercoaster of a ride. For the millions of fans that watched you along the way, you had some incredible drives and you also achieved quite a few goals, with that are your able to take those positives heading into the off-season?
Hamilton: Most definitely. There have been a lot of great things that have happened this year. One in particular is the bond and relationship I have with my mechanics and engineers - my new mechanics - that joined my side of the garage. They did a fantastic job all year long. I think the working relationship has been better than ever, particularly going through all those experiences. There's that and I was generally quickest most of the year, so it's definitely been a positive, a lot of positives to take from it. So I take that into next season.
Q: (Andrea Cremonesi - La Gazzetta dello Sport) How much was [it] annoying [you] the box asking you to improve your pace and aren't you afraid that the relationship with the team now is a little bit more cold?
Hamilton: Not really. I don't know why they didn't just let us just race. There was never a moment where I felt I was going to lose the race. It's a shame that they wouldn't but it's quite clear their through process and yeah I mean I don't really have much to say.
Q: (Michael Schmidt - Auto Motor und Sport) Lewis you said there was never a moment you were afraid of losing the race but you probably knew Sebastian was on different tyres, were you not afraid that maybe it could catch you out with his tyre advantage?
Hamilton: There was never a moment that I felt that I was risk, so no.
Q: (Michael Schmidt - Auto Motor und Sport) Lewis, you just said there was never a moment you were afraid of losing the race - but you probably knew that Sebastian was on different tyres. Were you not afraid that maybe it can catch you out with his tyre advantage.
Hamilton: As I said, there was never a moment that I felt I was at-risk, so no.
Q: (Jerome Pugmire - AP) Question for Lewis. To follow up on that, do you find it an inconvenience... do you find it a bit annoying that you receive instructions like that a few laps from the end when you're under intense pressure in a title race? Could you do without that?
Hamilton: Not really - because it wasn't really intense to be honest. It was pretty chilled at the end. There was not much... maybe intense for you but it wasn't intense for me. No. For me it's... I'm in a position where I've obviously had a lot of points lost during the season so for me, I'm out there fighting and I generally never try to do anything to harm the team or the brand or anything like that. But we've won the Constructors' Championship so it was down to me and Nico today. And however, they still felt they needed to make comments and so... well, y'know, we'll discuss it afterwards as we always do as a team and pull back in. But we can't let that overshadow the fact that Nico's just won a Championship and the team has dominated all year long, we'd had more wins than any other team I think in the past maybe. So, we cannot ignore that fact that it's been an incredibly successful year.
Q: (Jens Nagler - Bild) Question to Sebastian. Could you have even more pushed on Nico in the last couple of rounds?
Vettel: Well I did what I could, obviously. At that point, you follow two cars, you slide, the tyres start to go too hot. I was struggling with my fronts at that point so it was difficult to stay close. So I did what I could. As I said, Lewis was probably a bit too close otherwise I could have had a better look. Nico