Abu Dhabi GP 2016
NOVEMBER 28, 2016
Race Report - Championship Backup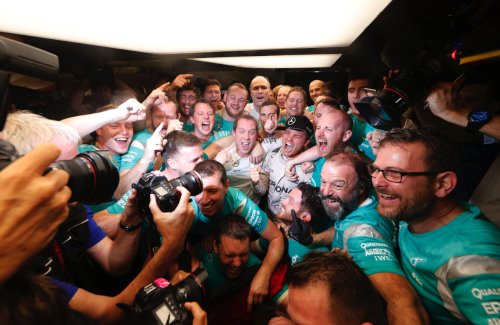 © Active Pictures
By Dan Knutson in Abu Dhabi
Nico Rosberg won the 2016 FIA Formula 1 World Championship despite the best efforts of his Mercedes teammate Lewis Hamilton to back things up so that Rosberg would be pushed out of contention. With Hamilton leading the race, Rosberg needed to finish third or better to insure that he won the title. Hamilton slowed the pace to back Rosberg up, and that allowed Sebastian Vettel and Max Verstappen to close in. But Rosberg held on to second and the championship.
"That was definitely not the most enjoyable race I've ever had," Rosberg said. "With Max in the beginning and then with those guys coming up in the end, really not very enjoyable those last few laps. Very, very glad it's over and unbelievably ecstatic."
Hamilton scored his tenth victory of the season.
"It was relatively easy to get the win in the end," he said. "Great job by the team throughout the weekend and through the year so big thank you to everyone there. I knew being in the lead I knew I was losing the world championship. I was hoping that Sebastian''I heard the pace he was on and I knew I could do that pace exactly, so I was hoping that he would close up, but I guess he said his tires were going off towards the end and Nico drove well to not make mistakes."
Vettel used an alternate tire strategy to finish third and celebrate on the podium for the first time since the Italian Grand Prix.
"The whole team deserves the podium today," he said. "We have worked so hard. We have had so much criticism this year ' sometimes right, sometimes not justified ' but that's how it goes, it's a tough game, we're fighting really tough opponents. It's been a tough year but it's nice to finish on a high and I think we take that momentum into next year. There is a lot of work going on back in Maranello, so big thanks also to everyone there."
The ambient temperature at the start of the 55-lap evening race was 81 degrees Fahrenheit (27 degrees Centigrade) and the track temperature was degrees 84 Fahrenheit (29 degrees Centigrade).
Hamilton started on pole while Rosberg lined up second. Row two of the grid consisted of Daniel Ricciardo (Red Bull) and Kimi Raikkonen (Ferrari), while Vettel (Ferrari) and Verstappen (Red Bull) filled row three.
In Turn 1, just after the start in which Hamilton took the lead from Rosberg, Nico Hulkenberg (Force India) and
Verstappen collided. Verstappen spun out but still completed lap 1 already up to 19th place.
Verstappen and Ricciardo started the race on Pirelli's super soft compound slicks while those drivers around then were all on the ultra soft tires.
The order on lap 5 was: Hamilton by 0.9 of a second over Rosberg, Raikkonen, Ricciardo, Vettel, Hulkenberg, Sergio Perez (Force India), Fernando Alonso (McLaren), Valtteri Bottas (Williams) and Felipe Massa (Williams). The two Williams drivers were having a nice duel, but that ended when Bottas pitted at the end of lap 6 with suspension failure and the mechanics pushed the car into the garage.
Massa would go onto finish ninth in his final grand prix.
"Well, I'm really proud to have been fighting up to the last lap of the race in the same way I fought in the first lap of my career!" he said. "I want to say thank you to everyone - everyone who has been with me all the way, racing together. Thank you to the fans and to Williams, who I will keep supporting in the future! Thank you to everyone who has been part of everything I have been through.
"I have finished my career with my head up, the same way I started my career. I also took a little extra care with the car seeing as it will now be my car - thank you again to Williams for that gift!"
Hamilton pitted at the end of lap 7, switching to a set of the soft compound Pirellis. Raikkonen stopped for the soft Pirellis.
Rosberg came in one lap later and also for the softs, and Vettel pitted as well for the same compound.
Ricciardo led lap 9 and made his stop, as did Perez who was briefly second. Everybody was going on to the soft tires except Verstappen who kept going on his super softs.
Ricciardo ended up finishing fifth.
"I'm just frustrated in how the strategy played out in the end," he said. "We had the super softs at the start and it was still going pretty well and we tried to make a move on Kimi (Raikkonen). For sure it was close but we didn't pull it off and that really hurt me. I think we should have just gone long and one-stopped but in hindsight it's always easy to say."
One lap 10 the order was: Hamilton, Verstappen, Rosberg, Raikkonen, Ricciardo, Vettel all running close together, followed by Jenson Button (McLaren), Hulkenberg and Perez. All had pitted except for Verstappen who was doing a solid job of holding down second place.
"Don't take any risks with Verstappen, you're doing the right thing," Mercedes radioed to Rosberg.
The championship was on line if Rosberg fell to fourth, but he was slowly easing ahead of Raikkonen. By lap 15 Hamilton had a 2.9 second lead over Verstappen who was 0.9 of a second ahead of Rosberg.
By now Button had retired from his final grand prix with front suspension failure.
"It's always been a massive strength of our team that components so rarely fail," he said, "but today - of all days - something did, which is just unlucky. Nonetheless, I enjoyed today massively. My race was short, but I loved everything else. I was really emotional before I got in the car - it was such a special atmosphere to have the whole team and all my friends and family cheer me on my way into the garage."
His teammate Alonso wound up tenth.
"There wasn't really much I could do against the Force Indias and the Williams, but I fought until the last lap and got quite close," he said.
On lap 19 Mercedes told Rosberg it was critical to pass Verstappen, who fought back but finally yielded second place. On lap 20 Rosberg was now second and 5.6 seconds behind Hamilton.
Verstappen made his first and only pit stop at the end of lap 21 for a set of the softs. Rosberg was now setting fastest laps as Verstappen, now eighth, was on a one-stop strategy and could come back to haunt him.
Ricciardo pitted at the end of lap 24 for the softs, and Raikkonen did the same one lap later.
The team called Hamilton in at the end of lap 28 for his second stop and his second set of soft compound Pirellis. That put Rosberg in front, but he was told to come in the next lap. It was softs for him as well.
So now Vettel, who had yet to make his second stop, was in first place on lap 30. Next came Hamilton, 1.7 seconds ahead of Rosberg, Verstappen, Ricciardo and Raikkonen.
The gap was narrowing between Hamilton and Rosberg until Hamilton's engineer told him to pick up the pace. He did, but only to the point where he was doing similar times to the Red Bulls.
"These tires are really starting to go now," Vettel radioed on lap 36. He came in at the end of lap 37 and the mechanics fitted the super soft tires to his Ferrari.
On lap 38, therefore, Hamilton was in the lead and 1.2 seconds ahead of Rosberg who was 3.4 seconds ahead of Verstappen who was 0.9 of a second ahead of Ricciardo. Raikkonen, Vettel, Hulkenberg and Perez rounded out the top eight.
Vettel used his fresh super softs to reel in Raikkonen and pass him on lap 41. Vettel then set off after Ricciardo.
"Vettel is an imminent threat," Mercedes told Hamilton and ordered him to pick up the pace. Vettel was 6.6 seconds behind Hamilton with 10 laps to go.
On lap 46 Vettel got past Ricciardo to take over fourth place.
Mercedes now told Hamilton he had to do laps in 45.1 to secure the win. "You should just let us race," Hamilton responded.
Hamilton was no doubt hoping he could back Rosberg into the cars behind him and that something might happen so Rosberg finished out of the top three.
"This is really slow pace," Rosberg complained. "He's quick in sector one, so it's difficult for me."
By lap 50 Vettel was right behind Verstappen who was just 1 second behind Rosberg, and on the next lap he took over third place.
"After being last after Turn 1, having to fight my way back and doing it all on a one-stop was the best we could do and I am happy we pulled it off," Verstappen said. "I knew I was going to come under attack from the two-stop guys as they obviously had more life left in the tires, I don't think I could have held Seb off at the end. When you still finish in front of guys who did an extra stop you have to be pleased with the result, especially as we also finished so close to P1."
Mercedes was not happy with Hamilton's antics.
"Lewis this is Paddy. We need you to pick up the pace to win this race, that's an instruction." That was the radio instruction from Paddy Lowe, team boss.
"Right now I'm losing the world championship, so not really bothered if I win or lose this race," Hamilton responded.
So the race wound down with Hamilton, Rosberg, Vettel and Verstappen running in formation.
"It was tough out there in the last couple of laps," Vettel said. "I didn't want to be in his (Rosberg's) shoes. I was trying to get close and have another go because I was thinking to, why not pass both of them, if Lewis is going that slow in front? But it was difficult because my tires were also dropping more to the end."
Is Hamilton worried that his relationship with the team will cool down because he failed to follow instructions?
"Not really," he said. "I don't know why they didn't just let us just race. There was never a moment where I felt I was going to lose the race. It's a shame that they wouldn't but it's quite clear their thought process."
Rosberg was relieved that the stressful race and season are over.
"For sure it has been my best season and I have had my best ever races this year," he said. "The last couple of races ' that is not the real Nico because the pressure slows you down. But I am happy to come through the way that I did while on the other side Lewis had nothing to lose."