Abu Dhabi GP 2016
NOVEMBER 26, 2016
Practice 3 Report - Dig deeper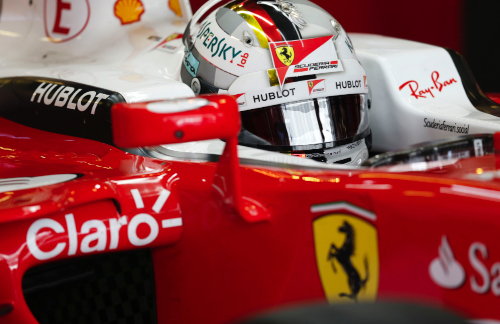 © Active Pictures
By Dan Knutson in Abu Dhabi
Lewis Hamilton was quickest on Friday with a time of 1:40.861, which was a mere 0.079 of a second faster than Nico Rosberg's best.
"Yes, he's a little bit faster but I didn't do my lap properly so I still have a bit in reserve," Rosberg said Friday. "But it's going to be tough because he's driving well and it's going to be a close battle. I'm going to dig deep tonight and try and find those extra hundredths in the set-up or whatever and then see how it works."
Rosberg is going to have to dig even deeper if he is going to beat Hamilton in qualifying because Hamilton was quickest again in Free Practice 3 on Saturday, and the gap this time was 0.103 of a second.
The Mercedes drivers were only fourth and fifth in FP3, but that was not really representative as they did their quick laps earlier in the session than Sebastian Vettel, Max Verstappen and Kimi Raikkonen who were ahead of them on the timing screens.
The line-up for the weekend was: Mercedes - Lewis Hamilton and Nico Rosberg. Ferrari - Sebastian Vettel and Kimi Raikkonen. Williams Mercedes - Felipe Massa and Valtteri Bottas. Red Bull TAG Heuer - Daniel Ricciardo and Max Verstappen. Force India Mercedes - Nico Hulkenberg and Sergio Perez. Renault - Kevin Magnussen and Jolyon Palmer. Toro Rosso Ferrari - Daniil Kvyat and Carlos Sainz. Sauber Ferrari - Marcus Ericsson and Felipe Nasr. McLaren Honda - Fernando Alonso and Jenson Button. Manor Mercedes - Pascal Wehrlein and Esteban Ocon. Haas Ferrari - Romain Grosjean and Esteban Gutierrez.
There was no real rush among the drivers to get out and do their installation laps.
"FP3 underway, but this isn't a particularly relevant session as qualifying (and race) conditions will be very different," Pirelli tweeted.
Pirelli's slick compounds for the event were the ultra, super and soft slicks. The tire strategy for FP3 was to use the tires the drivers would not need for the rest of the weekend.
Ten minutes into the session, Verstappen clocked a 1:42.461 on the super soft tires.
Fifteen minutes into the session, Hamilton, on the super softs, went ahead with a 1:42.120. Rosberg was down in fourth behind Ricciardo and Verstappen. All four had used the super soft tires to set their times.
A few minutes later Vettel did a run with the ultra soft Pirellis which yielded a 1:42.034. He improved that to a 1:41.957.
Hamilton lost power and cruised slowly back to the pits. "It looks like it's just an unexpected de-rate," the team told him.
Raikkonen tried the ultra softs 26 minutes into FP3 and clocked a 1:42.785, which was sixth quickest. Rosberg was now in third place.
Raikkonen's second go on the ultra softs put him on top with a 1:41.700. Moments later, Ricciardo moved into second with a lap of 1:41.831 on the ultras.
Just past the midpoint of FP3 the order was: Raikkonen, Ricciardo, Vettel, Hamilton, Rosberg, Verstappen, Bottas and Massa.
The Mercedes drivers had yet to use the ultra soft tires. Rosberg and Hamilton finally did so with 21 minutes remaining in the 60-minute session. Rosberg did a 1:41.168 and Hamilton a 1:41.065. The gap between them was 0.103 of a second.
With 15 minutes remaining the order was: Hamilton, Rosberg, Raikkonen, Ricciardo, Vettel, Verstappen, Alonso, Bottas, Massa and Hulkenberg.
Vettel started another run on a new set of ultra softs and got down to a 1:40.775 and up to first place.
Just about everybody except the Mercedes drivers was out on the track on new ultras with five minutes to go.
Verstappen was pushed down to ninth but bounced back to second with a 1:40.912. But now Rosberg and Hamilton were in action only to pit again. Hamilton said his brakes were acting up. The duo headed back to the track but just to do laps as they had set their fast times already.
The final top 10 order was: Vettel, Verstappen, Raikkonen, Hamilton, Rosberg, Ricciardo, Perez, Hulkenberg, Bottas and Gutierrez.