Abu Dhabi GP 2016
NOVEMBER 25, 2016
Practice 1 Report - The beginning of the end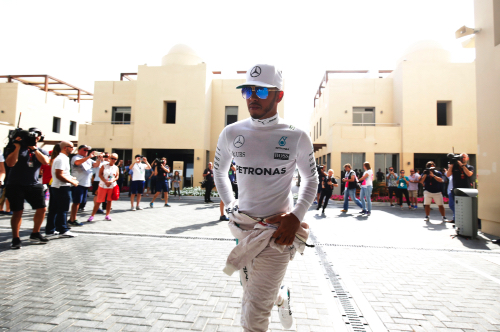 © Active Pictures
By Dan Knutson in Abu Dhabi
Free Practice 1 on Friday was the beginning of the race weekend that will end with either Nico Rosberg or Lewis Hamilton being crowned world champion at the conclusion of Sunday night's grand prix.
"It definitely helps to have been there, done that," Rosberg said when asked if he felt any nerves. "This is the third time that we're fighting for the Championship and the second time that it's gone to the wire so for sure that helps to feel more relaxed."
Hamilton and Rosberg were first and second at the end of FP1. If they are in the same positions at the end of the race then Rosberg will be champion.
The line-up for the weekend was: Mercedes ''  ® Lewis Hamilton and Nico Rosberg. Ferrari ''  ® Sebastian Vettel and Kimi Raikkonen. Williams Mercedes ''  ® Felipe Massa and Valtteri Bottas. Red Bull TAG Heuer ''  ® Daniel Ricciardo and Max Verstappen. Force India Mercedes ''  ® Nico Hulkenberg and Sergio Perez. Renault ''  ® Kevin Magnussen and Jolyon Palmer. Toro Rosso Ferrari ''  ® Daniil Kvyat and Carlos Sainz. Sauber Ferrari ''  ® Marcus Ericsson and Felipe Nasr. McLaren Honda ''  ® Fernando Alonso and Jenson Button. Manor Mercedes ''  ® Pascal Wehrlein and Esteban Ocon. Haas Ferrari ''  ® Romain Grosjean and Esteban Gutierrez.
Reserve drivers in FP1 were Alfonso Celis in Hulkenberg's Force India, and Jordan King in Ocon's Manor.
Kvyat and Palmer were the first out on the 3.451-mile (5.554 km) 21-turn track.
"We're seeing a mixture of tires out on track: soft, super soft and ultra soft. But don't read too much into the times here," Pirelli tweeted as the drivers did their install laps.
Rosberg, won the 2015 Abu Dhabi Grand Prix, used the ultra softs to clock a 1:43.873, whereas Hamilton's run on the same compound was 0.206 of a second slower. Rosberg then improved to a 1:43.243.
Hamilton then got into gear and recorded a 1:43.051. Verstappen and Ricciardo claimed third and fourth in the early going ahead of Raikkonen and Vettel. The latter was trying out the halo on his car.
Hamilton had a quick spin at Turn 5 just past the 30 minute mark. Massa had spun there just a few minutes earlier.
At the 40-minute stop point ''  ® during which one set of tires from each driver had to be returned to Pirelli ''  ® the top 10 were: Hamilton, Rosberg, Verstappen, Ricciardo, Raikkonen, Perez, Vettel, Grosjean, Bottas and Massa.
When the action resumed, most of the drivers ran the soft compound tires with the yellow sidewalls. Grosjean went off at Turn 1 but didn't hit anything. He radioed in that there was a problem with the rear brakes. He had ruined his set of tires, so that was that for him in FP1.
Button was having problems with his car, and the McLaren team told him to drive slowly back to the pits.
Hamilton wasn't going slowly on the soft tires as he clocked a 1:42.869. Vettel, meanwhile, had moved up to fifth.
Celis claimed an impressive ninth place, albeit 2.6 seconds slower than Hamilton. He then got pushed down to 11th as Ericsson and Sainz clocked quick laps on the super soft tires.
The top 10 at the end of FP1 were: Hamilton, Rosberg, Verstappen, Ricciardo, Vettel, Perez, Raikkonen, Sainz, Massa and Ericsson.