Abu Dhabi GP 2010
NOVEMBER 14, 2010
Abu Dhabi GP, 2010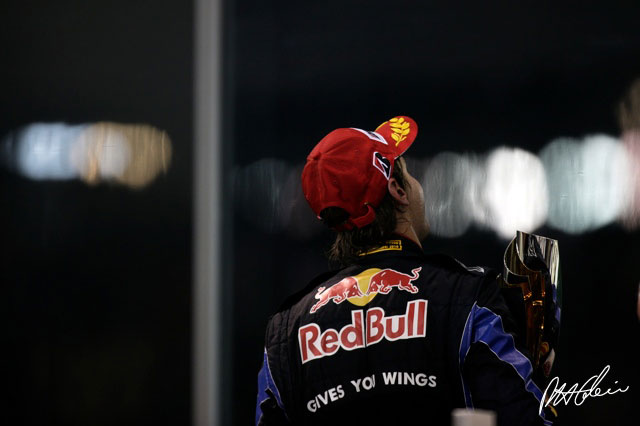 © The Cahier Archive
Sebastian Vettel became the youngest world champion in the sport's history at 23 years and 134 days when he turned in a superb drive to win the Abu Dhabi Grand Prix. Sunday night was the first time he'd led the championship all year...
Going into the race, it hadn't looked likely. With Fernando Alonso third on the grid for Ferrari and the Spaniard having to finish fifth or worse for Vettel to take the crown, Alonso's task looked relatively straightforward. It proved anything but.
Michael Schumacher was the young Vettel's hero. But at no time must Vettel have ever imagined a spin from the seven times champion opening the door for him to win his first championship. But that's how it happened.
On the opening lap Schumacher and Rubens Barrichello were battling for seventh through Turn 5 when Rosberg tried to go inside Michael at Turn 6. Michael applied a bit too much throttle and looped around, ended up facing the wrong way and collected Tonio Liuzzi's Force India, bringing out the Safety Car.
In qualifying Rosberg had been over half a second quicker on the prime tyre in Q2, third fastest overall, compared with the ninth quickest he set with the option in Q3. So why hadn't he qualified on the prime? Simply, he didn't have a new set left. But when the opportunity presented itself so early, Rosberg went straight into the pits under the Safety Car to put the primes on. So, too, did Vitaly Petrov among the top 10 qualifiers.
You might have expected Webber to do likewise. After qualifying only fifth and needing to get up to second to put himself in a position where a switch with Vettel was appropriate if Alonso was in a title-winning position, Webber was faced with passing three highly competitive cars - Alonso, Button and Hamilton. He had relatively poor sector two performance, which is the only part of Hermann Tilke's circuit where overtaking was remotely possible. Surely an early stop, which worked for him in Singapore, was worth a punt?
The team had discussed the exact scenario before the race and decided against stopping. In fairness, much depended on the degradation of the option tyre used by everyone among the top 10 and the way in which the track surface evolved, which were both unknowns.
The field was neutralised for fully five laps while the Turn 6 mess was cleared and once released, Vettel edged away at the front. He had 2s over Hamilton, who had been a little more circumspect at Turn 1 than perhaps anticipated. Button was a further 3s behind, with 2s in hand over Alonso who, you suspected, was not pressing too hard so that Webber, behind him, was backed up towards team mate Massa.
By lap 11 though, Hamilton was back to within 1s as Vettel's pace dropped off a little. Webber, who had survived a brush with the wall in sector three, radioed in that he was losing his rear tyres and the Red Bull pitted. Both RB6s had done multi-lap qualifying runs and so had more heavily used tyres than Ferrari. It was clear, however, that Webber was going to emerge from the pits behind Rosberg and Petrov, who'd made cheap stops and were running 13th and 15th respectively.
It was now that Ferrari made the error that cost Alonso the world championship. Two laps after Webber stopped, perhaps anticipating that everyone's option tyre performance was about to go off, Ferrari stopped Massa but he re-emerged still behind Webber. Two laps beyond that, lap 15, they also called in Alonso. Fernando was fourth at the time, 2s behind Button, but without sufficient margin to pit out ahead of Rosberg and Petrov who, prime-shod, would run to the end. For some reason they had decided to cover Webber when the threat from the Australian had all but gone and Vettel was leading the race!
In that circumstance, if Sebastian won Alonso needed to be fourth and it was now obvious he was going to have a hard time with the lead three cars plus Rosberg and Petrov, not to mention Kubica, who was just 10s behind the Ferrari having started 11th on primes and who would obviously be running very long. You didn't need to have super-computers nor, particularly, hindsight, to appreciate that it was highly dubious.
Ferrari's Stefano Domenicali was commendably honest. "We made the wrong strategy call for three reasons," he said. "We marked a rival with two cars, we were unduly concerned about the wear rate of the soft tyres and we did not take into consideration the difficulty of getting past other cars on the track."
A few laps later McLaren also tried a tactical move which backfired. On lap 22, Vettel and Hamilton both lapped in identical 1:44.99s, with Sebastian 1.8s clear of Lewis. Kamui Kobayashi, who had started 12th on options, was 19.9s behind Vettel, with Robert Kubica right behind him on primes, as he had been from the start. The margin required to pit and clear a car behind, was around 21s.
McLaren pitted Hamilton next time round and it wasn't for tyre reasons. The options appeared to have stabilised and Vettel, Hamilton and Button, 5s down, were all lapping quicker than Kubica on his primes, having dropped him by 2s over the previous five laps. Another five laps and Lewis would have cleared the Renault after his pit stop.
Presumably, therefore, McLaren realised they weren't going to clear Kubica, who they knew would have to stop for options later on (he finally pitted on lap 46) and that with a bit of luck Vettel would respond, immediately cover Hamilton and also get trapped behind the Renault. If they had done it a couple of laps earlier, the tactic might have worked.
Renault has done a fine job with its F-duct and both Kubica and Petrov had strong straightline speed, as Alonso knew only too well, so perhaps McLaren figured that Hamilton would have more chance of passing Vettel through either stopping one lap earlier, or with Vettel unable to run at his own pace behind the Renault.
It didn't quite come off. When Hamilton stopped, Rocky, Vettel's race engineer, told Sebastian to give it absolutely everything he'd got and, critically, the Red Bull cleared Kubica by the narrowest of margins and only Lewis was trapped. Vettel immediately started to go a second a lap quicker on his new primes and began to eat into the 15s margin that Button now led by, with his tyre stop still to make.
On lap 25 Kubica forced his way past Kobayashi and Hamilton did so next time round. Lewis though, was stuck behind Kubica for the next 20 laps until the Renault pitted for options with nine laps to go. By that stage Vettel was almost 13s to the good and you had to wonder whether it might have been better strategy to have cleared Kubica before pitting and had Hamilton still on Vettel's gearbox in the closing stages with the championship at stake...
Vettel could now start to hope. He didn't know where Alonso was but he could tell from the screens around the circuit that Lewis was behind Kubica and that it must be Petrov that Alonso was stuck behind. He could also tell from Rocky's tone on the radio that things were looking interesting. But they also didn't want to distract him from the job at hand.
Vettel crossed the line, punched the air, and had to wait another 30s before Hamilton, Button and Nico Rosberg who, like Petrov had run all the way on those primes taken during the opening lap Safety Car, claimed the first four places. And then he heard it, screamed across the radio: "Sebastian Vettel, Weltmesister!"
Kubica and Petrov were a fine fifth and sixth, Robert getting to the line 4s before his Russian team mate, who had thwarted Alonso's every move all afternoon, with Webber tucked up behind the Ferrari.
"Hard to imagine that the Ferrari, which qualified third with good pace, would finish seventh," Vettel said later. Hard to imagine for Alonso too, no doubt, as he pulled alongside Petrov on the slowdown lap and made hand gestures of remonstration.
Petrov, possibly driving for his place in the team, was unimpressed and gestured back. It was perhaps no surprise that such a year should finish with a sting in the tail but, with 10 poles and five wins, nobody could deny that the right man was champion.
Abu Dhabi Grand Prix Results - 14 November 2010 - 55 Laps
POS
DRIVER
NATIONALITY
ENTRANT
LAPS
TIME/RETIRE
1.
Sebastian Vettel
Germany
Red Bull-Renault
55
1h39m36.837
2.
Lewis Hamilton
Britain
McLaren-Mercedes
55
10.162
3.
Jenson Button
Britain
McLaren-Mercedes
55
11.047
4.
Nico Rosberg
Germany
Mercedes GP
55
30.747
5.
Robert Kubica
Poland
Renault
55
39.026
6.
Vitaly Petrov
Russia
Renault
55
43.520
7.
Fernando Alonso
Spain
Ferrari
55
43.797
8.
Mark Webber
Australia
Red Bull-Renault
55
44.243
9.
Jaime Alguersuari
Spain
Toro Rosso-Ferrari
55
50.201
10.
Felipe Massa
Brazil
Ferrari
55
50.868
11.
Nick Heidfeld
Germany
BMW Sauber-Ferrari
55
51.551
12.
Rubens Barrichello
Brazil
Williams-Cosworth
55
57.686
13.
Adrian Sutil
Germany
Force India-Mercedes
55
58.325
14.
Kamui Kobayashi
Japan
BMW Sauber-Ferrari
55
59.558
15.
Sebastien Buemi
Switzerland
Toro Rosso-Ferrari
55
1m03.179
16.
Nico Hulkenberg
Germany
Williams-Cosworth
55
1m04.763
17.
Heikki Kovalainen
Finland
Lotus-Cosworth
54
1 Lap
18.
Lucas di Grassi
Brazil
Virgin-Cosworth
53
2 Laps
19.
Bruno Senna
Brazil
HRT-Cosworth
53
2 Laps
20.
Christian Klien
Austria
HRT-Cosworth
53
2 Laps
21.
Jarno Trulli
Italy
Lotus-Cosworth
51
4 Laps, Rear wing failure
R
Timo Glock
Germany
Virgin-Cosworth
43
Gearbox
R
Michael Schumacher
Germany
Mercedes GP
0
Accident
R
Vitantonio Liuzzi
Italy
Force India-Mercedes
0
Accident
FASTEST LAP:
Lewis Hamilton
Britain
McLaren-Mercedes
47
1:41.274