Abu Dhabi GP 2010
NOVEMBER 13, 2010
Saturday Team Quotes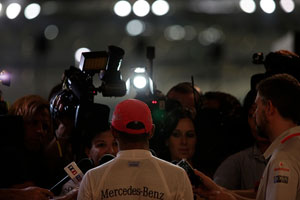 © The Cahier Archive
McLaren-Mercedes
Lewis Hamilton (2nd, 1:39.425): "I'm absolutely delighted - this is my best qualifying performance since Spa, and I pushed as hard as I could and got everything and more out of the car. To be just three-hundredths off the fastest Red Bull is extremely good news for the team. We've worked incredibly hard all year, but we couldn't quite catch them up quickly enough. Even so, to be right behind the one on pole - and have both Ferraris behind - is a great achievement. On the grid tomorrow, I don't have to worry about who's around me - they all have to worry about who's around them! I've got nothing to lose and everything to gain. It's the other drivers who'll have to worry; I don't have to be cautious at all in the race. Perhaps they need to think about that... Both Jenson and I qualified well today, so this is good news for us in the battle for second place in the constructors' world championship. I'd love for us to finish one-two tomorrow - that would be a real high for the whole team. I'm not focusing on winning the drivers' title; I'm just focusing on winning this race."
Jenson Button (4th, 1:39.823): "We've been tweaking the car all weekend, and we made a big leap from where we were yesterday, so I'm happy with the way things improved. Qualifying was also very good. I'd been struggling with a major brake vibration issue during Q1, but it got better through Q2 and Q3. The vibration didn't help my front locking issues, but at least they were better than I'd had in the past couple of races. I made a mistake and ran wide on my last lap, so it's a little disappointing to be starting fourth because I could have been even higher, but I'm looking forward to tomorrow's race. All the cars appear to be reasonably close, so it should be a good battle. My aim is to get as many points as I can tomorrow - we want to secure second place in the constructors' world championship, and that'll be our aim for tomorrow."
Martin Whitmarsh, Team Principal: "Both Lewis and Jenson drove superbly in qualifying today, and will line up second and fourth on tomorrow's grid as a result. In fact Lewis missed out on bagging pole position by just three-hundredths of a second - and inevitably you're always just a smidgen disappointed when it's as close as that at the front. Nevertheless, his goal tomorrow will be a unilateral one: to score 25 world championship points. He's well placed to do just that - and, as ever, he'll be pushing just as hard as he knows how. He'll have a competitive race car tomorrow, and in our view he'll be in decent shape to deliver the win we need. Jenson, too, is well placed to score heavily, and thereby consolidate Vodafone McLaren Mercedes's second place in the constructors' world championship. So I reckon tomorrow has all the ingredients to be one of the most thrilling days in the history of Formula 1, and I'm sure that trackside spectators and TV viewers alike will be on the edges of their seats during what promises to be a truly dramatic sporting occasion."
Mercedes GP
Michael Schumacher (8th, 1:40.516): "I didn't have the best last lap in Q3 today unfortunately as I didn't quite get the sectors together. That was a shame because I could have ended up one or even two positions higher. However this gives me room to improve for tomorrow and that will be my target for the race. We've had a pretty straightforward weekend at this fantastic venue. I really enjoy driving here, the atmosphere is great and driving from day into night is very special. It's a big spectacle and I hope the race adds to it."
Nico Rosberg (9th, 1:40.589): "The speed was there today, however unfortunately only on the hard tyre, so it's disappointing to be starting from ninth place on the grid. For our race strategy, I had to run the options in Q3 and I just struggled with them all the way through qualifying."
Ross Brawn, Team Principal: "We made very solid progress into Q3 today with the car looking pretty reasonable throughout qualifying. However we were much better on the prime tyre with both Nico and Michael struggling on the option in Q3. This gives us reason to be optimistic in the race tomorrow when we should be on the right strategy. Overall we're in a reasonable position."
Norbert Haug, Mercedes Motorsport Director: "In the first two qualifying sessions, our lap times looked pretty strong on the harder prime tyre. We knew that the option tyre would probably cost us lap time in Q3 but it was still the right decision to use them. The little handicap today will hopefully help us tomorrow when we aim to improve on our grid positions during the race tomorrow."
Red Bull-Renault
Sebastian Vettel (1st, 1:39.394): "I'm happy - it was a great lap and I'm proud of it. It was a very tight qualifying session and it's even more thrilling when you know there's tension going into it and you know 'this is it'. We only did one run in Q3, so only one chance. We probably did more laps than the others, but we only used one set of tyres. Looking back I was surprised by how much the circuit ramped up at the end and maybe it would have been better to do two runs, but what we did was enough for pole. The car was fantastic today, much better than yesterday evening, so I think we made a step forward. I think we achieved the maximum we could today. Hopefully we will have a good start tomorrow and a good first lap and then it's a long race from there - so let's see what we can do."
Mark Webber (5th, 1:39.925): "I'm not rapped to be fifth on the grid, it's disappointing, but there's still a long way to go tomorrow - the fat lady hasn't sung yet. I would like to have been further up, but I couldn't get the pace. We need to be there at the end of tomorrow's race and a lot can still happen; I haven't helped things today, but the Championship's not decided today. I didn't seem to have the grip the other guys had and I need to have a look where I was losing time. We will just have to do the best job we can tomorrow, it's a long race - we're still in the hunt and that's the main thing."
Christian Horner, Sporting Director: "That was a very exciting last session; Sebastian completed an excellent lap on his second timed to get pole. It was always going to a tricky choice with how many laps to do in the last session and both drivers decided that they wanted to do more than two. It was ultimately the choice of Sebastian and Mark to do three and four laps respectively. Mark ended up P5 unfortunately today and so is going to need a good start and a good race tomorrow. Today has set up a scintillating grid for the final race of the year."
Fabrice Lom, Renault: "It's the last qualifying of the year, so it's time to do some statistics: First, it's our 15th pole, so we have equalled the world record of pole positions achieved by a team in one year. And secondly, the Red Bull drivers are the only two to get through to Q3 at every race this year. To talk about today, as a team we had our glory when we won the Constructors' World Championship at the last race, and now it's down to the two men. We will let them battle while trying to do the best job possible to not interfere with their performance. Today Seb won the qualifying battle - he's first and Mark is fifth. Now it's down to the race tomorrow, I think it will be very interesting to watch."
Ferrari
Fernando Alonso (3rd, 1:39.792): "After a good Friday, during which we worked on the set-up, today along came a good Saturday, in which we secured a good grid position, especially in terms of where our main title rival finds himself on the grid. Now, we need one more day at this level and that should bring us closer to our objective. It was an important qualifying session, but you cannot call it decisive, because the race is tomorrow. Reliability and team work will make the difference, as is usually the case. The start? We will see what happens in first ten or twenty metres and then decide if it will be best to attack or wiser to defend. We have to keep in the mind that the world championship definitely does not get won at the first corner, but there is a chance of losing it there. We knew we could expect a difficult weekend, with Red Bull being strong as ever and McLaren at a very high level. Having only Vettel ahead of me, rather than both Red Bulls is positive. It was a very closely contested session, with the order changing all the time. Our first run in Q3 was not the best, because we had problems with traffic, but we knew we had the potential to do better and that's how it turned out: I started the lap, also thinking about saving the tyres for the final sector so as to avoid the risk of getting there and finding myself in trouble. I am confident for tomorrow but I want to repeat one more time that, however it ends up tomorrow afternoon, it has been a great year for me at Scuderia Ferrari Marlboro, where we enjoy a very special atmosphere together."
Felipe Massa (6th, 1:40.202): "On my last out lap, I came up behind so much traffic and it was all very confusing, especially as Hamilton, who was ahead of me, had slowed a lot at Turn 14. At the end of the session, I was called to the Stewards to discuss this incident and also the one with Hamilton again in Q2: this sort of thing can happen as can be seen from the fact that no action was taken.I reached the exit of the final corner, I saw the red light and, instinctively, I thought I had not got there in time to do the flying lap. In fact, I had made it, but I did not push immediately as hard as I could have done, so I came back to the pits when I realised I would not have improved my time. It's a real shame because I could definitely have done better and therefore started further up the grid. Tomorrow, I am expecting a very hard fought battle between three teams - us, McLaren and Red Bull - who are all very much on the pace. I will try to make up some places at the start and then to do the maximum for the team. However, in terms of performance, I think the situation is better than we could have expected. Fernando starts with a couple of aces to play, which in Poker usually signifies a strong hand."
Stefano Domenicali, Team Principal: "Overall, we can claim to be satisfied with this result, especially in terms of the Drivers' classification. Fernando did a great lap on his final run, while unfortunately, Felipe had so much traffic on his out lap that he was not in the best of shapes when starting his final timed lap, so that he even decided to abort it and pit early. Tomorrow we can expect a very long and difficult race. The key parameters will be the same as always - reliability, the start, strategy, team work and the drivers' ability at the wheel - but more than ever before, tomorrow afternoon, the main thing will be to keep a cool head. We have to stay concentrated on our work: if we can put together another perfect day, then we will have the opportunity to reach the target we have set our sights on."
Chris Dyer: "A great qualifying from Fernando, which puts in a strong position for tomorrow's race. I knew the Red Bulls were very quick and to manage to get ahead of Webber is really a nice result. We saw various strategies adopted in qualifying, but I think the one that we and McLaren adopted paid off best. Starting from third with Mark fifth is definitely positive in terms of the championship. A shame for Felipe, who was unable to get a second run in Q3. Considering the potential at his disposal, he could have ended up further up the grid. As usual, the start will be very important but here, more than elsewhere, it will be interesting to monitor the behaviour of the soft tyre in the first part of the race, given that degradation seems higher than we have seen at other tracks."
Williams-Cosworth
Rubens Barrichello (7th, 1:40.203): "It was a great qualifying, especially considering where we were yesterday. On Friday we were struggling a little, but we have improved the car in every aspect and I am just delighted with the outcome today. Seventh is better than I expected and I hope we can maintain this tomorrow. Of course tomorrow is another day, but my engineers and I have good momentum together this weekend, so I am very positive."
Nico Hulkenberg (15th, 1:41.418): "To begin with, Rubens and I were quite evenly matched but I ended up in P15 while Rubens made it into the top ten. In Q1 everything was fine, with the prime tyre working well. We then selected the option for Q2 and everything changed. My car suddenly behaved very unexpectedly, I lost balance and grip and the car was just sliding around all over the place. It was very strange and we will be looking into it tonight. With a good start, we could gain some places and end up with a more positive result tomorrow."
Patrick Head, Director of Engineering: "It was a great qualifying from Rubens. Together with his engineer, he extracted the very best out of the car this afternoon and we'll be looking for good performance in the race. Nico had shown the potential needed to make it into Q3, but something caused understeer in the slow corners in his final set of tyres. Both drivers can run a good race tomorrow and our intention is to maintain position in the constructors' championship."
Renault
Vitaly Petrov (10th, 1:40.901): "The car has felt pretty good all weekend for me. We have made progress in each session, especially with the feel of the brakes, which is very important at this circuit, and it felt like all the parts of the package were working well today. I have been running in the top ten most of the weekend, and it was nice to deliver this potential in qualifying. Looking ahead to the race, it will be a very tough one for the tyres, and we need to think carefully about using the right strategy to cope with this."
Robert Kubica (11th, 1:40.780): "I have been struggling with the car since yesterday and we simply didn't manage to get on top of the issues, especially for qualifying. The rear of the car was sliding a lot this evening, so it was hard to get on the power early enough to set a good lap time. I tried everything, I was sideways in a lot of corners, but that's how it was today. It's disappointing to miss out on the top ten, but it's also the first time this year that I have had a free tyre choice for Sunday - and we will have to see if we can make this into an advantage for tomorrow. The season is still not over, and we will try to finish it with some more points."
Eric Boullier, Team Principal: "We cannot be satisfied to line up tenth and 11th on the grid: we set our sights higher than this. Robert tried everything he could in qualifying, but he struggled with low grip and an oversteer balance that prevented him from doing any better. As for Vitaly, it's good to see him in Q3 again, but he made a mistake on his final run and could have gone even quicker. We must now turn our attention to tomorrow afternoon's race, and aim to conclude our season with a double points finish."
Alan Permane, Chief Race Engineer: "This was not our best qualifying effort of the year. Robert was not comfortable with the car in third practice, and the changes we made before qualifying failed to improve the situation. He was suffering from an overall lack of grip, and this is why he missed out on Q3. Vitaly had a reasonable day, qualifying in the top ten for the second race in a row. He was generally happy with the car and has steadily improved throughout the weekend. We must aim to get both cars into the points tomorrow, and we are obviously in a position where we can make a free tyre choice with Robert; we will be looking closely at what we think will be best for the race."
Force India-Mercedes
Adrian Sutil (13th, 1:40.914): "I am pleased with how qualifying went for us. It was not easy in the last few races but it was a clean lap today, close to the top ten and it puts us in a strong position for the race. The VJM03 worked very well and the balance was good - we could even do three laps on the soft tyre, which is unusual in qualifying. We finished very close to the top ten and now the clear goal is to break into the points. I am convinced we can get up there based on the performance throughout the season - we need a good start and strategy and a race that comes to us. It's not easy but we will push and do our best. We need some points, that's absolutely the main goal."
Vitantonio Liuzzi (16th, 1:41.642): "We were in good shape today. We didn't have enough for Q3 but we've shown a step in performance from the previous races. The balance was good and with the second set of tyres it was getting better and better. Unfortunately I got some traffic with Petrov on my last lap in the last sector and lost about three tenths, which cost us at least a position or two. We do know though that the car is quick and I think we are in good shape and for the race tomorrow."
Dr. Vijay Mallya, Team Principal: "A very good performance from the team today. Last year we struggled to get out of Q1 and today we were just under three tenths from Q3, showing just how much we have improved over the past 12 months. It also demonstrates just how hard everyone has worked and is a real fillip going into tomorrow's race. We are in a good position to get into the points, our race pace has been very strong and we're all hungry to get back into sixth again. If we can finish the season with only teams who have previously won the constructors' championship ahead of us it's going to be the icing on the cake for what's been a great season for us so far."
Toro Rosso-Ferrari
Jaime Alguersuari (17th, 1:41.738): "It was very difficult today to make the step from Q1 to Q2, but in the end I think I got a good lap, improving by a tenth. I would say we were not as quick as we expected to be here and could not really attack the Saubers and Force Indias. Therefore we tried running with less downforce to be faster down the straight, but it made Sector 3 very difficult and I had too much oversteer, which meant I could not attack the track. As for the race, I think that right from Friday the situation here was clear. This is the sort of race where you can have a lot of crashes and retirements, which could give us a chance to get into the points if we stay out of trouble and do something good with the tyre strategy. Tomorrow, we have nothing to lose, so I will start the race in an aggressive fashion and then see where that takes us."
Sebastien Buemi (18th, 1:41.824): "I lost quite a bit of time at Turn 19, as I just brushed the wall on the exit to it, which cost me three tenths and a place in Q2, so I cannot be happy with the way the session went. It was ironic that it was my team-mate who knocked me out of Q2, but now we need to focus on the race and the car's performance has not been too bad overall in free practice, so I will be trying my best as usual to get the very most out of the package for the final time this season."
Giorgio Ascanelli, Technical Director: "We seem to have been around 17th and 18th most of the weekend, so you could say the qualifying result was not surprising. I did actually think we could have pipped Tonio (Liuzzi) at the last moment, but it did not work out that way. At the time that we took the decision to do longer runs on the Prime tyre, it seemed like the correct choice, but I suppose that with full hindsight you could say it was the wrong choice as Tonio outqualified us doing two laps on the softer Option. So I was wrong. One cause for satisfaction at the end of the season? Whatever happens tomorrow, Jaime is the driver who has completed the most laps, the greatest mileage this season, including all running at the 19 Grands Prix, including the Friday and Saturday sessions."
Lotus-Cosworth
Jarno Trulli (19th, 1:43.516): "That was great and I'm delighted we finished the last qualifying session of the season as best of the new teams. The car was really good this afternoon which is a little surprising as I had quite a bit of rear-locking under braking which we didn't have in FP3. Nevertheless, the track was improving throughout the session, so it was important to get a good lap in at the end which I managed to do. I think I could have found another tenth but I just wanted to make sure we were in front, and the fact we are, with a decent gap to Timo, is a sign of how well we are finishing the season."
Heikki Kovalainen (20th, 1:43.712): "I thought the session was ok for me but congratulations to Jarno for putting in a great qualifying lap. I think I put in as good a performance as I could, and as both cars are ahead of our direct rivals it's where we want to be. We'll look to carry over today's performance into the race tomorrow and the main aim is to end the season as best of the new teams."
Tony Fernandes, Team Principal: "That was a fantastic display from the whole team. To end the final qualifying session of 2010 so far ahead of our main rivals is a great effort, and is just reward for the extremely hard work everyone has put in throughout the whole season. I have enjoyed every second of this weekend so far. On top of the strong performances on track yesterday and today, we have been able to take a few more important steps forward for 2011 and next year is looking more exciting than ever. However, for now it is all about this weekend. Richard Branson and I were measured up for our flight attendant uniforms today and that adds an extra bit of excitement to tomorrow's battle, but now it is all about making sure we keep our concentration and focus and finish the season as well as we did today."
Mike Gascoyne, Technical Director: "I don't think we could have asked for any more today. Both cars were strong, well balanced and dominated the other new teams which was the number one goal. We have worked hard all weekend to get the best out of the tyres, and both Jarno and Heikki did that in qualifying, putting us in a very strong position for tomorrow's race."
HRT-Cosworth
Bruno Senna (23rd, 1:45.085): "The track conditions were quite changeable today, but it improved during the day, even in qualifying. It was difficult to adapt to these changes but I could manage a good lap on the option tyres. It's going to be the last race of my first season in Formula 1, so I hope we can have a good and competitive one tomorrow."
Christian Klien (24th, 1:45.296): "It was a difficult day for us and we had problems with the brakes in the third practice. That's why we had to change the braking system which then worked better than before. Unfortunately, there was not enough time during the qualifying session to get used to the new set-up and I didn't feel very comfortable in the car. But I hope that we can do a good race tomorrow and finish with both cars again to end the season in a good way."
Colin Kolles, Team Principal: "The gap to the other new teams was not too big today. After fixing the problems Christian Klien had in the practice session, he could perform better. Bruno Senna could do a good lap and was close to our competitors. We could have achieved a better result but unfortunately we couldn't bring the sectors together. For the final race of the season we are hoping to have good fights with the other new teams and to achieve a satisfying result for us."
BMW Sauber-Ferrari
Kamui Kobayashi (12th, 1:40.783): "I missed Q3 by just a fraction of a second, and it was definitely a possibility for our car on this track. In general the car is much better than it was on Friday, and my lap was quite okay. But since we changed the brake material for free practice three, which is routine, I have had problems. The brake balance between front and rear isn't right. This obviously results in a lack of confidence and makes it difficult to put three perfect sector times together. Nevertheless I'm very much looking forward to the race tomorrow, and I believe I can score points from where I am starting."
Nick Heidfeld (14th, 1:41.113): "We have improved the car a lot since Friday. Qualifying wasn't bad, but I am not completely happy. It takes a few laps to heat up the tyres. In Q1 I used a set of Prime tyres and then a set of Option tyres. Like last year, the difference isn't really huge here. Although it is hot, the tarmac seems to be very smooth and doesn't offer too much grip. It is not easy to get the car's balance right here. In Q2 I used a single set of the softer Option rubber. The last lap was okay, I had no traffic or mistakes, but I still could feel there was more grip to come from the tyres."
James Key, Technical Director: "We seemed to head in the right direction for the set-up in free practice 3 after some good work by the drivers and engineers over night. We were fairly happy how the cars felt going into qualifying. There it was really all about the tyres, which spec to use and how long to stay out, because the warm-up was an issue, particularly with the changing conditions. The track temperatures and the length of the life of the tyres were the two factors we needed to trade off. So we tried longer runs in each session, and for us this was okay. Traffic was also a problem today, so to do more laps was sensible. It was a good lap by Kamui, he missed out on Q3 by just 1.3 tenths, but we have some fresh tyres for tomorrow. It's gonna be a fascinating race with the way the grid turned out today. We just hope for a good race on our side and some more points."
Virgin-Cosworth
Timo Glock (21st, 1:44.095): "It was a reasonable qualifying in the sense that we got the most from the car, so I am pleased with my performance, although it is disappointing that we were unable to beat Lotus. It's hard to believe but it's the last race of our debut season tomorrow so we obviously hope we can do something in the race and maybe get ahead of the Lotus cars one last time."
Lucas di Grassi (22nd, 1:44.510): "All things considered, my lap time in qualifying was reasonably good, although traffic and track position played a big role in my qualifying times. Now we have to focus on tomorrow's race - the last of the season - in which we will try to do the best job possible and finish the year with a good result."
John Booth, Team Principal: "Both drivers suffered a little with traffic out there today. There was a problem with Lucas' brake drum which adversely affected his braking, nevertheless we simply weren't quite quick enough to beat our closest competitors. Tyre choice and management for tomorrow will be interesting and we look forward to an exciting season finale."