Abu Dhabi GP 2010
NOVEMBER 14, 2010
Race Notes - Vettel wins Abu Dhabi GP, and wins championship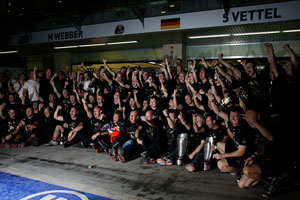 © The Cahier Archive
Sebastian Vettel won the Abu Dhabi Grand Prix today in his Red Bull-Renault, and with it becomes the youngest ever Drivers World Champion, as his rivals falter. Lewis Hamilton in the McLaren-Mercedes finished second, 10.1 seconds behind, and his team mate Jenson Button finished third, 11 seconds behind.
The championship was sealed when early on Mark Webber pitted early, and then Ferrari and Alonso reacted to this, pitting on lap 15, which put both Webber and Alonso into the pack, and unable to work their way back up to a position to score enough points to win the championship.
The win is Vettel's fifth of the season, and Red Bull's ninth.
Nico Rosberg (30.7s) finished in his Mercedes GP in fourth place, followed by Robert Kubica (39.0s) in the Renault in fifth, his team mate Vitaly Petrov (43.5s) in sixth, Fernando Alonso (43.7s) in the Ferrari in seventh, Mark Webber (44.2s) in the Red Bull in eighth, Jaime Alguersuari (50.2s) in the Toro Rosso-Ferrari in ninth, and Felipe Massa (50.8s) in the Ferrari in the final points position.
Before the race, Alonso leads the world championship, but the title is still up for grabs between Alonso, Webber, Vettel and Hamilton.
Vettel starts from pole, Hamilton second, Alonso third and Webber fifth. At the front of the grid the top runners all starting on super soft tyres.
At the start, Vettel leads Hamilton. Button passes Alonso for third, followed by Webber.
At the chicane, Michael Schumacher spins - Vitantonio Liuzzi runs into the Mercedes, riding up the German's car, the Safety Car is deployed, and both driver's day is done.
Rosberg, Petrov, Alguersuari, Lucas di Grassi, Bruno Senna and Christian Klien all pit.
Under the Safety Car on lap 3 the order is Vettel leading Hamilton, Button, Alonso, Webber, Massa, Rubens Barrichello, Kamui Kobayashi, Adrian Sutil, Kubica, Nick Heidfeld, Sebastien Buemi, Nico Hulkenberg, Heikki Kovalainen, Jarno Trulli, Timo Glock, Rosberg, Petrov, Alguersuari, Di Grassi, Senna and Klien.
The marshals clean up the debris at the chicane.
At the end of lap 5 the Safety Car comes in, and the race continues. Vettel streaks out into the lead, the order stays the same up front. Rosberg passes Glock for 16th. Kubica passes Sutil for ninth.
On lap 7 Kobayashi dives under Barrichello, but overshoots, and the Brazilian retakes seventh place.
Vettel and Hamilton lapping in the 1m45s, Button and Alonso in the 1m46s, Webber and Massa in the 1m47s.
Webber barely clips the outside wall with his right rear tyre, but continues.
On lap 10 Rosberg passes Hulkenberg for 13th place.
At lap 10, Vettel leads Hamilton by 1.7 seconds, followed by Button (5.7s), Alonso (7.6s), Webber (9.7s), Massa (10.5s), Barrichello (13.0s), Kobayashi (13.8s), Kubica (14.9s) and Sutil (17.1s) in tenth place.
On lap 12 Webber pits for tyres, rejoining in 16th place.
Hamilton closes to under a second behind Vettel.
On lap 13 Massa pits from fifth place, and rejoins behind Webber. Webber passes Alguersuari for 14th place. All the top ten drivers lapping in the 1m46s range.
On lap 15 Alonso pits from fourth place, he rejoins in ahead of Webber. Heidfeld pits from ninth place.
On lap 17 Heidfeld sets fastest lap on new tyres.
On lap 18 Barrichello pits from sixth place and takes on the hard tyre. Senna goes off track, but continues.
At lap 20, Vettel leads Hamilton by 1.9 seconds, followed by Button (5.1s), Kobayashi (19.2s), Kubica (20.3s), Sutil (22.7s), Buemi (25.1s), Rosberg (25.8s), Hulkenberg (27.0s), Petrov (28.4s), Alonso (28.8s) and Webber (30.5s) in 12th place. If the race were over now, Vettel would win the championship over Alonso, Hamilton and Webber.
Alonso trying to find a way past Petrov in tenth place, runs off the track but rejoins in front of Webber.
On lap 23 Hamilton pits from second place, rejoining in fifth
On lap 25 Vettel pits from the lead, rejoining just ahead of Kobayashi. Kubica battles with Kobayashi, the Renault taking third place. Hamilton attacks Kobayashi. Button leads, yet to pit. Webber runs wide but continues. Hamilton passes Kobayashi for fourth place.
On lap 29 Trulli pits for a new front wing.
At lap 30 Button leads Vettel by 11.6 seconds, followed by Kubica (18.7s), Hamilton (19.0s), Kobayashi (24.0s), Sutil (25.9s), Buemi (27.5s), Rosberg (29.0s), Hulkenberg (30.2s), Petrov (30.9s), Alonso (31.5s) and Webber (32.7s) in 12th place. Vettel sets fastest lap. Vettel is currently three points ahead of Alonso in the championship - with 22 laps remaining and a number of cars still to pit, the question is if Alonso can make up the difference.
On lap 33 Kobayashi pits from fourth, and rejoins in 16th. Vettel sets fastest lap.
On lap 36 Hulkenberg pits from ninth place, rejoining in 16th.
On lap 37 Buemi pits from sixth place, rejoining in 15th.
On lap 39 Button pits from the lead, rejoining in fourth. If the race ended now, Vettel leads Alonso by fourth points.
At lap 40, Vettel leads Kubica by 12.1 seconds, followed by Hamilton (12.8s), Button (17.3s), Sutil (27.6s), Rosberg (31.2s), Petrov (33.7s), Alonso (34.2s), Webber (35.8s) and Alguersuari (39.2s) in tenth place.
Button sets fastest lap. Kubica and Sutil yet to pit. Alonso still unable to find a way past Petrov.
On lap 46 Glock pull off the track and retires. Kubica pits from second place and rejoins in sixth. Kubica crossing the line on pit exit.
On lap 47 Sutil pits from fourth place, rejoining in 13th. Vettel currently leads Alonso by four points in the championship.
At lap 50, Vettel leads Hamilton by 10.3 seconds, followed by Button (13.3s), Rosberg (31.5s), Kubica (34.9s), Petrov (38.5s), Alonso (39.1s), Webber (40.0s), Alguersuari (47.1s) and Massa (47.7s) in tenth place.
On lap 53 Trulli's rear wing flies off the Lotus, but the Italian slows down successfully.
The order remains the same, and Sebastian Vettel wins the Drivers title.