Abu Dhabi GP 2010
NOVEMBER 13, 2010
Qualifying Report - Vettel on pole, Alonso looks strong, uphill battle for Webber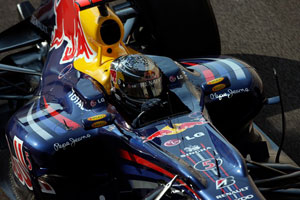 © The Cahier Archive
Sebastian Vettel (1:39.394) took a crucial pole position for the Abu Dhabi Grand Prix by just three hundredths of a second from Lewis Hamilton (1:39.425) and has given himself a chance of making himself the youngest champion in the sport's history.
Vettel opted for just the one multi-lap Q3 run and said: "Two runs probably would have been the better choice but it's a bit risky in case the tyres aren't quite up to temperature when you have to do the lap because the track temperature drops quite a lot when the daylight goes and we didn't look so competitive in those conditions yesterday. I was surprised how the circuit ramped up, but it's great, I'm on pole, my 10th this year, which can't be bad. There's probably more pressure on Fernando and Mark, I am in a similar position to Lewis."
Hamilton (1:39.425), like Vettel, is not feeling anything like the pressure he did in 2007/8 and is focusing on simply winning the race: "Today was much better," he said. "The team have done some great things improving certain parts of the car. We have nothing to lose and everything to gain so we are chilled. It was a great job by Jenson as well and hopefully we will score more points than Ferrari."
McLaren needs just a fourth place or equivalent aggregate finish to ensure that Ferrari cannot overhaul them in the constructors' championship even if the Italians score an unexpected 1-2.
Fernando Alonso (1:39.792) left it until the last minute to put in a crucial lap that was good enough for third on the grid, 0.03s clear of Jenson Button.
"It was a tough qualifying," Alonso admitted, "with lots of changing positions in Q2 and Q3. I think the first attempt was not great, I had traffic in sector one and I knew on the second set of tyres I had some time to come, so third place is good. The team did a good job with the set-up. I was convinced that the last sector was our best possibility, so we saved the tyres a bit in the first and second sectors because they get a bit hot in the last sector. Nothing is done yet. Red Bull lost Korea with mechanical issues so anything can happen and we need to complete the 55 laps tomorrow without any problems but I've been confident for five months and now there is just one day to go.
Button (1:39.823) also starts ahead of Mark Webber (1:39.925), who could only manage fifth in the most crucial qualifying session of his life.
"I seem to be losing most of the time in the second sector, so we will have to have a close look at the data," Webber said. "If the race was one lap I would not be looking too good but it's two hours, so I'm not giving up."
Adding to Webber's headaches, Felipe Massa (1:40.202) starts sixth on the grid just one thousandth of a second clear of a fine effort by Rubens Barrichello (1:40.203)
Michael Schumacher (1:40.516) beat Nico Rosberg (1:40.589) by seven hundredths while Vitaly Petrov (1:40.901) qualified in the top 10 for the second successive race while team mate Robert Kubica lost his season-long record of making the Q3 qualifying shoot-out at the last race, the Pole unhappy with the Renault's handling.