70th Anniversary GP 2020
AUGUST 7, 2020
Friday Report - Comfortably quick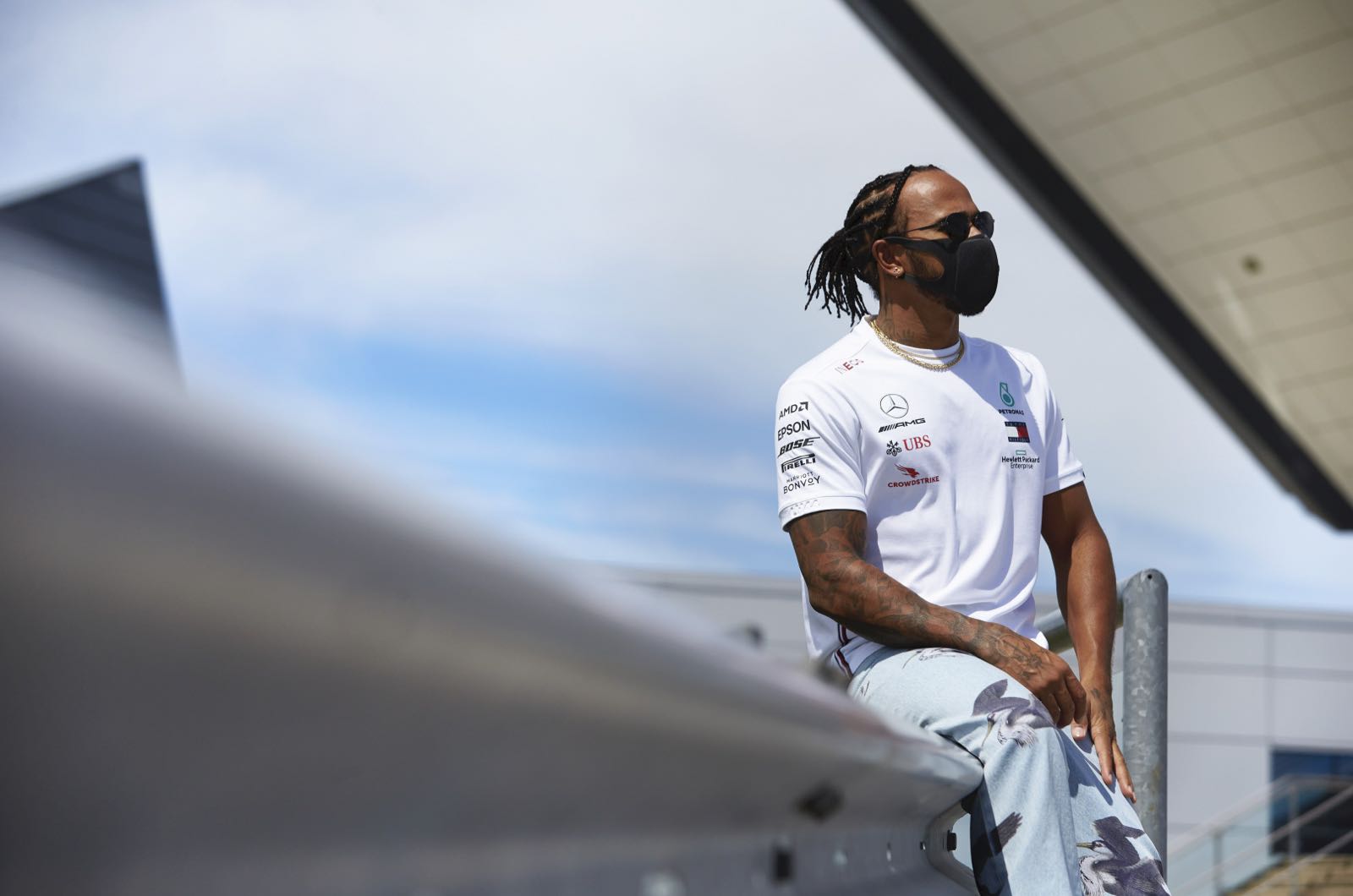 © Mercedes-Benz Grand Prix Ltd.
By Dan Knutson
The Mercedes cars were comfortably quicker than the opposition during Friday's practice for the 70th Anniversary Grand Prix at Silverstone. Lewis Hamilton topped the times, with teammate Valtteri Bottas next, and they were a full eight-tenths of a second faster than the nearest opposition.
The line-up for the weekend was: Mercedes – Hamilton and Bottas; Ferrari – Sebastian Vettel and Charles Leclerc; Red Bull Honda – Verstappen and Alexander Albon; McLaren Renault – Carlos Sainz and Lando Norris; Renault – Daniel Ricciardo and Esteban Ocon; AlphaTauri Honda – Daniil Kvyat and Pierre Gasly; Racing Point Mercedes – Nico Hulkenberg and Lance Stroll; Alfa Romeo Ferrari – Kimi Raikkonen and Antonio Giovinazzi; Haas Ferrari – Romain Grosjean and Kevin Magnussen; Williams Mercedes – George Russell and Nicolas Latifi.
Bottas set the fastest time in FP1 – a 1:26.166, which was one-tenth of a second faster than his teammate Hamilton.
Stroll set the early pace in FP2 with a time of 1:27.179 on the soft Pirelli compound tires.
Hulkenberg, subbing for Sergio Perez who still tested positive for Covid-19, topped that with his 1:27.130. But that did not last long as Bottas took the lead at 1:25.917 on the medium compound Pirellis.
Then Hamilton, on the softs, turned a 1:25.911 when the session was 25 minutes old.
As the 30 minute mark approached, the order was: Hamilton, Bottas, Verstappen, Hulkenberg, Norris, Stroll, Albon, Sainz, Ocon and Gasly. Verstappen was a full half second slower than the Mercedes duo.
Thirty-five minutes into the session Bottas slid into the lead with a time of 1:25.782 on the soft compound. Now the order was Bottas, Hamilton, Verstappen, Stroll, Hulkenberg, Norris, Ricciardo and Albon.
Hamilton was having none of that, so he used the mediums to go back in front with his 1:25.606.
Then Ricciardo, on the softs, slid into third with a 1:26.421 with 38 minutes remaining in the session.
The teams devoted the final half hour to doing long run race simulations.
Seven minutes remained in the session when Vettel's engine blew up, and deposited vast quantities of oil on the track at old start/finish line.
"A big failure at the back of the car," he radioed.
That brought out the red flags, and so the session ended, with Hamilton and Bottas comfortably quicker than Ricciardo, Verstappen, Stroll, Hulkenberg, Leclerc, Norris, Sainz and Ocon.