People
Patrizio Cantu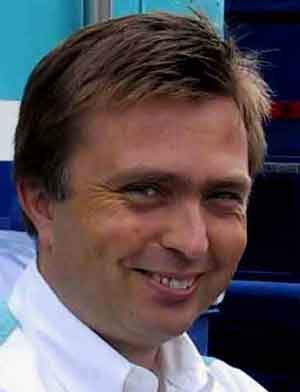 Patrizio Cantu was mad about motor sport in his youth and after a brief career as a rally driver he became a motor racing journalist. He was soon writing about Formula 1 and eventually became a television presenter as well. He got to know industrialist Beppe Lucchini and became involved with some of his projects, notably the Beretta-sponsored semi-works Alfa Romeo Brixia Motor Sport team in the World Touring Car Championship in 1987. When Alfa Romeo withdrew from the series in mid-1987 Lucchini decided to start his own Formula 1 team and in December that year established Scuderia Italia with Cantu as team manager.

The team entered F1 in 1988 with a Sergio Rinland-designed Dallara and driver Alex Caffi. There were some promising results and the team expanded to two cars in 1989 with Caffi being joined by Andrea de Cesaris. Caffi finished fourth in Monaco and de Cesaris was third in Canada but at the end of the year Cantu departed and established his own team in Formula 3000 with engineer Christian Vanderpleyn. The outfit was called Crypton Engineering and Fabrizio Barbazza scored some promising results that year.

Early in 1991 Cantu joined forces with Gabriele Raffanelli to take over the AGS Formula 1 team after Cyril de Rouvre had driven the team into financial trouble. Barbazza was hired to drive alongside Gabriele Tarquini but the team did not have the money necessary and at the end of the year it closed down.

Cantu went back to running Crypton Engineering and in 1992 the team won the European Formula 3000 series with Luca Badoer scoring four wins. That year the team lost Vanderpleyn when he was killed in a road accident and although Pedro Lamy was a challenger for the F3000 title in 1993 the team went into decline. Lamy finished second in the series but in 1994 Crypton ran out of money and was closed down.

Cantu became the team manager of one of the World 250cc Motorcycle Championship teams.