People
Ian Phillips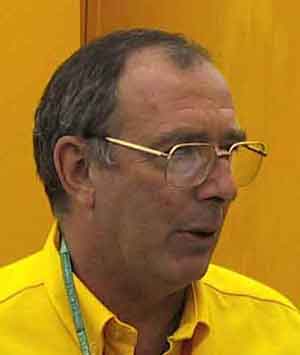 Jordan Grand Prix's Commercial & Marketing Director is Ian Phillips, who has done a variety of jobs in motor racing since he started out as a messenger boy with Autosport magazine in London in the late 1960s.

This may have seemed a lowly job but in fact Phillips came from a very comfortable background and was educated at the well known public school of Malvern. He did not remain a messenger boy for long and very quickly rose through the ranks at Autosport to become its editor in his early twenties.

By the time he was 26 he was tired of the constant pressure of life as a weekly magazine reporter and in 1977 took up the offer of a job as circuit manager of Donington Park, Britain's oldest surviving racing circuit which had been closed for 30 years but had been bought by businessman Tom Wheatcroft who had big plans to turn it into Britain's Grand Prix circuit. Ian oversaw the reopening of the track but then moved on to become the administrator of the Gunnar Nilsson Cancer Research fund, having been very close to the Swedish driver.

After that he returned to journalism and for the next eight years worked as a freelance reporter and public relations man - working with companies such as March Engineering, Marlboro and Bridgestone - specializing in Formula 2 racing. He would continue in these roles until Robin Herd - the founder of March - asked him if he would like to be the team manager of the new March F1 team.

Ian helped to set up the team and ran it for the first couple of years, continuing in the same role when the team became Leyton House Racing - independent of March - in 1988.

In 1990 he was unfortunate to contract meningitis when on a trip to South America and he was out of action for much of the year, coming back to discover that big changes had been made in the team and that he was no longer in charge. In 1990 he was dropped and moved to the new 7 Up Jordan team as commercial manager. He has been with the team ever since working on the commercial side.