People
Hiroshi Yasukawa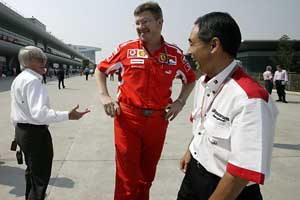 The General Manager of Bridgestone's Motorsport Department is Hiroshi Yasukawa, who is responsible for all the company's competition activities. He has been employed by Bridgestone for his entire working career and is largely responsible for the company's successes in the sport for the last 20 years.

A racer in the late 1960s, when motor racing was just beginning to take off in Japan, Yasukawa was a successful competitor, racing in modified Honda road cars. His success and his enthusiasm for the sport led to Bridgestone deciding to sponsor his passage through university. When he graduated in 1972 he joined the company.

Four years later he was made assistant manager of the Motorsport Department and planned the company's entry into the world of go-kart racing - then dominated by Goodyear. Within a few years Bridgestone's karting tires were virtually unbeatable with racers Martin Hynes and Mike Wilson leading the way.

At the start of the 1980s Bridgestone adopted a more international approach both in business and in the sport and in 1981, the year in which Yasukawa was promoted General Manager of Bridgestone's Motorsport Department, the company entered European Formula 2 racing, supplying the two Ralt-Hondas of Geoff Lees and Mike Thackwell and the top March factory car driven by Thierry Boutsen. The tires proved to be quicker than Pirelli and American M&H tires and Lees won the title.

That same season Bridgestone F3 tires were raced on occasion in the European F3 series with dramatic success. There was talk that Bridgestone would soon be in F1 but the world economy took a downturn and Bridgestone had to scale down its expenditure after buying Firestone for $2.6bn in 1988.

By then Yasukawa was back in Japan - having spent four years living and working in Britain. The following year Yasukawa gave the go-ahead for the first secret tests of F1 rubber, using a little-known Reynard-Mugen F1 prototype car.

In 1991 Yasukawa oversaw Bridgestone's entry into the German Touring Car series and organized the preparations for Firestone's entry into Indycars in 1995, but the ultimate aim was always F1 and Yasukawa's ambition has became a reality when Bridgestone entered F1 in 1997.