People
Christian Horner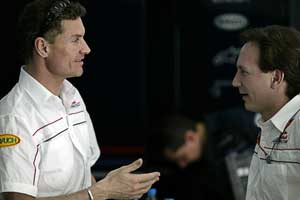 Christian Horner started racing in karts when he was 13. Although the family was comfortable, Horner had two brothers and in consequence his parents told him that if he wanted to go racing he would have to find the money himself. After leaving school he became a fulltime racer, promising to return to education if he was not successful. He won the inaugural Formula Renault scholarship at the end of 1991, which gave him a sponsored drive in the British Formula Renault in 1992 with Manor Motorsport. He won one race that year and finished fourth in the championship, the highest placed rookie. In 1993 he moved into Formula 3 with P1 Engineering in the Class B series of the British F3 series and won five races and finished second to Jamie Spence and the following year was able to raise a budget to join Fortec Motorsport. It was not a good year and he ended up with only one sixth place and a second season with TOM'S Toyota in 1995 was little better. The check in his career meant that in 1996 his only real choice was the British Formula 2 series. In 1997 he decided to start his own team and chose the Arden name because he comes from that area of Warwickshire. He started out running one car for himself but expanded quiet quickly to run a second car for Kurt Mollekens and in 1998 Mollekens finished sixth in the FIA International Formula 3000 Drivers' Championship.

A family friend of David Richards, Horner was able to get advice from the Prodrive owner and in 1998 this connection really launched the team as Prodrive found a huge budget for a Formula 3000 project from the Russian oil company Lukoil. At the time Formula 3000 entries were restricted and Prodrive did not have one and so he turned to Horner and it was agreed that Prodrive would take 50% of Arden and Horner would run the team with the Lukoil money. The team ran Marc Goossens and Viktor Maslov (the latter came with the money) but failed to score any points in 1999. At the end of the year Richards sold a share of Prodrive to Apax. They were not interested in the Formula 3000 programme and so Horner exercised his option to buy the team back, although it is still based in premises which are rented from Prodrive. In order to stay in the FIA International Championship in 2000 Horner had to buy the Formula 3000 assets of Draco and signed Darren Manning and Maslov for the International series, while also running Warren Hughes in Italy. In the International series Manning was a frontrunner but Maslov was still out of his depth, while Hughes was second in the Italian series. The arrangement with Lukoil continued in 2001 with Manning a frontrunner again in the international championship although once again the team failed to win a race.

That year Arden undertook a design study for a LMP900 sports car for Lukoil. At the end of the year Horner decided to go his own way and confident that he had what he needed he signed up Tomas Enge and Bjorn Wirdheim for the 2002 season. Arden also supplied managerial and engineering support for Team Charouz ISR in Italy. Enge scored five wins but lost the FIA International Formula 3000 title because he tested positive in a drugs test. The team won the FIA International team title. In Italy Team Charouz ISR won two races. Arden also built the first Formula 3000 two-seater car to use as a promotional tool for sponsors.

In 2003 Arden re-signed Wirdheim and he was joined by American Townsend Bell. Wirdheim won three races and finished second six times and won both the Teams' and Drivers' titles and Horner became the Formula 3000 Team Representative with the FIA and FOM. In 2004 the team took on Vitantonio Liuzzi and Robert Doornbos and won a third consecutive title. Horner has ambitions to be an F1 team owner was unable to raise the money needed to buy out Jordan. Fortunately, at the same time, Red Bull Racing was acquiring Jaguar Racing and needed someone to run the team. Arden had enjoyed Red Bull sponsorship with Liuzzi and so Horner was the logical choice to be team principal of the new Red Bull Racing.

He remains in that role although success has thus far been rather hard to find.