Pages
On Brazil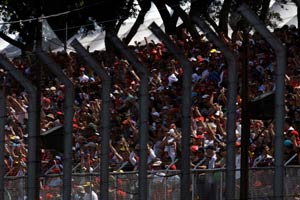 How much of a boost does a driver get from his home crowd when he's racing at his home circuit? Nigel Mansell used to insist it was worth a second a lap to be performing in front of the Silverstone fans, and although I am sure his engineers had sufficient data to pooh-pooh such an extravagant claim, there is undoubtedly a useful psychological advantage to have ten or twenty thousand people urging you on. The question at Interlagos this weekend will be whether the Brazilian fans ('torcida' is the Portuguese equivalent of the more familiar Italian 'tifosi') will be able to make up some of the speed that Ferrari lacked against McLaren-Mercedes in China, at least on Felipe Massa's car.

Unlike spectators at many other circuits around the world, Paulistano race-goers are a discriminating bunch. As I may have mentioned here before, a run of solid DNFs in his first eight F1 appearances at Interlagos have turned the worthy but perennially ill-fated Rubens Barrichello into a figure of fun among local fans, and they were even more cruel about him five years ago when he swooped into the lead, only for a rare Ferrari miscalculation to leave him stranded, out of fuel. Massa's image at Interlagos is entirely different. Having earned the approval of the torcida when he scored an immensely popular win here two years ago (remember the green and yellow overalls he'd taken the precaution of wearing?), Ferrari's little dynamo will certainly have Mansell levels of support on Sunday.

Last year, on this site, I reluctantly tipped the outsider to come through and take the title at Interlagos. Having been shamed by a mate into putting my money where my mouth was, I had some financial solace for Lewis's setback when I marched into my local booking shop on Monday morning to collect a few quid for my Raikkonen ticket. In 25 years I have only ever placed three bets with official bookies, and all three of them were winners.

Honest!

This year, although my money is staying firmly in my pocket, I'm inclined towards tipping Lewis. He's a lot more savvy than he was a year ago, and this time the team is united behind him. The McLaren engineers have already created an 'Interlagos package' of car modifications to help him over the bumps and I understand that the tyre compounds are a bit harder than they were last year, which (assuming it's dry, of course) will be less helpful to the Ferrari and its tendency to be more gentle on its rubber. It's likely that the Bridgestone people took this approach for the abrasive Interlagos circuit because on this day of all days they don't want a repeat of the two tyre failures already experienced this year by McLaren. How ironic that Ferrari should potentially be penalised because of a shortcoming in the McLaren.

Unless Heikki Kovalainen manages to improve both his qualifying and race performances, the biggest headache for Lewis will be the lack of on-track support that comes from having a consistently weaker team mate. But Lewis will also have to gauge the performance of the Ferraris very carefully on Friday, in order to decide whether he's going to try to get in front of them at the start on Sunday (risking a shunt) or whether to let them go and drive a tactical race behind them. After that embarrassingly public lecture about "maintaining discipline" from Ron Dennis over the radio on the slowing-down lap in Shanghai, it's obvious that the McLaren-Mercedes management will want Lewis to concentrate on the all-important fifth place.

But Lewis is a fighter, and there's a lot less glory for the driver who's prepared to back off in search of points. Think of dear old Mike Hawthorn in Morocco almost exactly 50 years ago: while Stirling Moss went for victory and fastest lap (which was worth a point back in 1958), Mike allowed his new team mate Phil Hill to be the hare before being waved through to second place near the end, taking the title from Moss by one point. Even though Hawthorn only lived for a few weeks after that race, motor racing historians have no compunction about suggesting that he was somehow unworthy of the title. Surely Lewis won't want to slide into his first championship like that.

This year, as always, Interlagos can expect to be condemned for its primitive facilities by everyone except a certain grey-haired Englishman (Happy Birthday, Bernie, 78 years old on Thursday!). No doubt the uniquely Brazilian atmosphere will be enhanced by some of the usual cock-ups. Perhaps the night guards will be looking the other way when a gang of their light-fingered mates arrive in search of a team's lap-top computers, or the local electricity company will manage to connect all the metalwork in the TV compound to the mains. It is also entirely possible that the customs people down at the airport will have discovered some obscure import tax (payable only in cash, of course) which has to be settled before the tyres are allowed into the hands of the shipping agent.

The atmosphere, however, will be noisy, exuberant and knowledgeable. Brazil is by far the most exciting place which we visit in F1 (especially when you're a crew member heading back to the hotel and the welcome comes from some crazy with a gun who's forced his way into the team bus), and I am very happy - even though I won't be there - that our wonderful World Championship is to be decided in front of a crowd of people who are not only passionate about the sport but have the joyful privilege of being able to cheer on one of their own in the battle for the crown.

Changing the subject, I would remind British readers that this will be not only the last race of the season but also the end of F1 coverage by the ITV network, which has mysteriously thrown in the towel with two years still to run on the original contract. I had the great good fortune, in a very minor role, of being involved in the regular broadcasting of F1 racing, by the BBC, during the years between 1979 and the ITV take-over at the beginning of 1997. The Beeb's original crew consisted of a producer and a sound man, plus Murray Walker and me (as lap charter and race spotter), and this tiny crew slowly expanded into a cast of dozens, as a proper outside broadcast unit. You may be surprised to know that many of the technicians who form part of the small army trailing round behind the various ITV presenters and on-screen experts are employed by a commercial division of the BBC whose experts stayed in their jobs when the Corporation itself lost the F1 rights back in 1997.

It took ITV a couple of years to get the F1 coverage right, and eventually they got there, sort of. You don't need me to point out that interrupting an F1 race in order to sell stuff is, and always will be, an insult to the viewers' intelligence: if the TV broadcasters don't dare to do it to football or rugby, what gives them the idea that they can inflict it on F1? That apart, though, ITV's lead presenters have always possessed the right level of gravitas, and there's been some excellent support. Mark Blundell is calm and coherent when he's not strangling his vowels, while Louise Goodman does her best to sound sincerely sympathetic as she goes about the thankless task of door-stepping drivers whose cars have just crashed or broken ("How does it feel to have another hydraulic failure, Mark?"). Then in pit lane there's Ted "Mr Calm" Kravitz, who has the most amazing knack of being able to break through the PR iron curtain in order to coax delicious bits of insider information out of engineers, indiscreet mechanics and even team bosses.

Although a couple of venomous websites have long had it in for James Allen as ITV's lead race commentator, I find him both knowledgeable and authoritative. Yes, his forced cheeriness can be irritating at times, but he almost always susses out race strategies correctly and makes far fewer mistakes than Murray Walker used to do. Like everyone in an ITV shirt, he is pretty hot on his technical homework, if not on local pronunciations. So, James, if you persist, as you have done for nigh on 10 years now, on pronouncing Interlagos's Junction corner as "Young Cow," then I swear I will not be responsible for my actions when I bump into you queueing outside the Job Centre next week.

The key to ITV's success, of course, is Martin Brundle. In employing James Hunt as the foil to Muddly Talker back in 1979, the BBC obviously realised that it's essential to have someone behind the microphone who's actually raced an F1 car. Unlike the hopelessly unprepared James, Brundle brings a vitally important measure of authority to the job, and hardly a GP goes by without his spotting some tiny flaw in the behaviour of a car or its driver which will have a significant effect on the development of the race. This gives us viewers the priceless bonus of being able to feel that we are truly on the inside line, sometimes even in advance of the team involved. To my mind, Brundle has made himself as important a part of British TV viewers' enjoyment of F1 as Richie Benaud was to televised cricket for so many years.

I have it on good authority that Our Martin was top of the Beeb's recruiting list for next year, and that he has accepted. What splendid news. Curiously, though, it appears that not everyone is happy about this. Can it really be true that some FIA dogsbody was recently delegated to inform the BBC that Brundle did not have the federation's full approval? What could Brundle possibly have done to upset the grand panjandrums at the FIA? He certainly wouldn't have done anything as provocative as telling the truth, would he? Whatever Martin's trumped-up crime, I am confident that the Beeb stood firm and that the dogsbody was dismissed with a flea in his ear.

Whether it's ITV or BBC covering the race, I hasten to say that you'll get a far better show on British television than most F1 viewers in Europe. Spending part of my time these days in Spain, as I do, I regularly have to rely on Telecinco's coverage, and you can take it from me that if Fernando Alonso wasn't competing then there would be no F1 racing at all on Spanish TV. The three guys commentating (the fat one and the bald one, plus the pretty one out behind the pits) can't even pronounce the names of at least four drivers (ever heard of Nick 'Hayfield'?), and there's virtually no attempt to analyse even comparatively simple on-track incidents unless they involve you-know-who. It doesn't help that the two blokes in the booth are unable to communicate except by shouting, usually simultaneously.

When the commercials come on, stand by to be sold a car (last week I counted seven different brands), while for the rest of the time it's almost wall-to-wall Alonso, who is dragged on to advertise the old Renault Megane, low-alcohol beer, cheap watches, anti-bacterial soap and one of those shonky banks which has just had a government bail-out. For light relief from the torrent of Alonso, they bring you Rafael Nadal (is it really possible that the world's number 1 tennis ace drives a metallic yellow Kia?) and Shell's excellent 'through the ages' F1 racing ad, which unfortunately loses most of its impact when you're seeing it for the fourth or fifth time in an hour.

To some extent I sympathise with the Spanish presenters, who cannot be expected to speak or understand the rapid-fire English which is the common language of our sport. But that's no excuse for limiting on-screen interviews to Pedro de la Rosa and the odd bloke from Ferrari or Scuderia Toro Rosso (Italian being reasonably close to Spanish). And surely it's disrespectful to interrupt the national anthems during the podium ceremony for an interview, even if that happens to be the one brief moment when they've managed to nab the almighty Alonso for a few words.

Having cast my Spanish colleagues in such poor light, I suppose it would be just plain cheeky to use this column to address my old BBC mate Mark Wilkin, now happily back as a senior F1 adviser to the Beeb, but I'm going to try. I know it's a long time, Sir, but I'm still keeping up (just) with Formula 1 affairs. So if it's not too much trouble, can I have my job back please?