Pages
at lost races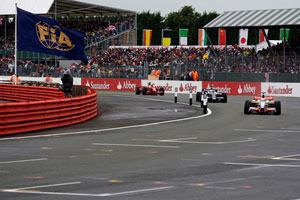 Unlike The Editor of this site, I haven't yet had the privilege of being charmed out of my socks by the cock-eyed optimist who's promising to run the British GP at Donington Park next year and for 16 years thereafter. I will therefore limit my remarks about Simon Gillett's assurances that he's got our national race tied up virtually forever in Derbyshire to the observation that if he's expecting me to find my way into and out of the place over four days by a mixture of train, bus and dog sled, then the Donington planning executive can reduce the size of the new Media Centre by at least one desk (mine). It will be a shame to end my record of unbroken attendances at the race dating back to 1965, of course, but far worse, I confidently predict, will be a similar reaction from tens of thousands of loyal race fans, many of them hard-bitten enthusiasts who traditionally spend the entire weekend of the British GP - as I used to do - under canvas or in caravans, within earshot of, er, cars.

Yes, Mr G, we like cars. We like to watch them being raced and we particularly like the convenience of using them to get around the country in order to attend sporting spectacles. We may not be as politically correct as the doomsayers would like us to be, but there are more than 40 million of us in the UK alone, and we pay a penal rate of taxation - higher than in any other EU country - in order to get to the places where public transport is either too infrequent or (more likely) non-existent. I'm even prepared to bet that quite a lot of us would be very happy to see some of that tax invested back into Silverstone (or, even better, into good ol' Brands Hatch).

We all know the reasons why Silverstone has been kicked off the GP calendar, and it's nothing to do with a lack of facilities or the slightly run-down look of the place. Bear in mind, please, that I'm not banging a personal drum here for Silverstone. As you will have guessed from the above remarks, I'm a dyed-in-the-wool Brands Hatch man myself and I've never really liked the other place. Nevertheless, it's a cracking good circuit for the drivers (most of whom love it) and it's an absolutely superb venue to demonstrate to sponsors (and politicians, if they dare to show up this weekend) that our sport commands the intense love of a fanbase who'll fight to get in, even in years when there isn't a Hamilton or a Button at whom to brandish their upside-down Union flags. What kind of madness is it to abandon these hardy F1 loyalists and allow their national event to be moved to countries where the sort of racing enjoyed by the locals involves camels?

Max Mosley, as he tells us, is engaged on a campaign to save the economic future of F1 racing. It would be much more reassuring to know that he's also found time to have a word with Bernie about the importance of promoting races at venues where the international TV service will be able to broadcast pictures to the world of grandstands filled with knowledgeable race-goers instead of being covered with tarpaulins to hide the empty seats.

I suspect that Bernie doesn't watch a lot of TV unless it's something that's been made by his own crews, and he's probably tucked up in bed well before midnight with a cup of Horlicks and the Financial Times. If so, he's recently been missing the late-night re-runs of the World Cup Twenty20 cricket. He should take a look, because this is the type of sport that F1 is up against these days.

It may come as a bit of a shock to people in non-cricketing countries to learn that among major international sports the game is second only to football in popularity around the world. Twenty20 is a sort of shortened Readers' Digest version which encourages the players to take risks that they wouldn't normally entertain in the longer versions of the game, transforming it from an excuse for a snooze into an entertaining romp. The World Cup of Twenty20 is currently being played out in England in front of huge, cheering crowds, and it's not just the Commonwealth nations which take part, oh no. In the early stages of the contest England somehow contrived to be beaten by Holland, while Bangladesh went down to Ireland. At first I had my doubts about the idea of supercharging the game in this way, but I'm happy to admit I was utterly wrong. It's terrific sport and it's captured the imagination of the public, not least with those whose ethnic allegiance lies with one of the visiting teams.

The difficulty of getting all those people into the stadia (and out again afterwards, when most of them are full of beer) was, of course, resolved a hundred years ago or more, when the English counties allotted a bit of land for the purpose in each of their major cities, within walking distance of most spectators' homes and of major railway stations for the out-of-townies.

Out of curiosity, I checked the cost of attending the World Cup. As it happens, the finals will be taking place at Lord's, in central London, on the same day as Sunday's British GP. It's too late to book now, of course, but a few weeks ago there was a wide choice of seating, including a Family Stand (not so many beer drinkers, I presume), and the top price appears to have been £100. That compares with the price of a ticket at Silverstone's Luffield grandstand (sold out months ago) of £309 for three days, or £269 if you only want to go on Sunday.

Although I'm not going to get into an argument here about which sport is the better value, I will freely admit how grateful I am have an old fart's press pass, because otherwise I certainly couldn't afford to watch F1. However, I've just calculated how much of what Silverstone takes at the turnstiles has to be set aside in order to meet the sanctioning fees. Assuming the fee is about $15 million (the figure is secret), and there's a paid attendance of 90,000, that means that about£100 per head goes straight into the hands of Mr E and those delightful bankers who made him a billionaire a few years back.

Once I got over that shock, I couldn't help noticing that there is an even greater gap between cricket and F1 in the price of tickets for young people. Under-16 cricket fans attending the semi-finals and finals at Lord's have been paying just £15. A similar ticket at Silverstone for "children" (which I suspect is much younger than 16) costs £65. That's a lot more than I could have found from my pocket money when I was a teenager, so I would have stayed at home and watched the race on the telly. And if the F1 action had flagged a bit, I suspect I would have switched channels in order to watch the Twenty20 instead.

Where, then -- since they can't afford to get into races now -- are tomorrow's F1 fans going to come from? I first went to Aintree with my Dad when I was 14, and I was hooked. That's how sports fans are created. Not that Bernie or Max seem to care. And please don't insult my intelligence by telling me that the future of our sport is in "new territory" well to the east of Europe, because I've been there, I've seen the empty grandstands and you can take it from me that the general public out there are staying away in droves, regardless of what their governments tell them to do. Sooner or later, Bernie and the bankers will have to face the fact that motor racing ain't football or basketball. It is a complicated sport which appeals to the sophisticated audiences, primarily in countries where cars are designed and built, who understand it, who pass the knowledge on to their children and whose countrymen tend to become F1 drivers. That's not being patronising, it's plain common sense.

Why isn't the FIA aware of this? Max seems to be too busy trimming millions out of the teams' budgets to notice that races are being cold-bloodedly yanked away from the countries where people actually want to watch them. Can't Max see that it's a fruitless exercise to allocate F1 events to unaccountable governments simply because they're using F1 to make themselves look all cuddly-sporty? Doesn't he realise that these new races will only be around for a few years, until Bernie's annual 10 per cent price hike makes even a despot think twice about renewing the deal? By the time the money men at last accept that F1's true home is at the traditional venues where there's a reasonable chance of the seats being filled, I sincerely hope that Silverstone, Monza, Spa and the rest haven't joined your sterile Sepangs and empty Istanbul Parks by being converted into industrial estates.

Talking of Bernie and abandoned venues, I'm thoroughly ticked off that he's allowed the French GP to drop off the calendar because he's cost me the chance for some nice sponsor to organise what should have been a memorable party in a couple of weeks' time. That's when I'd hoped to be celebrating the 50 years that will have passed since I attended my first world championship race, the Grand Prix de l'ACF, at the rather over-rated road circuit near Reims in eastern France.

I was spending the summer of 1959 working in a travel agency in Paris before going up to Cambridge, so hopping on a train at the Gare de l'Est to get to the race was an easy decision to make. I can clearly remember that stonkingly hot afternoon at Reims, with Tony Brooks an all-the-way winner, driving a Ferrari with its 2.5-litre V6 engine in front of him. Along those long straights, the Ferrari had just a bit too much grunt for Jack Brabham to be able to cope with in his mid-engined Cooper-Climax. Only two more GPs fell to front-engined cars before the breed died out.

It's a bit frightening to look back over the years, especially having to come to terms with my age (something which my friends will say I have been unable to do). It certainly came as a shock last year to find that I was born a couple of months before a distinguished political party leader who got voted out because he was too old. There have been compensations, of course. I've searched hard and long for good women, with two or three outstanding successes, and I like to think that I didn't have to bend my moral standards too far or too often. Unlike our contemptible politicians, I was too busy having fun to prevent the taxman taking far more away from me than he should have done, and I was far too innocent to realise that I was being bribed on the infrequent occasions when a handful of crooks and PR men moved in on me.

When people discover how long I've been around, the questions they ask me tend to be depressingly predictable. My favourite driver? Nelson Piquet, because he wasn't just the cleverest driver I ever met, but he spoke the truth to the journalists he respected and spouted deliberate poppycock to the others. That way, everyone got something interesting to write. My favourite race? The Australian GP when it was in Adelaide, by a mile. It always ended the season, which meant that we either had a tense championship-decider or a flat-out free-for-all with the gloves off. Then everyone (except the French, of course) could stay down under for a holiday in Godzone country. And the best GP I ever attended? For very personal reasons, including the $500 bet which I won on Piquet beating Prost to the title, I would have to say the 1983 South African GP. Even the French journos enjoyed that one, especially when they discovered that the real reason Alain Prost had been fired immediately after the event was because he'd got a bit too friendly with the team manager's missus.

I once swore that I would stop going to motor races if my heart didn't start beating noticeably faster as the seconds ticked down to the start. I'm very happy to say that it still does. And if there's one thing that I've enjoyed most about being part of the F1 world, it's been the regular surges of excitement, not all of them while actually watching cars. Strangely, then, the moment that I would nominate as the most breathtaking of my life took place in a solid stone-built civic theatre in Burnley in April 1957 at a concert for which I'd persuaded my mother to buy tickets for my sixteenth birthday. It was the first week of the Count Basie band's tour of the UK and my life changed as Bill Basie swung them into action. But that's another story and another part of my life.

You see, not all F1 fanatics are single-minded ...