OCTOBER 31, 2016
Penalty costs Vettel podium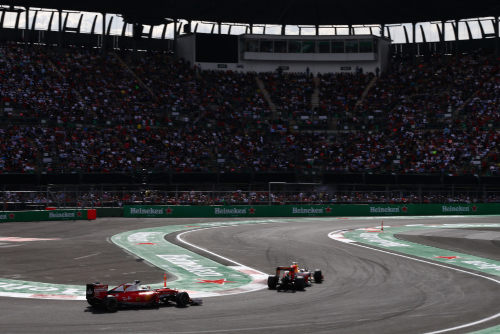 The Mexican Grand Prix results were dramatically changed three hours after the end of the race, when the Stewards decided to penalise Sebastian Vettel for his actions on the wheel-to-wheel battle with Daniel Ricciardo in the penultimate lap of the race.

While Max Verstappen was penalized 5s for cutting Turn One while defending from Vettel, on lap 68, immediately after the end of the race - the Dutch was in the podium antechamber when he was notified of a penalty that put him down to 5th place at that time - Vettel had to wait three hours to learn his fate, after being called to the Stewards of the Meeting, together with Daniel Ricciardo.

Following the German's penalty, Ricciardo was promoted to third place, with Verstappen moving up to fourth place and the Ferrari driver dropping to P5. This final result means that the Australian has now secured third place in the Drivers' Championship, with two races till to go.

After the penalty was handed down, Ferrari team principal Maurizio Arrivabene said, "Today we deserved the podium finish 100 per cent. The whole team showed great character and the drivers did an excellent job. Unfortunately the result was taken away from us by bureaucracy, with a decision that for me it was excessive and, in many ways, unfair.'Ï

Sebastian Vettel said, "we put Verstappen under pressure: for sure it was not easy to pass, but he did a mistake, cut the track and didn't give the position back even if he was told to do so. About the fight with Daniel: I respect him a lot, it is never ideal when you touch. On my defense, I was fighting hard, and trying to give him some space, which I think I did.'Ï'

Daniel Ricciardo said, 'It's a tough one, but obviously I'm happy to get the points or whatever and that's seals third for me in the drivers' championship, so I'm quite proud of that this year. It sure would have been nice to get up on the podium and enjoy it, but nonetheless that was the situation today."

'When a driver moves under braking he is trying to repair a mistake he has made, which was not defending more before braking. So he left the door open, that allowed me to have a go and then it looked like he realized I was going to make the position so then he started to close and that was that.'Ï

"If he moved before braking there should be no penalty, but once you are then in the braking zone and you keep closing, that's why you see on the on-board and all the data that that's when I start to lock. Yes I went into him but it was because of the moving that I had to try to avoid it, I guess."