APRIL 22, 2012
Force India: we were close to unraveling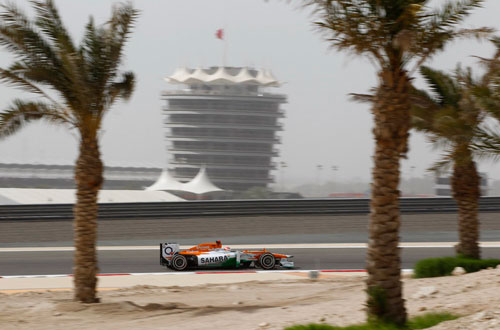 After Force India's decision to miss the second session of Friday free practice in Bahrain to be able to travel in daylight hours following team mechanics' involvement in a skirmish between police and protestors on Wednesday, Paul Di Resta delighted the team with seventh quickest time in Q2. He then elected not to set a Q3 time in order to save tyres for the race. Deputy team principal Bob Fernley spoke to Tony Dodgins about events.

Q: How pleased were you by Paul's performance?

Delighted. It's not been an easy weekend -- a few challenges here and there! I'm just a tad disappointed because Nico (Hulkenberg) just made a small mistake in Turn 13 and lost a couple of tenths. Otherwise, he'd have been side-by-side with Paul.

Q: It seems that you haven't lost a lot by your approach to Friday?

The boys now think that they should be doing deck chairs in FP2!

Q: We didn't see Paul's lap on TV and there's a forum thread asking if that was deliberate on the part of Formula One Management. Have you an opinion?

No comment.

Q: Have you had gratitude from team members for acting the way you did?

For me the most important thing is that I've got a unified team. If we hadn't taken the steps we did we were close to unraveling and it was just very important. Emotion and logic don't necessarily go hand-in-hand but that's why we had to deal with it in the way we did. From the outside looking in, you can't get the feelings that we have, or I have, here. It might be very uncomfortable and it might not be palatable to everybody, but I have to stand by what I believe is right.