NOVEMBER 29, 2011
Raikkonen signs with Lotus Renault!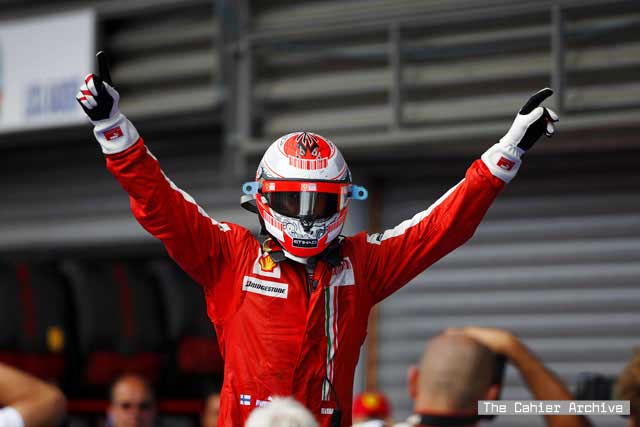 Formula 1 will have six world champions on the grid in 2012 with the news that Kimi Raikkonen has signed for Lotus Renault GP.

Raikkonen, world champion in 2007 with Ferrari returns to F1 after a two-year absence and shores up the Renault attack after a season without the injured Robert Kubica left the squad without a recognised race-winning driver.

"I'm delighted to be coming back to F1 after a two-year break, and I'm grateful to Lotus Renault GP for offering me this opportunity," Raikkonen said.

"My time in the World Rally Championship has been a useful stage in my career as a driver, but I can't deny the fact that my hunger for F1 has recently become overwhelming. It was an easy choice to return with Lotus Renault GP. I have been impressed by the scope of the team's ambition. Now I'm looking forward to playing an important role in pushing the team to the very front of the grid."

Lotus Renault GP is owned by Genii Capital, whose boss Gerard Lopez added: "All year long we kept saying that our team was at the start of a brand new cycle. Backstage we've been working hard to build the foundations of a successful structure and to ensure that we would soon be able to fight at the highest level.

"Kimi's decision to come back with us is the first step of several announcements which should turn us into even more serious contenders in the future. Of course, we are all looking forward to working with a world champion."

There are those in the paddock who contend that the Raikkonen who left F1 at the end of 2009, a year before the end of his Ferrari contract, was not the same driver as the man that challenged Fernando Alonso so hard for the 2005 championship in a McLaren, or even the man who took the championship for Ferrari at the death in the 'Spygate' year of 2007.

If, as expected, Vitaly Petrov is confirmed for a third season with LRGP, it will be interesting to compare the returning 32-year-old's level with the Russian in 2012.

Raikkonen, who made his F1 debut with Sauber in 2001, can boast 18 wins, 62 podiums and 16 pole positions. He joins Sebastian Vettel, Alonso, Jenson Button and Lewis Hamilton as current and past champions in F1.