MARCH 11, 2011
HRT launches F111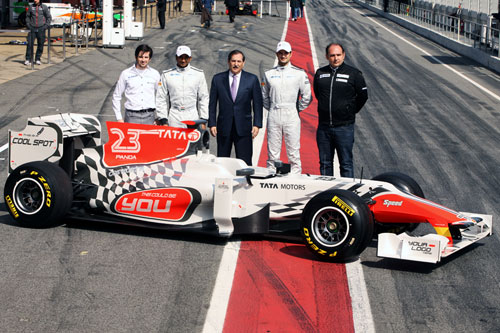 The Hispania Racing team is the final F1 operation to launch their 2011 chassis at Barcelona this morning, unveiling the F111.

The car was designed by former Williams, BAR and Red Bull designer Geoff Willis. The car features a livery by Hollywood graphics designer Daniel Simon.

The team will run the car this afternoon and Saturday.

Team owner Jose Ramon Carabante said, "I'm very proud of the hard work done by the team. This car is born out of the work done by a large number of people who form this team, Hispania Racing, the first ever Spanish team in Formula 1 history. The design is innovative and futuristic, it catches your eye, but we mustn't forget that it is also a step forwards in technical terms. I'm sure that the F111 will bring much joy to those who believe and always have believed in the growth of this team. I can't wait for the season to begin, the second in our short yet intense history in Formula 1".

Team principal Colin Kolles said, "It's been a tough winter but we've managed to have a new car in a very short time. The new car is definitely better than last year's one and I hope that we will make further progress this year. We will have a better package aerodynamically and mechanically than in 2010".

Technical director Geoff Willis said, "Starting the programme to develop the F111 has been an enormous challenge. The group of engineers working from many separate locations had to produce the 2011 HRT chassis to meet the new regulations, package the Williams LG14 transmission, design all new rear suspension to suit and develop a complete aero package. Given the tight time frame, I am very impressed with the result and the enormous efforts everyone has put in to achieve the objective. However we have to be realistic in our expectations of performance; this is very much a baseline car which the team must develop in 2011."

Narain Karthikeyan said, "I'm looking forward to driving the new car, it will definitely be better than last year's but I still don't know how much better. It will be a challenging season as we haven't used the car so I expect Australia to be a tough start. Still, I am ready for the challenge and will give it my best. Tonio has a lot of knowledge from driving recently in F1, so this will surely be very positive for the team."

Vitantonio Liuzzi said, "I'm looking forward to this 2011 season, I think it will be a very interesting year for us. It's a new start for Hispania Racing and for myself, there's a lot of work to do and we face a big challenge. The new car will definitely bring more success to the team, last year was difficult as it was Hispania's first season in Formula One, but the new car is a big step forwards. There is a solid group of good mechanics and good engineers who I'm looking forward to working with to further develop the car. This will be an important year to set the right bases for the future".

"Driving a team to success is much like making a puzzle, you must try to build it in the best possible way in order to work in harmony and quickly to make up for lost time. I believe we have all the right ingredients needed to be successful."