FEBRUARY 7, 2011
Virgin launches MVR-02 chassis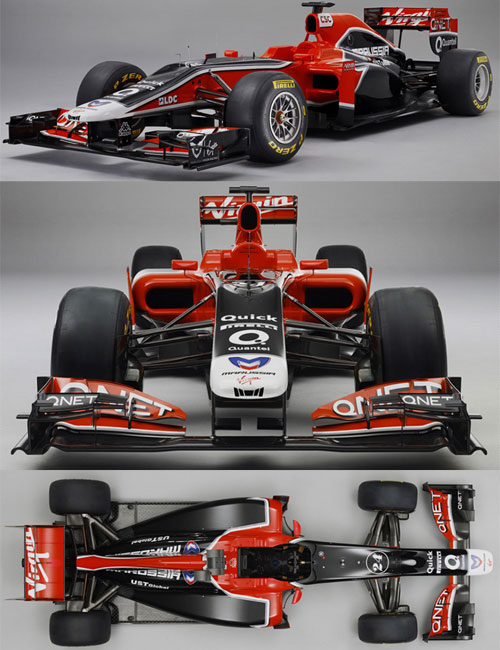 The Virgin Racing team has unveiled it's 2011 Formula 1 car, the MVR-02, at an event in the BBC Television Centre in London today.

The car features a lower nose than most of it's competitors, and is it's second car to be designed entirely using CFD (Computational Fluid Dynamics), and without the aid of a windtunnel. The livery has been slightly changed to reflect the partnership with Russian sportscar manufacturer Marussia Motors.

Virgin ended up last in the constructers standings last season, and hopes the new car will boost it's competitiveness.

The team retains driver Timo Glock, and his is joined by Belgian rookie Jerome d'Ambrosio.

Technical Director Nick Wirth said, "We were extremely pleased to have proved our digital design process in Formula One last season and to have demonstrated that itis possible to compete at the highest level of motor sport with a car designed wholly in computer simulation. Having said that, we faced a very steep learning curve and experienced some tough lessons, which we have applied to our design programme for 2011.

"We have addressed every single issue that troubled us last year, but in our own unique digital way. For example, the hydraulics and gearbox oil problems of last year have resulted in us doing more CFD in these areas alone than we used in the entire aero design program our first digital race-winning sportscar in 2008. In Abu Dhabi we took the opportunity to prove out these digital improvements by successfully track-testing a number of systems for the MVR-02. So we start 2011 as we mean to go on - rather more ahead of the game - by going testing in Jerez this week with many parts already proven on the race track, or by an upgraded and more comprehensive rig-test program."

"In terms of sheer CFD throughput, the number of configurations that our new processes have allowed us to test for the MVR-02 is a giant step forward from the VR-01, and we are looking forward to further improvements here as we finally begin to benefit from the new Supercomputer that our partners CSC have provided for 2011."

"I am confident that we have made real progress with the MVR-02, producing a car with considerably more aerodynamic efficiency than the VR-01 despite the regulation changes, and having made significant gains in terms of overall quality. It provides a good basis for development over the course of the season, and I'm very sure we'll be able to keep up the impressive rate of aero development that we've had since the beginning of the MVR-02 project."

"We also have the added challenge of a new tyre supplier in Pirelli and this helps level the playing field as the teams' experience of the PZero tyres will be limited to only two days of testing in Abu Dhabi and 2011 pre-season testing in Spain and Bahrain. Wirth Research has nearly four years of real-time driver simulator development experience now, and our ability to produce very realistic thermal tyre models in-house has been of great benefit. We were very encouraged by the positive feedback both drivers have given our simulator group on their recent developments in this crucial area."

"As ever, the competitive level of this first iteration of the MVR-02 will only be revealed in qualifying for the Bahrain Grand Prix next month, but in the meantime we look forward to what we hope will be a positive track debut for the MVR-02 in Jerez this week."

Team Principal John Booth said, "We had a tough but incredibly rewarding baptism into Formula One last season and I am extremely proud that we proved ourselves to be more than equal to the challenge. We are also very proud to be competing as Marussia Virgin Racing in 2011 and we look forward to rewarding the faith that Marussia demonstrated in the team when it made such a significant investment at the end of last year.

"2011 is all about moving forward and starting to achieve solid results. We have a very exciting driver line-up in Timo Glock and Jerome d'Ambrosio. Timo did an exceptional job in difficult circumstances last season and contributed a great deal to the car's development and that of our racing team. We will certainly benefit from the continuity that Timo brings. He has been working very hard over the winter and is in top physical and mental shape for our second season together. We are also delighted to welcome Jerome in his debut season of Formula One competition. He did an excellent job during his evaluation period towards the end of last season and he demonstrated in testing last week that he clearly has the bit between his teeth. He is a very exciting young talent and we are enjoying seeing his clear potential unfold with each outing in the car."

"The MVR-02 is a clear step forward in every area and a credit to all the hard work that has gone into our car development programme over the past 12 months. We are delighted to be working with our engine supplier Cosworth for a second season of collaboration. Despite the freeze on engine development they have been working hard on reliability and performance optimisation over the winter and we fully expect a continuation of the success they enjoyed in their return to the sport in 2010. The sport has the added challenge of a new tyre supplier in Pirelli but we have made good progress with tailoring our mechanical package to suit the new Pzero tyres in the group tests in Abu Dhabi at the end of 2010 and in Valencia last week.

"Generally, we have every reason to believe that 2011 will be a very exciting and positive experience for our team."