FEBRUARY 4, 2011
McLaren unveils MP4-26 in Berlin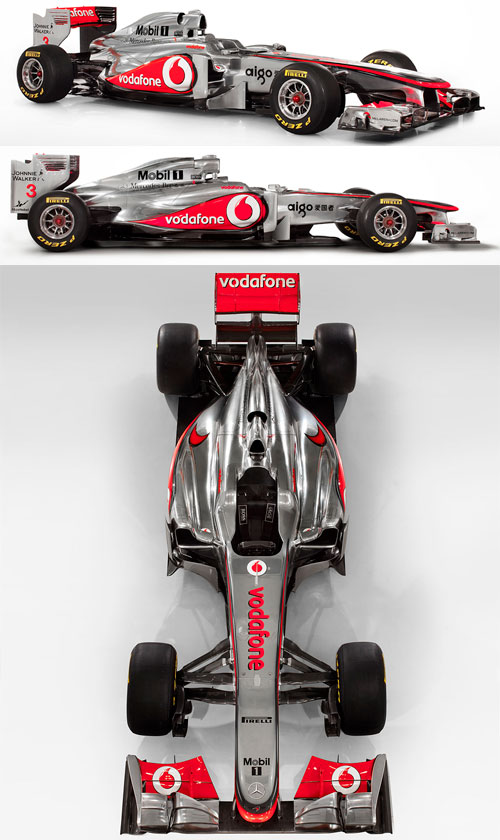 McLaren has revealed it's new MP4-26 chassis in an event in Berlin's Potsdamer Platz this morning.

In a unique event, the car was wheeled out and put together piece-by-piece in front of the crowd (see video).

The team opted until after the first winter test session to launch the car, having used an interim MP4-25 in testing this past week for tyre development.

The new McLaren has some interesting design features compared to it's rivals including a long flat high nose, U-shaped sidepods and airbox details.

Lewis Hamilton said, "It's great to see how many fans braved the Berlin weather to come to today's event. I hope it's been an exciting day for everyone: I think people saw a unique way of revealing our 2010 car, something that's never been done before. I hope the car proves just as innovative once we take to the track next week. I head into 2011 in a relaxed but determined frame of mind. I've spared nothing during my winter fitness preparations and, in many ways, I feel as fit, focused and refreshed as I did ahead of my first season in Formula 1 in 2007. Having spent the past few weeks talking with our designers and engineers, I feel extremely happy that we've created a car that will once again allow us to fight at the front."

"This will be my fifth season in Formula 1. I'm an experienced driver now, and I've won the world championship, scored lots of pole positions and taken many race wins. So my aim for this year is to ensure that everything comes together in the best possible way and that, like last year, I'm able to fight for the title right down to the final race. Of course, Jenson and I will be racing alongside three fellow world champions in 2011, and that's a testament to the strength of Formula 1 right now. It's incredibly hard to say who'll be up at the front, but I'm an absolute racer and I'm looking forward to some fantastic, close racing and another thrilling conclusion to the season - hopefully with a Vodafone McLaren Mercedes driver on top!"

Jenson Button said, "It's strange to think that this is only the start of my second season at Vodafone McLaren Mercedes, because I've felt so comfortable since joining the team last January. Even so, I'd still consider 2010 something of a building year, albeit, with two victories, a pretty solid one! For the new season, I've not only got a year's Vodafone McLaren Mercedes experience under my belt, but I've also been able to offer input into the design and development of the new car - something that I was naturally unable to do last year. Now I really feel I know how Vodafone McLaren Mercedes goes racing, and I'll be driving a car that's been fully developed around Lewis and myself - that's a very empowering feeling."

"I'm really looking forward to getting to drive the new car for the first time. Our pre-season simulations suggests that the new Pirelli tyres should be well-suited to my particular driving style, so I'm hopeful of being able to derive a good advantage from the tyres during the races. Today really marks the beginning of our 2011 season after what seems a very long time away from the track. It's been a really exciting event for all the fans who attended, and now I can't wait to get behind the wheel of MP4-26 for the first time next week."

Team principal Martin Whitmarsh said, "I think today's innovative launch demonstrates the enthusiasm within Vodafone McLaren Mercedes to engage the general public; to show them that our sport is intense and exciting, and that we're very keen to showcase Formula 1 to the wider world. Through the efforts of FOTA, we really want broaden the sport's appeal while also introducing innovative and energy-conscious new ideas that will simultaneously improve racing and help generate new technologies within the motor industry."

"I'm hopeful that Formula 1 stands poised on the cusp of an incredible new era. With Lewis and Jenson, we have two of the most exciting, charismatic and high-profile personalities in the sport, and the whole team feels a powerful sense of responsibility to provide them with the very best machinery with which to showcase their very evident talents to the world."

"The MP4-26 is the result of an incredible amount of hard work, innovative thinking and dynamic teamwork. Under the leadership of Paddy Lowe [technical director], Tim Goss [engineering director] and Neil Oatley [director of design and development programmes], our design department is more integrated than ever: in fact, I'm particularly proud of the contributions made by our project engineers, many of whom have taken on leadership roles for the very first time and who had worked so well together to create this very striking and individual-looking car."

"While we're all hopeful of once more adding to our tremendous record in Formula 1, this sport is so unpredictable and finely pitched at the moment that it's impossible accurately to forecast the state of play until the season starts next month. That's a tantalising prospect for Formula 1's many millions of existing fans - and, I hope, something that will attract many millions more by the end of what looks set to be an absolutely fantastic year."