FEBRUARY 1, 2011
Toro Rosso launches STR6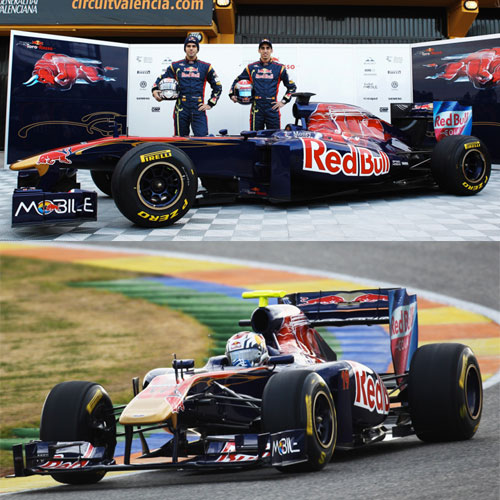 Scuderia Toro Rosso revealed it's new 2011 chassis, the STR6, at Valencia today.

The junior Red Bull team holding an announcement shortly after it's World Championship winning sister team's announcement. The car follows the trends of the other new runners. The team saying that although it outwardly looks similar to last year's chassis, the new car is radically different, with a less conservative design.

Technical director Giogio Ascanelli said, "Pirelli comes and joins Formula 1 and makes its return for the first time since 1991, which will probably mean more things to do and a more exciting scenario, given the changes which Formula 1 has gone through in those past twenty years. This has an impact as there is a change in the rule in that the weight distribution has been fixed in the regulations, just to avoid over-expenditure. So we might have some surprises in relation to the behaviour of different compounds on different circuits."

"I believe that the show we offered in 2010 has been a good one, I think we can look forward to 2011 producing something even better. Last year we didn't have a wind-tunnel, the CFD was not mature in order to define the car. Therefore, we did not change very much apart from those elements linked to the change of regulation between 2009 and 2010. This year the tools which design the car in its performance aspect, which are again the wind tunnel and CFD, are more mature, which means that although we are still learning how to make the best of them I think we have started using them properly. The change in rules has led us to make some changes and yes, we think we have been a little bit more ambitious than last year. That might be just a presumption, based on logic, but we think we have chosen an ambitious way, because it did make sense to stay conservative, as otherwise we couldn't possibly achieve a better performance this year than last year, because in a straight fight, we are still characterised by the resources that put us in ninth place (last year) and nothing better than that. For this year, we have to aim for eighth place, because that is our target and I didn't think that was possible if we had gone with some sort of conventional car."

Sebastian Buemi said, "I have big expectations to be honest, as I have quite a lot of experience now: I know all the circuits, I know how Formula 1 works and we also have quite a lot of experience in terms of building up the car. So, if all goes well and hopefully it will, we should be able to score many points and finish in the top eight of the Constructors' championship."

"This season with all the rule changes, it could be a bit difficult, especially in the early stages at the first few races. It is not yet really clear how we will use the rear wing and the KERS as we are still awaiting a rule clarification. It will take a bit of time to get used to it, but that will be the job of the drivers to be on top of it to the maximum by the start of the season. We will be trying to get up to speed during the winter tests to see what we can do and how we can improve it."

Jaime Alguersuari said, "I think it is definitely a key season for me this year. Every season is important and definitely this one is going to be very significant for myself, because it is my second full year in Formula 1 and because it is the second year that Toro Rosso builds its own car, so it will be completely decisive for our future, for the future of Toro Rosso and for my future, because we obviously need to target our competitors which are Williams, Force India and Sauber. We need to fight against them and finish the championship ahead of them."

"I think 2011 rules are not tested yet so we will see how they work. It looks quite difficult to adapt to the KERS and the adjustable rear wing. We need to test it and see how it goes. I think the KERS is not so difficult, because before the race weekend you can already study and understand the places where you can use it and how to use it during the race. However, the rear wing I'm not sure about. It's a question mark for everyone, for all the drivers. In 2010 we had the front wing, where we could feel quite a difference definitely on the car balance in the race and when you changed tyre compound and when you had big tyre degradation it was a big help. We will see how it goes with the rear wing because it's a completely new thing for everyone."