FEBRUARY 1, 2011
Mercedes launches W02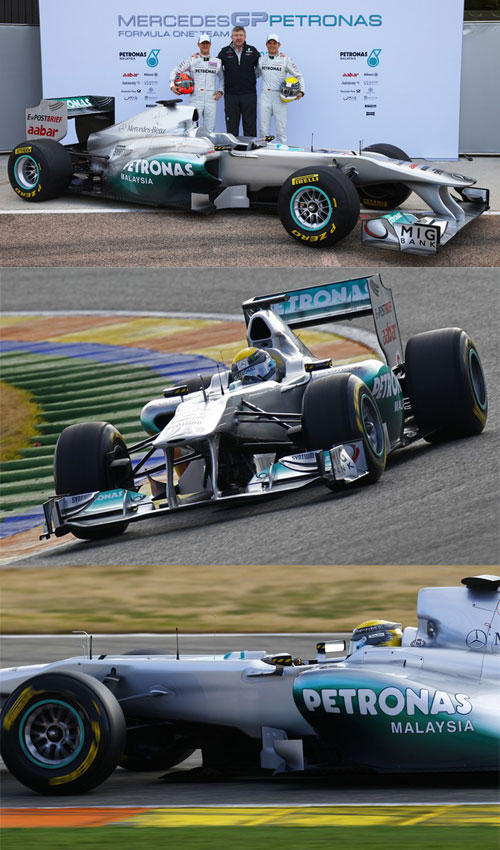 Mercedes GP has officially launched it's 2011 challenger, the W02, after issuing a 'sneak peak' image over the weekend.

After winning the championship in 2009 as Brawn GP, last season's Mercedes chassis was a disappointment. Ross Brawn halted development on last year's car early to begin work on the W02 design with it's 2011 rules package.

The car features a conventional airbox this season, with changes to the sidepods and a higher front wing.

Nico Rosberg and Michael Schumacher will both test the car today at Valencia.

Team principal Ross Brawn said, œIt is always a thrill to see a new car ready to take the track for the first time and this year is no exception. After our first year as the Mercedes-Benz works team, we are now seeing the benefits of our chassis group and our engine group working well together. With a good technical structure and a strengthened race engineering organisation, both at the factory and the race track, I am confident that we have done and will continue to do a better job this year in all key areas.

œThe concept development for the MGP W02 started early and we have set challenging targets for the design, combined with a robust plan to ensure that the pace of development can continue throughout the long 2011 season. We have two excellent drivers in Michael and Nico, both of whom capable of winning races in a good car, and we look forward to seeing them push each other and the development of the new Silver Arrow during the season. We want to be setting the standard right from the start but if we are not, we will respond very strongly to get ourselves into the game. Everyone is excitedly waiting to see what the new season will reveal.

Michael Schumacher said, œFinally the waiting is over and things get started. For us drivers, the break every year is hard to take because the gap between the last race and the first time out on track seems to be never-ending. Even if I have been involved and updated all winter on the developments, and even if I know the improvements are significant, it is still different to see the new car literally for the first time in front of you. You automatically build up this nice pre-start tension. I very much look forward to the new season. We have said it several times already but again, we are really to building up something big together. I am very confident that this season we will be standing on the podium much more regularly; ideally in the middle!

Nico Rosberg said, "It is always a very exciting time of year to drive the new car for the first time and feel how it performs out on track. This year we have the added challenge of not having an immediate reference due to the change in tyre manufacturer to the new Pirelli tyres, which felt good during our first try-out at the Abu Dhabi test last year. I am very much looking forward to having a much stronger season than last year and as always, our targets are aggressive. We want to be competing at the front and challenging for race wins. Everyone at our factories in Brackley and Brixworth has worked extremely hard on the new Silver Arrow and we are all looking forward to seeing how it performs.

Mercedes-Benz Motorsport vice president Norbert Haug said, œThe new Silver Arrow for the 2011 season has little in common with its immediate predecessor. Our chassis engineers have taken a fairly ruthless approach and were determined to shave off every superfluous gram and millimetre. What emerged from this process is a compact and exquisitely shaped vehicle that introduces a host of sophisticated solutions and truly reflects the enormous dedication of its constructors. We have given it a brand new coat of paint, and we aim to see a smile on the faces of our hard-working drivers and team members that is as bright as our new silver livery.

œNico Rosberg and Michael Schumacher are top drivers who can win races for us, provided we build them the right car. At the same time, our team, like all the other teams, has to deal with complex new tasks. The new generation of tyres from Pirelli, and the extent to which the cars and drivers adapt to them, will play a vital role in deciding wins and defeats.

œThe rear wing flap, which can be adjusted under specified conditions, will boost top speed and facilitate overtaking which should open up a new and interesting chapter for Formula One. And there is the return of KERS following a one-year absence at the end of the 2009 season when our Mercedes system recorded a historic first race win. This will play a massive role amongst all of the performance-related components, both for the additional power and for the strategic options it makes available. As in 2009, it is our ambition that Mercedes-Benz builds and runs the best hybrid system and that all three teams which use it benefit significantly from this.

œAfter I have spoken at length here on the many new issues, our target can be described in one short sentence: The new Silver Arrow should not only look first class, but should also be developed to be at the top step-by-step.