JANUARY 31, 2011
Renault R31 revealed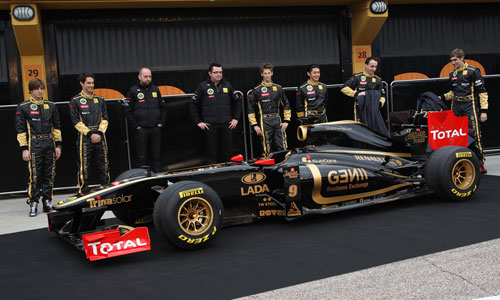 In the final unveiling of the day at Valencia, Renault has launched is R31 chassis in the pitlane prior to the three day winter test that starts tomorrow.

As anticipated, the R31 features a black and gold livery - following a sponsorship deal with Group Lotus.

Team Chairman Gerard Lopez said, "For Genii Capital and Lotus Renault GP, the 2011 season will be the one in which we achieve our aims. We now have 100% ownership of the team, and we're tackling the coming championship with the intention of continuing to do things our way - but always with humility. I would like to welcome Lotus Cars, a new ambitious title sponsor with us for the long term. Renault and Total have also chosen to accompany us again in this adventure and we thank them for their valuable contribution. Our aim for 2011 is to continue our march towards the front of the grid, seize the slightest opportunity and do better than last season in both the drivers' and constructors' championships. We feel we are well prepared for the challenge ahead."

Team principal Eric Boullier said, "All the hard work over the winter has been focused on delivering a big improvement for 2011. The result is a car with more than 92% new parts compared to the R30. But technical innovation isn't the only key to performance. Since last year, we have reviewed all our internal processes and our overall efficiency has now improved by 15%. That means we should be more competitive than last year, on the track and at the factory."

Technical Director, James Allison said of the chassis, "Words like 'aggressive' and 'innovative' are very much in vogue in Formula 1 at the moment, but where the R31 is concerned we feel those adjectives are appropriate. It's true to say that the car has been designed in an ambitious manner and a quick glance at the layout will confirm that its entire concept differs considerably, not just from last year's car, but from any car this team has ever produced."

Vitaly Petrov will shake down the car tomorrow and then Robert Kubica will take over for the final two days of the test.

Robert Kubica said, "After a long winter break you always feel ready to jump back in the car and I'm really looking forward to this season. As well as my car having new colours, there are some big changes to the regulations, such as the removal of double diffusers, the introduction of adjustable rear wings and new Pirelli tyres. So there are a lot of new things to get used to before the first race, but we will do our best to be as ready as we can for the start of the season."

"The drivers will definitely be busier with KERS and the adjustable rear wing, but it probably won't be any more difficult than last year when we had to operate the f-duct. In fact, it will be good to have both hands back on the steering wheel for a change! We will certainly have to concentrate hard during the first few days of testing to understand the new systems, but I'm sure we will soon get used to them and everything will become automatic."

"It's never easy because the number of days we have for testing is limited, but I think there is just enough time to be ready for Bahrain. Also, with so many changes this year, the task facing us is bigger than in previous years and understanding KERS, the rear wing and the new tyres will need a lot of laps. In fact, learning about the tyres will be the most time-consuming of all because you need to run each compound in different conditions and with different fuel loads, and there is so much to discover."

"At the moment it's difficult to know just how competitive our package will be, but the engineers have decided to go for an innovative design, which is good. Also, we had a strong season last year and we hope to move forward again this year and be closer to the front. That means we will have to race against teams like Ferrari, McLaren and Red Bull, and we know this will not be easy, but we will be working hard to make sure we can be part of that fight."

Vitaly Petrov said, "The team has shown a lot of faith in me and it's my chance to show everybody that they were right to believe in me. Everybody knows that 2010 was not that easy for me, but after a year in Formula 1 I feel more confident and ready to face the challenge of 2011. I know what I need to change, where I can improve and I'm determined to do well and fight hard for this team."

"2010 was a long season and I learned a lot, so it's natural that I will come back with more experience and as a better driver. I now understand how difficult Formula 1 is on every level and I know that even a small mistake can have a big impact on your weekend. My focus this year is to make sure I put everything together, maximise all the sessions and stay concentrated all weekend long."

"For me it will be more things to learn and adapt to because I've never used KERS before and the adjustable rear wing is new for everyone. But I think the biggest challenge is getting used to the new tyres and a big part of winter testing will be trying to understand them. I think this is the biggest task facing the team."

"At the start of January I moved to England and I've been spending a lot of time in Enstone with the team. I think this is important because it helps strengthen my relationships with the engineers, mechanics and the people around me. By living near the factory and being there during the week, I hope that I can be as prepared as possible for the new season."