JANUARY 31, 2011
Sauber launches C30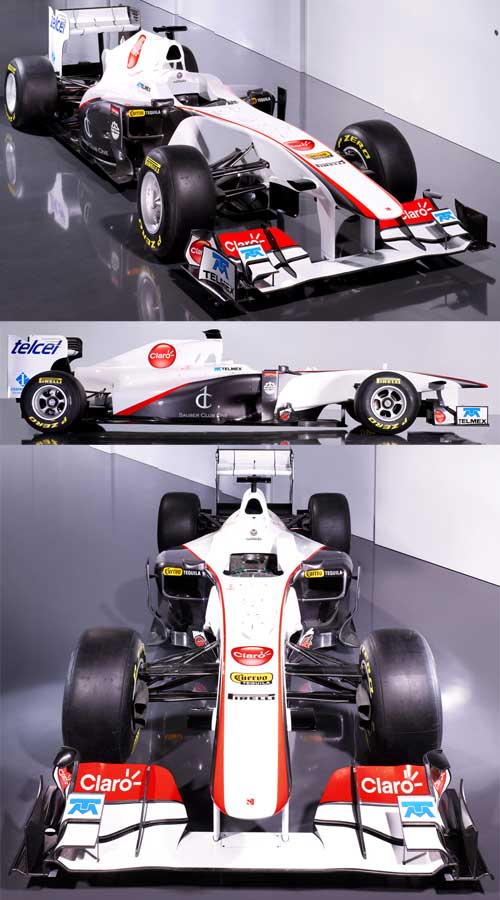 At Valencia this morning, Sauber launched it's new C30 chassis that it hopes will bring improved pace and reliability for the coming season.

Compared to last year's car, the new chassis features a high nose and a more slender rear end, and the team is trying to improve the aerodynamics of the car while also gaining better mechanical grip and low-speed cornering.

Technical director, James Key said, "In order to take a step forward in 2011, we were already systematically tackling the C29's weaknesses over the last season - and we've made progress. The insights we gleaned were taken into account when the concept for the new C30 was being drawn up. Since some of the changes decreed by the regulations - particularly regarding the tyres - can only be analysed out on track, it was important for us to build, firstly, a fundamentally predictable car and, secondly, one that would provide sufficient flexibility to respond to ongoing findings at the track and during further development stages."

Joining Kamui Kobayashi as the second driver is Mexican Sergio Perez, who finished runner-up in the GP2 championship last season. Perez said, "I'm aware how challenging Formula One is from both a driver's point of view and technically. I've got a lot to learn, and in Kamui I have an excellent yardstick. My personal goal is to make steady progress. The support I'm getting back in my home country is huge, and I don't want to disappoint anyone over there either."

Team principal Peter Sauber said, "We want to finish in the points regularly and clearly improve our position in the FIA Formula One Constructors' World Championship. Two thousand and ten marked the 41st year of our company history and one of the most difficult. But we managed to overcome these difficulties in the second half of the season. We implemented some well-considered structural changes. The appointment of James Key as Technical Director already bore fruit last season, and he is now in charge of development of the Sauber C30-Ferrari. At the same time, we have managed to secure our business foundation for the 2011 season. In these economically straitened times that is something we can be proud of too."

New sponsors on the car this season include Telmex, Claro and Telcel - the three brands all part of Carlos Slim's America Movil telecom company.