JANUARY 31, 2011
Team Lotus unveils T128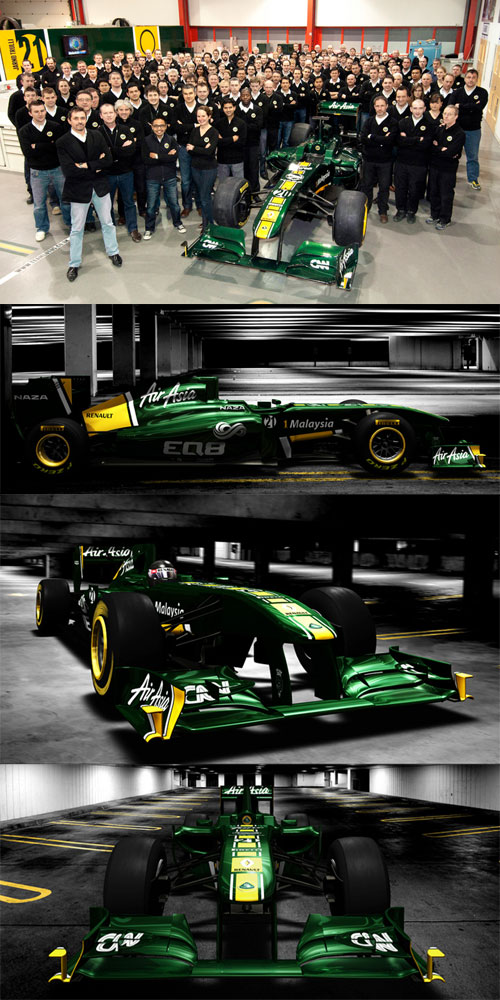 Team Lotus has unveiled it's 2011 F1 challenger, the T128, claiming that it is a significantly more aggressive design than last season's chassis and hopes the car will figure strongly in the mid-field.

The team revealed photos of the new car online on it's website, before rolling out the car in public on Wednesday at Valencia. Lotus had admitted that the T127 was a conservative design, intended to get the car on the grid last season with limited resources and time. The design team halted development early in the season to start work on the T128, which features a Renault engine and Red Bull transmission system.

Chief technical officer Mike Gascoyne said, "I think that basically this car looks like a front-running car in every area. We said very clearly that we want to start challenging the established teams and I think that's very achievable."

Team principal Tony Fernandes said, "There has been so much focus off-track it's a thrill to be able to get back to talking about racing. The launch of the T128 is a big step forward for Team Lotus and I want to thank the whole team for the amount of hard work that has already gone into the car, and I want to thank Renault and Red Bull Technology for their tremendous support in helping us make this step forward and for being such great team partners."

Chief executive officer Riad Asmat said, "T128 takes Team Lotus in exactly the right direction. We have said since day one of the Team Lotus dream that the plan for our second year was to take the fight to the midfield, and with this car we are all confident that is what we will be able to do."

Chief designer Lewis Butler said, "The biggest design challenge was trying to package everything a bit smaller. We were trying to get that area around the driver really tight so the aerodynamicists were happy with it."

Head of R&D Elliot Dason-Barber said, "We're definitely going to take a step forward with this car. Quite how much we'll close the gap to the teams in front of us we'll see, but my hope is we'll be competing with the teams that were a second or two ahead of us last season."

Head of aerodynamics Marianne Hinson said, "In aero we started thinking about the new car around Spring last year, a bit before any of the other departments. The start of the process is a really fun period, when you're looking through the new rules, thrashing out ideas and trying to find loopholes."