NOVEMBER 23, 2010
European F1 organisers struggling?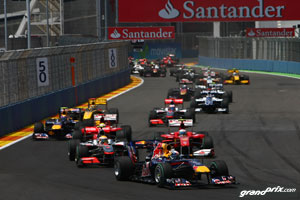 With F1 reaching ever further-flung parts of the world - Korea new to this year's calendar and India on next year's - there are further reports of European venues struggling, with the latest stories suggesting that Valencia is seeking to end its European GP deal.

Spanish newspaper el Periodico reports that regional president Francisco Camps says that the city cannot afford the 30m Euros it is costing to host the race (18m Euros to Bernie Ecclestone's FOM plus the costs of building and deconstructing the circuit and organisation).

Race day attendances dropped from 112,000 in 2008 to 75,000 this year, said to bring in a revenue of just 10m Euros. Camps is understood to have asked about ending the contract early only to be told that it is not possible without an agreeable alternative venue taking over the deal. Alcaniz and Portimao in Portugal have been mooted as potential replacements but neither is likely to be financially viable.

At the same time, Alain Prost has voiced frustration that moves to revive the French GP seem to have hit the buffers. The four times champion told French radio: "There was a great opportunity last year at the time of the regional elections, and a first draft for Disney which in hindsight was perhaps a bit complicated. But Flins was an exceptional site with a real project and a real business plan.

"There was a real programme for the utilisation of the circuit, with an economic and social advantage. There would have been 100,000 extra people near Paris. Everyone was enthusiastic, especially Bernie Ecclestone. But the project was abandoned when everything was ready and financed, because of the regional election and an environmental problem that was essentially political.

"Do we want French GP?" Prost asked. "Today, there are no French drivers in F1, Renault will soon not be called Renault ... it's a bit complicated and also a financial issue. The price asked by Bernie Ecclestone is variable - 15m Euros per year in Europe. Abroad, it's 30-40m Euros, as in Abu Dhabi.

"It's an economic equation: how many spectators can you get? If it's about 50-60,000 and the price is 15m Euros, your losses are about 8m Euros. Who can put up 8m Euros? So if the politicians or the government are not saying 'it's important for France to have a Grand Prix', it's not worth talking about..."