OCTOBER 28, 2010
Did Ferrari apply illegal team orders again in Korea?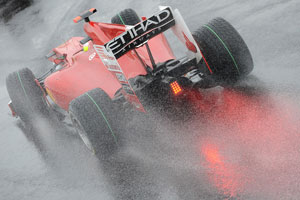 A report by the British Autosport magazine's respected journalist Mark Hughes has revealed that Ferrari once again applied team orders during the Korean Grand Prix to further the championship cause of Fernando Alonso.

In his report of the race Hughes points out that when Alonso lost time at his pit-stop due to problems with a wheel nut, Ferrari "was quick-thinking enough to use Massa to back up the queue out on track - preventing more cars than just Hamilton taking advantage. This cost Massa a place..."

The implications are clear enough. Without Ferrari's intervention Alonso would have found himself further back in the pack when he emerged from the pits. And it would have been Massa, not Alonso, behind Lewis Hamilton when the Safety Car pulled in. Hence it would have also been Felipe and not Fernando able to take advantage of Hamilton braking too deep into Turn 1 when the race resumed. Ferrari would then have been in a difficult position. They could not have instructed Massa to cede to Alonso if Hamilton was between them.

Nobody can predict what would have happened if Alonso, whose tyres were in better shape later on, had been forced to attack Hamilton. He may still have won the race but it is also easy to envisage Massa winning with Hamilton second and Alonso third. Had that been the case, Alonso would now lead the championship by just a single point from Mark Webber instead of 11 points.

The infamous article 39.1 of F1's sporting regulations says, "Team orders which interfere with the result of a race are prohibited." It is this rule that Ferrari was found guilty of infringing with a team order to Massa at Hockenheim and fined $100,000.

When that verdict was laid down shortly before Monza it was made clear that article 39.1 would be reviewed by the Formula 1 Sporting Working Group but that has yet to happen.

At the moment the rule is still in force. After the Ferrari verdict, rival team bosses were asked whether they therefore assumed that the cost of ignoring the team orders regulation is $100,000. McLaren's Martin Whitmarsh responded: "I think that would be a risky interpretation. If you are in clear breach then I would imagine you could have much more than $100,000 thrown at you." He was referring to potential disqualification.

On the face of it, Ferrari's alleged actions in Korea are more serious than those at Hockenheim, where only its own cars were directly involved. If what Hughes reports actually took place, Ferrari could be said to have also interfered with the results of other cars as well.
<script src="http://connect.facebook.net/en_US/all.js#xfbml=1"></script><fb:like href="http://www.grandprix.com/ns/ns22731.html" layout="box_count"></fb:like>