OCTOBER 28, 2010
Bernie and his many happy returns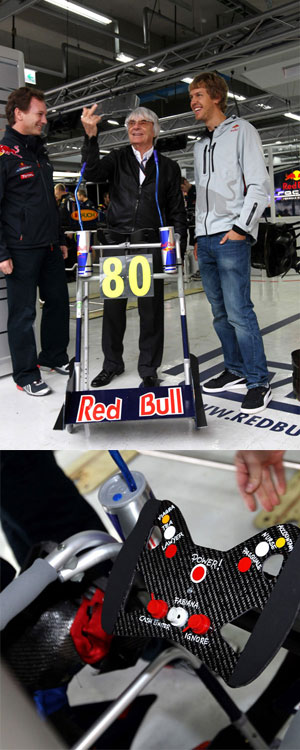 Formula 1 commercial supremo Bernie Ecclestone was born in St Peter South Elmham, a rural backwater near Bungay in Suffolk, England, 80 years ago today.

Ecclestone has always said that the day he stops working in F1 will be the day he is carried out in a wooden box. In Korea, Red Bull Racing presented Bernie with a special Zimmer frame featuring a Red Bull front wing and sundry call buttons, including 'nurse,' 'power' and 'money.'

Luca di Montezemolo, meanwhile, today posted his birthday greeting on Ferrari's website: "I have known Bernie since the start of the seventies, when I was Scuderia Ferrari's sporting director, he ran Brabham and we enjoyed some good sporting battles.

"From the eighties onwards he played a key role in the development of Formula 1, as it evolved in a global sport and spectacle, comparable to the Olympics and the football World Cup. He has given so much to this sport, of that there is no doubt and, as I am sure he is well aware, he has also got a lot out of it. There are few people in this world who have a better understanding of motor sport and the business that goes with it. Today is a special day and I hope he is spending it with those who are most dear to him. Happy returns Bernie and many more of them!"

On the subject of happy returns Ecclestone, who had a lengthy meeting with FIA president Jean Todt in Korea, has been quoted saying some interesting things recently, especially in view of reports of a supposed coup within the FIA aimed at the return of Ecclestone's long-time friend and business associate Max Mosley.

The sporting arm of the FIA, FISA, used to operate more or less independently of the governing body until Mosley incorporated them under the one umbrella when he became FIA president in 1993.

Ecclestone was recently quoted thus: "We could go back to the FIA and FISA. Max could be president of the FIA looking after F1 and Jean could be president of FISA running the sporting side. I don't think the teams would mind. If you ask anyone now, if Max came back as the president of the FIA would they complain, I think they'd say no."

What is sure is that there will be several rounds of negotiation before a new Concorde Agreement for 2013 and the future commercial direction of F1 is agreed upon. We're not sure if Bernie's tongue was lodged firmly in his cheek but Todt, for his part, has said that rumours of a projected coup within the governing body have been greatly exaggerated.

"This season has shown I am interfering as little as possible," Todt said. "And if Mosley offers me his advice, this will be welcome."