MARCH 31, 2010
Lotus to run Fairuz Fauzy in first practice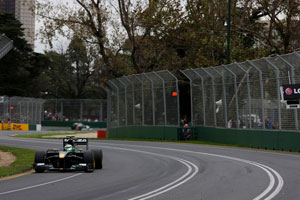 The Malaysian backed Lotus team will run it's reserve driver Fairuz Fauzy in the first practice session on friday at the Malaysian Grand Prix.

The Malaysian driver will replace Heikki Kovalainen for the session - the choice as to which regular driver he would replace was decided with a flip of a coin by Jarno Trulli and Kovalainen following the team debrief after the Australian GP, in Melbourne.

Fauzy was the first driver to shakedown the T127 chassis at Silverstone, and ran the first test day at the Jerez test in order to obtain his superlicense.

Alex Yoong is the only Malaysian driver to have competed in Formula 1, entering 18 races for Minardi between 2001 and 2002, with a career best of seventh place in the Australian GP in 2002. Yoong now advises the Lotus team, heading it's young driver development program.

Fauzy commented: "It never crossed my mine at that time that I would get to drive the F1 car this year. I was more of wondering whether I will actually get to drive one. I've been told to get ready for Friday's practice and it will be a fantastic feeling for me. Who doesn't when it's the pinnacle of motorsports? I'm looking forward to it as it will be a different experience from testing. I'm living the dream, really."

So far this season Force India is the only other team to take advantage of using their reserve driver in practice in order to gain experience, when Paul di Resta ran on friday morning in Australia.