FEBRUARY 10, 2010
Red Bull launches RB6 chassis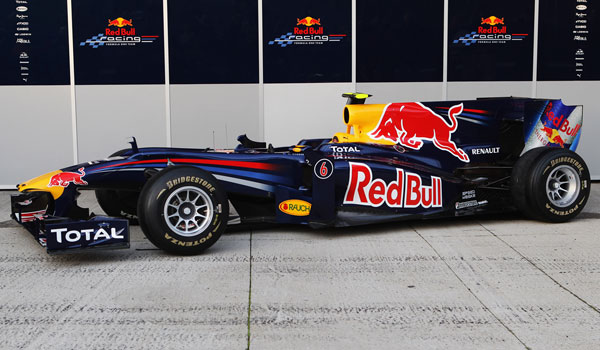 Red Bull Racing unveiled their 2010 RB6 chassis at Jerez today - the last of the existing teams to launch.

The car, an evolution of last year's successful RB5, features an extreme V-nose and a shark fin engine cover. Mark Webber will be the first driver to test the car today in Jerez.

Chief Technical Officer Adrian Newey said, "The RB6 is very much an evolution of the 2009 car; we tried to refine and evolve it rather than go to new concepts. As a result, the car looks similar with elements such as the chassis and pull-rod rear suspension retained. The two main challenges were the larger fuel tank and the smaller front tyre. With the fuel tank, there was more to it than simply putting a bigger tank in the car - it puts more load on the brakes, so the brake cooling has to cope with that and you also have to consider what effect that extra fuel will have on the tyre degradation early in the race and if there's anything we should change mechanically to cope with that. The narrower front tyre changes weight distribution and the balance of the car. I think it's a sensible evolution of the 2009 car. One obvious difference is that the 2009 car was not designed to suit a double-diffuser and we had to try to put one on as best we could around the existing rear suspension and gear box. With this car we've been able to design that part of the car from scratch."

Team Principal Christian Horner said, "2009 was a massive year for the team and I think we took a huge step forward. Red Bull Racing's still a relatively young team and so the lessons that we learned last year will serve us well going into 2010. The performance of the car developed throughout 2009 and I believe we ended the year with the best chassis. We've had stability over the winter and continuity in all areas, so I think we're in good shape. We completely respect the quality of our opponents, but we're setting ourselves aggressive targets. It's fantastic to see the car finally taking to the track after so much hard work and effort."