JANUARY 31, 2010
Sauber launches 2010 chassis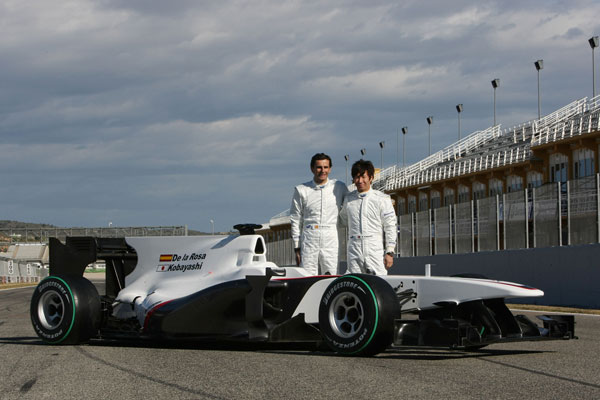 BMW Sauber presented their new C29 chassis for the first time at Valencia on Sunday, in advance of the official testing that will start Monday at the track.

In a low-key event Peter Sauber was on hand after buying back the team from BMW when the German manufacturer pulling out of the sport this past summer.

The chassis was unveiled devoid of any sponsorship on the car, but the colours remain the same as previous seasons - with a white chassis and dark sidepods. The team introduced their new driver line-up of Kamui Kobayashi and Pedro de la Rosa.

Peter Sauber said, "The last few months have been very intense for us. First we had to battle to secure the survival of the team and then we focused on putting a strong set-up in place for the future. The technical preparation of the 2010 car has continued uninterrupted and according to plan since the spring of 2009, despite all the turmoil. We have a long tradition of bringing together an up-and-coming youngster and an experienced campaigner as a driver combination - and it's an approach that has brought us a lot of success. Pedro has been working at the highest level technically for many years and for a top team, and we can benefit as a team from this experience. Young Kamui also has a lot to offer us, and last year he impressed me particularly in Abu Dhabi."

Pedro de la Rosa said, "At last I can feel like a proper racing driver again. I've really missed the competition out on the track. At the same time, though, I've learned a lot technically and on the systems side, and now Iwant to bring that knowledge to the team."

Kamui Kobayashi said, "I'm very proud that Peter Sauber has shown so much faith in me and I'm determined not to disappoint him. My aim is that he will end up being proud of me as well."