JANUARY 28, 2010
Ferrari unveils 2010 chassis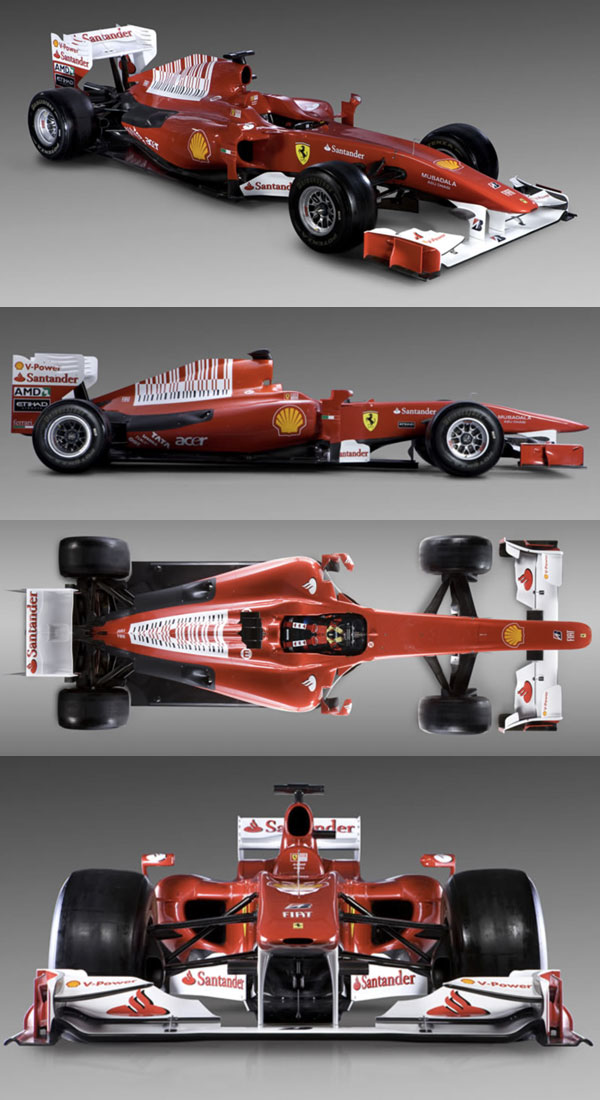 Ferrari became the first Formula 1 team to unveil its 2010 chassis when they launched the F10. After struggling with the 2009 car, Ferrari hopes the new car will return it to form and is the result of switching its attention to the design of this car early last season.

With two-time world champion Fernando Alonso joining Felipe Massa this season, team Prinicpal Stefano Domenicali has high hopes: "This championship will be very important for us. The last championship, for different reasons, was not very positive, that is why we are dealing with this one looking to be competitive - and this is what Ferrari deserves to have."

Ferrari president Luca di Montezemolo said, "This championship will be very important for us. We have two new drivers, why two new drivers? Fernando Alonso, is a twice world champion and we will say after the second one he will have a third one. He already appears among the big champions in F1, it is the right moment for him, for us, he wants to be successful and we want to repeat what the team concept is in our group."

"Felipe, we are talking of a new version of Felipe, but after such a dramatic championship like last year with the accident in Hungary and such a fantastic season, Felipe has all the assets to prove that he is a very successful one, he can prove that he wants to restart his pathway that destiny interrupted it in Hungary. Good luck to both of them."

Fernando Alonso said, "This is my first presentation with Ferrari which is emotional for me. I'd like to thank all the team because they have worked very hard over the last few months to create this dream, this new car. We are ready to face the challenge and take up the responsibility of realising the maximum potential of this car. Felipe and I will be a very strong team, and we hope we will make all the Ferrari supporters around the world very proud to see this car winning the championship."

Felipe Massa said, "This is a special moment because last year was very difficult as I had the accident and everything else that happened. I'm very proud, very happy, and I now want to work more than ever, so I really hope this will be a very competitive car and we will be fighting for the championship."

Ferrari engine chief Luca Marmorini said, "The 2010 season is most interesting. It's a new challenge, new if you consider the last 15 years. The ban on refuelling has made the fuel consumption parameter very important in performance terms. If you consume less it means the car is more lightweight " so the lap time performance is better. We've worked hard on that, not only in our team, and consumption optimisation is team work and it involves players who are interested in the engine management. It involves electronic people and the drivers as well."

"The engine (spec) is frozen which means that the main components cannot be developed, so the possibility of developing performance directly is fairly limited. So we have redesigned the exhaust system. We have modified accessories because the engine will no longer have the Kers as it had in 2009, and we have invested in materials and processes to cut the engine cost."

"We've never forgotten reliability. Reliability can never be forgotten in engine development activity. In respect to that we have optimised and updated our bench simulation techniques. They are increasingly complex and getting closer and closer to the actual reality on the track during the season."