AUGUST 29, 2009
Frank Gardner 1930-2009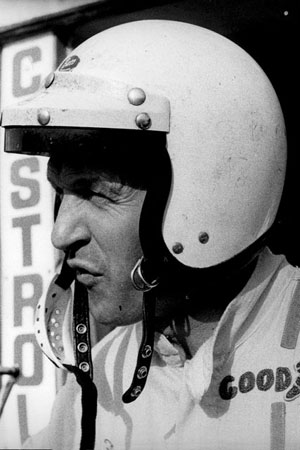 Frank Gardner, one of motor racing's great all-rounders, has died at the age of 78. Gardner was an all-round sportsman in his youth, boxing, swimming and racing motorcycles. He switch to car racing in 1956 with a Jaguar C-Type and was the sports car champion of New South Wales.

He then decided to head for England and began working as a mechanic for Aston Martin before moving on to Jim Russell and finally with the new Brabham organisation, working in Formula Junior. Jack Brabham offered him a fulltime drive in 1963 but he decided to join Ian Walker who was offering both Formula Junior and sports car races. This put Gardner on the map in Europe and in 1964 John Willment put him into Formula 2, while also providing him with cars in touring car and sports car races. He made his F1 debut with a Willment Brabham at the British GP that year. The team planned for a full programme in 1965 but it was not very successful, although he was very competitive in non-championship races and finished third in the Mediterranean GP at Enna in 1965. After that Gardner tended to avoid F1 but continued to show well in other forms of racing, notably in the Tasman Championship and in Formula 2.

He was an ace sports and touring car driver, winning the British Touring Car title on three separate occasions with both Ford and Chevrolet. He was successful in both the Tasman Championship and in Formula 2. In 1967 he was second in the European Formula 2 Championship and in 1971 he won the British Formula 5000 title. He returned home to Australia fulltime in the mid 1970s and was second in the Bathurst 1000 in 1975 and won the Australian Sports Sedan title two years later.

After that he retired from driving and began running teams, initially with Allan Grice and later running the factory BMW team in the Australian Touring Car Championship. In 1980 he wrote the celebrated "Drive to Survive".

During the 1980s the team won the 1985 and 1987 Australian Touring Car Championships with Jim Richards. After the relationship with BMW came to an end he ran a Ford Sierra team for Tony Longhurst and Tomas Mezera, leading to victory in the Bathurst 1000 in 1988. When BMW returned to the Australian Touring Car scene Gardner was once again put in charge and won a string of titles in the late 1990s. He regularly drove the FIA Medical Car at Australian Grands Prix.

A great raconteur and a larger than life character, Gardner will be sorely missed.