MARCH 26, 2009
The diffuser business explained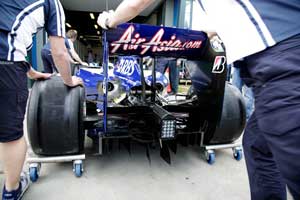 As expected the Thursday in Melbourne was dominated by arguments over the legality of the diffusers of the Brawn, Toyota and Williams F1 cars. The controversial designs were challenged by Ferrari, Red Bull and Renault, who wanted a clarification on the new rules. The scrutineers accepted the designs in the mid-afternoon in Melbourne and the decisions were then challenged but the FIA stewards ruled at around midnight that the three teams had done nothing wrong. The other teams are expected to appeal that decision, while at the same time, there is no doubt that they will have engineers working flat out to understand the concept and make their own versions of the idea.

There were indications that McLaren may already have done that and the car that was presented to the scrutineers on Thursday was not unlike the three cars that were challenged.

What is interesting is that the idea came last year from Super Aguri Racing. When that team shut down, its aerodynamics went to work at Honda where they concentrated on the 2009 car, while the regular aero crew tried to develop the old Honda chassis. One of the aerodynamists went instead to Toyota where a slightyly different system was developed, while it seems that Williams came up with the idea themselves.