MARCH 1, 2009
The new Force India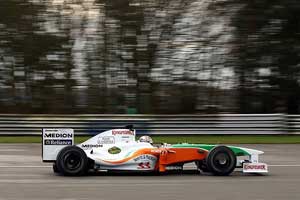 The new Force India VJM02 has run for the first time at Silverstone. It will be officially unveiled later today in Jerez in Spain. The new car marks the start of a new technical partnership with McLaren and Mercedes, who between them have provided the car's engine, gearbox and Kinetic Energy Recovery System, in addition to chief operating officer Simon Roberts. Designed by Mark Smith and his team, under the technical direction of James Key, the VJM02 will race in a green, white and orange livery, the national colours of India.

Team boss Vijay Mallya remains ambitious and says that he he thinks the team can win races in 2010 and hopes to see the car finishing in the points on a regular basis in 2009. Last year the team failed to score a point and high expectations led to conflict within the team management, which resulted in the departures of chief technical officer Mike Gascoyne and team principal Colin Kolles. Mallya is planning to take a bigger role in the team this year.

Whether Mallya's expectations are realistic is a matter of debate.

The team keeps the same driver line-up with Giancarlo Fisichella and Adrian Sutil needing to show rather better than they did last year. The team retains Tonio Liuzzi as its test driver and it is an open secret that the Italian has a contract to race for the team in 2010 and 2011. The 27-year-old Italian has had a frustrating F1 career to date in the political world of Red Bull but hopes to rebuild the reputation he had when he first entered F1 after dominating the Formula 3000 championship in 2004.