FEBRUARY 1, 2009
Ecclestone eyes Portugal's return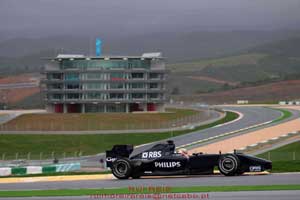 Bernie Ecclestone is showing interest in getting the Portuguese Grand Prix back in the Formula One calendar, now that the country has a new, state-of-the-art circuit in Algarve. For 13 years, between 1984 and 1996 the Portuguese Grand Prix was a very popular venue for teams and drivers, with the Estoril circuit holding the race and becoming a favourite test track during the winter season. But the facilities were never properly upgraded and, in the end, Ecclestone pulled the plug on the deal, cancelling the 1997 Grand Prix and replacing it with the European Grand Prix in Jerez de la Frontera, in Spain, where Michael Schumacher and Jacques Villeneuve famously clashed in the World Championship decider.

For the last 10 years, with the exception of Turkey and Valencia, Ecclestone has been moving the World Championship out of Europe, organising races in Bahrain, Abu Dhabi, Malaysia, Singapore and China, with deals already done to hold races in India and South Korea in the near future.

But now it seems Ecclestone may be looking for new venues in Europe, as he's concerned about the situation of the French, German and British Grand Prix and knows the teams will always demand at least half of the races to be held in Europe. The promised new Yvelines track, at Flins, close to Paris, will not be ready until 2011 even if everything goes according to plan. In Germany there are clear signs Hockenheim will not be able to hold the Grand Prix again and with the Nurburgring unable to finance it more than every two years, the race may disappear if Ecclestone tries to impose a yearly deal with the track.

The new circuit in Algarve is already built and fully functional, having held two F1 tests since it was opened in December, and has been highly regarded by the teams and drivers. The circuit is 30 miles from an international airport with direct motorway access, and has more than one thousand hotels and resorts in the region. There is also the fact that the weather in the region allows Ecclestone to hold a race as early as in April or as late as in October without much risk of being caught by rain or cold.

The big question, inevitably, will be money. If the Portuguese can raise the kind of money being paid in Asia and the Middle East then all things are possible, but if not then he is far more likely to stick with the traditional mainstream events.