JANUARY 22, 2009
Fifty years ago today Britain lost its first World Champion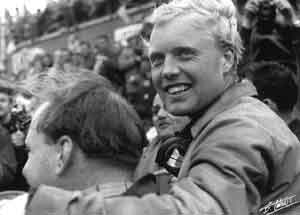 Mike Hawthorn had been crowned World Champion on October 1958 after the Moroccan Grand Prix in which he had been beaten by his title rival Stirling Moss, but had won the World Championship thanks to Phil Hill, who obeyed Ferrari team orders and allowed Hawthorn up to second place. He retired from racing immediately at the age of 29.

Three months later - on January 22, 1959 - Hawthorn crashed his 3-4-litre Jaguar saloon on the Guildford bypass. It is an accident which has never really been explained and many believe that Hawthorn was racing with team owner Rob Walker, who was driving a Mercedes just behind Hawthorn's Jaguar when the accident occurred. Walker always insisted that the two had not been racing and that it was a coincidence that they were running together on the same piece of road.

It was a wet and windy day and Hawthorn was driving a Jaguar which he had often raced in Britain. The car was fitted with experimental Dunlop tyres and had a hand throttle. Hawthorn had seen Walker ahead of him on the road and had accelerated past as they went down the hill by John Coombs's garage. It was reckoned that Hawthorn was travelling at well over 100mph as the car went into the gentle righthander that followed. The rear of the car went away from him and clipped the kerb, sending the Jaguar into a spin and it went sideways into a tree beside the road. Hawthorn died soon afterwards.

There will be a memorial service in his memory at St Andrews Church in Farnham on Sunday, January 25. The service will be held at 13.30.