JANUARY 20, 2009
The new BMW F1.09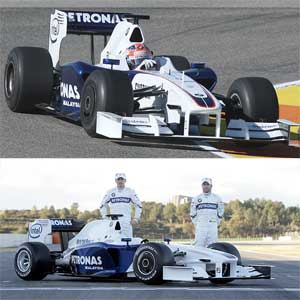 The BMW Sauber F1 Team launched its new F1.09 chassis this morning in Valencia with Robert Kubica doing the first laps with the new car.

The team goes into its fourth season with the ambitious aim of fighting for the World Championship title.

"We have set ourselves the task of further improving our performance relative to the rest of the field," said team boss Dr Mario Theissen. "The 1-2 in Canada and a total of 11 podium finishes in 2008 set an exacting standard. In 2009 we are looking to maintain our first-class reliability record while at the same time enhancing our performance levels so that we can be at the front of the pack on a consistent basis. We are aware that we are aiming extremely high. This is the final step in our development, and that‰ s generally the hardest one to take."

Development work on the new began as long ago as February 2008 because of the major rule changes that were agreed with a completely new aerodynamic package, slick tyres and the introduction of KERS. BMW says it has worked hard to reduce weight in the car to allow the KERS system to be added without losing the ability to have ballast.

The new car is the work of a team of engineers headed by technical coordinator Willy Rampf. The car will now be developed by a team led by Walter Riedl. The team has developed the KERS system in-house at BMW in Munich with the work being led by the team's head of powertrain Markus Duesmann.

The team retains the same drivers as in 2008 with Robert Kubica and Nick Heidfeld being supported by third driver Christian Klien.

"In the three years since the BMW Sauber F1 Team was formed, we have always met the goals we set ourselves and are confident that we can do so again this season," says Theissen. "However, no matter how motivated the team may be and how much development work they have behind them, gauging their progress against the competition has never been so difficult. You can plan your level of performance, but not your results."