JANUARY 19, 2009
The Renault R29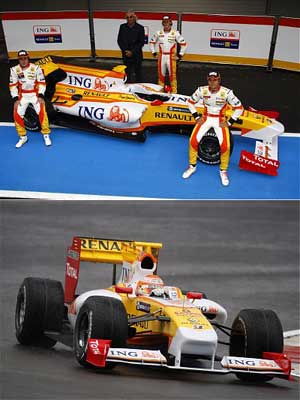 The Renault F1 team ran its R29 for the first time on Monday in Portugal with test driver Romain Grosjean at the wheel. The Swiss driver has moved up to become the team's reserve driver as Lucas di Grassi has moved on. The car has a rather more garish orange and yellow livery but seems to have retained much of the 2008 sponsorship with Elf having been largely replaced by Total, which is the parent company and sister brand of Elf. There remain some traces of Elf on the car. Renault itself also has much larger signage than before.

The development of the car was disrupted as the result of a failed crash test, an indication that the team has been pushing very hard to keep down weight, presumably because of the need to add the KERS system to the car. Renault will be using an electrical KERS system which the team has designed with help from electronics firm Magneti-Marelli. It is believed that the team is also probably working on a flywheel system that may be introduced at a later point if it is found to be better than the electrical version. The team will benefit this year from additional horsepower which has been agreed by all the other teams as last year the team was at a disadvantage because it took the engine freeze rules rather more seriously than did the opposition. This meant that the cars had to run with less wing at most of the races and thus proved to be less competitive than one might have expected. Things changed rather bizarrely towards the end of the seaosn when Fernando Alonso was able to win two races, although even the Spaniard himself seemed unable to explain how the team had managed to catch up in such dramatic fashion.

The signs are that the team will thus be in a more competitive position than in previous years, although there remain some questions over the team's budgets as these are rumoured to have been slashed by Renault because of the current economic difficulties. It remains to be seen whether this will have a dramatic effect.