JANUARY 19, 2009
The new Williams FW31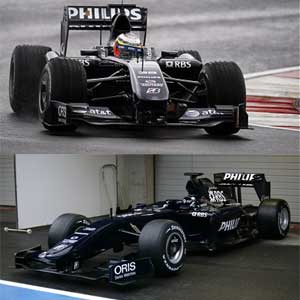 The Williams-Toyota FW31 made its first apperance on Monday at the Portimao circuit in Portugal. The car is liveried in dark blue for the moment at least and features rather fewer sponsors than were visible in 2008. Petrobras and Lenovo are gone (which was no surprise) and all the different brands of the Baugur Group (notably Hamleys) have disappeared. The team still has considerable sponsorship from the Royal Bank of Scotland and Philips has got more space on the car. The team says that the livery is not yet definitive and that we will see the racing colour scheme at the end of February.

The car ran for the first time in the hands of the team's tester Nico Hulkenberg. A much more elegant car than its predecessor, despite the large front wing and narrow rear wing, the Williams will be different from all the other 2009 F1 cars as its KERS system is based not on an electrical storage system but rather on a flywheel, which stores the car's energy as motion. This involves a flywheel which spins at 64,000 rpm but the team has done considerable testing and is convinced that the unit is completely safe, with a carbonfibre containment structure capable of containing enormous pressures in case of failure.

The team has applied for various patents to protect its intellectual property. The device features a continuously variable transmission which provides a seamlessly changing ratio between the inputs and the flywheel. The team says that the energy-efficiency of the unit is almost twice as good as the petrol-electric hybrid systems that have been adopted by the other teams. The F1 systems are limited to 60kw output, but the Williams system is reckoned to be capable of 100kW. The FIA is expected to increase the limit in the future and Williams hopes to be able to take advantage of that. The system weighs 25kg, which should mean that Williams will still have the possibility of moving ballast around inside the car.

The team hopes that its ingenuity will push it back to the top end of the F1 grid after several years struggling after the split with BMW.

The big problem in recent years has been high-speed aerodynamics and it will be important to see whether this has been improved with the team new car.