NOVEMBER 5, 2008
Alonso and Piquet stay at Renault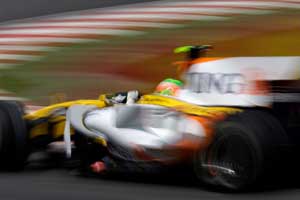 The ING Renault team has announed that it is not changing its driver line-up next year - and that Fernando Alonso will stay with the team for 2010 as well.

"I have decided to stay with the ING Renault F1 team because, as I have often repeated this season, they have always been my first choice and I feel very happy and comfortable with them," he said. "Its a very close-knit team with a competitive andwinning mentality, and also a relaxed and warm attitude, which suits me perfectly."

This will mean that he will be available for Ferrari when the current drivers finish their contracts.

Nelson Piquet being retained is not a huge surprise but it really will be a last chance for the Brazilian who needs to improve dramatically in 2009 if he is to have a longer term career in F1.

"I have learned a lot from my rookie season," he said. "I will aim to put that experience to good use next season. I want to thank the team for their support this year and for the trust they have shown in me for the future."