NOVEMBER 2, 2008
Hamilton is World Champion!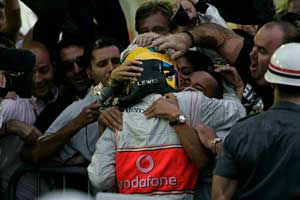 Lewis Hamilton took the World Championship two corners from the finish of the Brazilian Grand Prix - after Felipe Massa had crossed the line, believing that he had done enough to win the title. In a story that would not be out of place in Hollywood, the brave little Brazilian had driven a brilliant race and won it from the front. He knew that he could do nothing more and it was for Lewis Hamilton to lose. And lose it he nearly did. In the closing laps rain began to fall, sending the field scrambling into the pits. At the time Lewis was a safe fourth, holding off a charging Sebastian Vettel. But when they came out of the pits Hamilton was fifth because Glock had gone without a stop, hoping against hope that he could get to the flag on dry tyres. For the next few minutes it looked as though Timo had got it right. The pressure was on Hamilton and on lap 69 he made a mistake as he and Vettel scrambled behind Robert Kubica. Lewis went wide and Vettel went through and suddenly Hamilton was sixth and Massa was the World Champion - with only lap and a half to go.

It was clear in those wildly exciting moments that Lewis was not going to do it. He tried some lunges at Vettel but the German had him covered.

As Massa went up the hill to take the chequered flag the Ferrari pit thought he had won. Everyone thought he had won.

But Glock was slowing and as the cars were zig-zagging toward the line Vettel and Hamilton went past him.

It was amazing. Not even Sylvester Stallone would have dreamed up such an improbable story.

"The race was just perfect," said Massa. "We did everything perfectly. It was such difficult weather at the end and I am so proud about that race. I am so proud of the team and all the people supporting me, more than I ever expected. That is an emotional day for me. You have almost done everything perfectly but then Lewis passing Glock. That's racing. The race finished with the chequesed flag. We finished at the front but unfortunately we missed by one point. We need to be proud of our race. I know how to win and I know how to lose. That is the way it is."

When he climbed from his car Massa bowed to the crowd. There was not a soul in the place who did not feel for Felipe. He could have done no more but he got up and he did. he took defeat with grace and style that one rarely sees in modern sport.

He lost like a champion.