SEPTEMBER 27, 2008
Paul Newman 1925-2008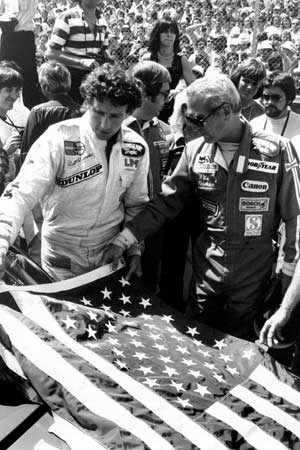 Paul Newman, the film star, racing driver, team owner and humanitarian entrepreneur has died at the age of 83. Newman was the parrt-owner of the Newman Haas Lanigan Racing team in the Indy Racing League.

Born in Shaker Heights, a suburb of Cleveland, Ohio, the son of the owner of a sporting goods store. He briefly attended Ohio University before joining the US Navy, wanting to become a flier. He subsequently served as a radio operator and gunner in torpedo bombers in the Pacific War. After the war he returned to college and graduated in 1949 before moving on to study acting at Yale and then with Lee Strasberg's Actors' Studio in New York City. He made his debut on Broadway and had his first movie in 1954. He played boxer Rocky Graziano in Somebody Up There Likes Me and followed up with Cat on a Hot Tin Roof with Elizabeth Taylor. It was not until the 1960s that he became a superstar with The Hustler (1961), Hud (1963), Harper (1966) and Cool Hand Luke (1967). He teamed up with fellow actor Robert Redford for Butch Cassidy and the Sundance Kid (1969) and The Sting (1973). In addition to his acting career he directed four films, all of them featuring his wife Joanne Woodward. He has won numerous awards, including an Academy Award, two Golden Globe Awards, a Screen Actors Guild Award, a Cannes Film Festival Award, and an Emmy award, along with many honorary awards. His most recent role in film was as the voice of Doc Hudson in the Pixar animation "Cars".

He discovered racing in 1969 while working on the movie "Winning" and made his first professional start in 1972. he raced at Le Mans in 1979 and finished second and spent much of his time driving a Nissan for Bob Sharp. He has close links with Nissan in the 1980s, appearing in adverts for the company. He continued to race until he was into his seventies.

Newman co-founded Newman Haas Lanigan Racing in 1983 and the team has since won almost 100 CART and IRL races and championships with drivers Mario and Michael Andretti, Nigel Mansell, Cristiano da Matta and most recently with Sebastien Bourdais.

In 1982 he established Newman's Own, a line of food products, beginning with salad dressing but later expanding into a wide range of products. The procceds of the business, which have exceeded $250m, are all donated to charity. He was also a major supporter of the Hole in the Wall Gang Camp, a residential summer camp for seriously ill children, which he co-founded in 1988. It is named after the gang in his film Butch Cassidy and the Sundance Kid. The camp serves 13,000 children every year, free of charge.

Newman was diagnosed with lung cancer in the course of 2007. He was twice married, the first marriage to Jackie Witte lasted between 1949 to 1958 and had a son and two daughters. The son Scott died of a drug overdose in 1978, which resulted in Newman opening the Scott Newman Center for drug abuse prevention.

In 1958 he married actress Woodward and they had three daughters together.

The news was announced by Newman's Own Foundation, which issued the following statement: "Paul Newman's craft was acting. His passion was racing. His love was his family and friends. And his heart and soul were dedicated to helping make the world a better place for all. Paul had an abiding belief in the role that luck plays in one's life, and its randomness. He was quick to acknowledge the good fortune he had in his own life, beginning with being born in America, and was acutely aware of how unlucky so many others were. True to his character, he quietly devoted himself to helping offset this imbalance. An exceptional example is the legacy of Newman's Own. What started as something of a joke in the basement of his home, turned into a highly-respected, multi-million dollar a year food company. And true to form, he shared this good fortune by donating all the profits and royalties he earned to thousands of charities around the world, a total which now exceeds $250 million. While his philanthropic interests and donations were wide-ranging, he was especially committed to the thousands of children with life-threatening conditions served by the Hole in the Wall Camps, which he helped start over 20 years ago. He saw the Camps as places where kids could escape the fear, pain and isolation of their conditions, kick back, and raise a little hell. Today, there are 11 Camps around the world, with additional programs in Africa and Vietnam. Through the Camps, well over 135,000 children have had the chance to experience what childhood was meant to be.

"We will miss our friend Paul Newman, but are lucky ourselves to have known such a remarkable person."