SEPTEMBER 7, 2008
FIA Stewards take away Hamilton win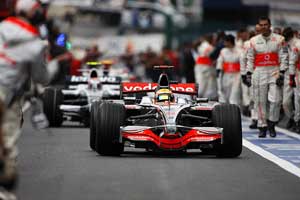 The FIA Stewards have given Lewis Hamilton a 25secs penalty for cutting a chicane during his battle for the lead of the Belgian Grand Prix with Kimi Raikkonen. In doing so they have handed the victory to Felipe Massa, who did not deserve to win the race. The three FIA stewards - France's Nicholas Deschaux, Surinder Thatthi of Kenya and Belgium's Yves Bacquelaine - decided that Hamilton gained an advantage when he was obliged to avoid a collision with Raikkonen while challenging for the lead, ran across the chicane and then carefully backed off and allowed Raikkonen to repass him.

At the next corner Hamilton was able to scramble ahead and, after another gripping skirmish at Pouhon that lap, he went on to win as Raikkonen blew his chances of victory by first spinning and then crashing out of the race in the damp conditions. Hamilton made no such mistakes and took what was an impressive victory.

It was such a shame that a great race ended with such a poor decision, particularly given that in the wild final laps of the race, Raikkonen did a number of things that might also have been punished. He appeared to use the high-friction run-off areas at Pouhon to gain advantage and close right up to Hamilton. He then clearly overtook Hamilton at a point where there was a waved yellow flag. He did not mean to do it, he was avoiding a collision with Nico Rosberg, who was rejoining the race after a spin, but it is also clear that Hamilton was doing everything he could do to avoid gaining an advantage from what he had done.

"We look at all our data and also made it available to the FIA stewards," McLaren said in a statement. "It showed that having lifted Lewis was 6kmh slower than Kimi as they crosed the start finish line. Having passed the lead back to Kimi, Lewis repositioned his car, moving across and behind Kimi to the right-hand line and then outbraked him into the hairpin. Based on this data, we have no option other than to register our intention to appeal. We are a racing team and will now focus on Monza, with a view to extending our lead in the Drivers' World Championship."

More important than the decision itself was the reaction to it in Formula 1 circles. There was a very clear weariness as it simply adds to the widely-held belief that Ferrari is always favoured by the decision-makers, particularly if McLaren is involved. The FIA says this is not the case, but such denials are treated with scant credibility by those in the F1 business, who have seen too many decisions that appear to have the same outcome. The big question after Spa is not whether the decisions was right or wrong - it is entirely possible that the FIA Court of Appeal will overturn it. This may help to give the Court of Appeal a little more credibility.

The most important question, however, is how the FIA can restore faith in those who make such decisions at the race tracks. In order for that to be achieved there will need to be a complete change of personnel and a new system of stewarding - and then there will need to be several years of decisions which seem more even-handed than they have in the last 10 years.

The saddest thing of all is that it appeared that the FIA had moved in this direction a few years ago when it employed Tony Scott-Andrews, but his tenure ended abruptly and his replacement is not seen in the same light.

Without such changes F1 will continue down the path towards a situation in which it is perceived to have the same kind of credibility as professional wrestling.