JULY 4, 2008
British GP for Donington!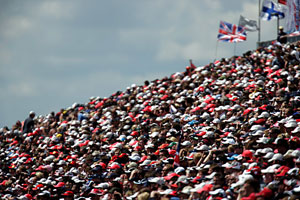 The British GP will be at Donington from 2010, at least according to a press release this morning from the FIA. The announcement says that a contract has been signed. There are a number of very odd aspects to the announcement, not least that it has been made by the FIA, which is not supposed to be involved in this sort of thing. This is clearly a case of the announcement casting FIA President Max Mosley in a good light, after his recent difficulties. This aso suggests that the relationship between Mosley and Bernie Ecclestone may be easing because if there was a serious fight going on Ecclestone would hardly give Mosley the chance to gain political capital from such an announcement.

"After many years of patient but fruitless negotiation with the BRDC, we are delighted that Bernie [Ecclestone] has nevertheless been able to ensure that the British Grand Prix will keep its place on the Formula 1 World Championship calendar," Mosley is quoted as saying. "We understand that the development programme planned for Donington will achieve the very high standards we and FOM expect from a modern F1 circuit. Finally, British Formula 1 fans will get the Grand Prix venue they deserve."

The announcement is not unlike one in May 1999 when it was announced that Brands Hatch would host the British GP from 2002 until at least 2012. A few months later Brands Hatch was sold to the sports promotions company Octagon, largely based on the F1 contract. Octagon ended up with badly burned fingers and had to pay large sums of money to both the Formula One group and Silverstone to get out of its commitments.

The Donington announcement is obviously headline-grabbing stuff and will be very disruptive for the BRDC as it strives to get through the maze of planning permission and funding that has slowed its progress in recent years. Silverstone has not had the benefit of rich individuals ploughing in their own money, but it is hard to see how anyone can imagine that this is an investment that makes sense.

The Donington owners say that this will require an investment of nearly $200m but say that this will be led by "a private investor who is also a large shareholder". Donington says that it has worked closely with the local and national authorities in consideration of the planning requirements that are necessary.

This means that there is no planning permission as yet. To go through the necessary processes and have time to do the building work needed is unlikely in just two years.

The kind of contract on offer from Formula 1 requires a downpayment of two years fees in advance, a payment of something in the region of $50m, so one must assume that the owners of Donington are serious. The big question is whether or not they will find, as Octagon did, that they have bitten off more than they can chew.

The question of the infrastructure is one that does not fit in with Ecclestone's previous attitude to Silverstone. Access to the Northants track is not the best, but nor is it the worst and there has been huge investment in improving it. Donington is much more like Magny-Cours than Silverstone and one wonders how the F1 circus will respond to another track where access is troublesome, finding accommodation hard and even eating is a problem. There are added problems in that Donington is located next to a regional airport. This means that buildings cannot be high and that there are problems with aviation fuel coating the track.

When all is said and done however the deal has been signed and Doningon appears committed. One can only hope that the people behind the deal are being realistic in their expectations.

One thing is fairly clear. Donington is not going to get any more government support than did Silverstone. The only way that attitude is going to change is when F1 comes under new management, the current generation having crossed paths with the politicians back in the 1990s with disastrous effect.