APRIL 22, 2008
The future of Fernando Alonso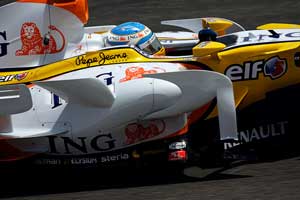 Fernando Alonso has not been very competitive this year in his Renault and the Spaniard is already beginning to speculate about the future. He says that his goal is to get back to a winning car and he told the El Pais newspaper in Spain that there are several teams who could offer him that opportunity, naming Ferrari, BMW, Williams and Toyota.

Alonso said that his primary option was to continue at Renault and make the Renault a winning car. He said that the team is making progress but there are no signs that this will make much difference in comparison to the other teams as everyone is making progress all the time.

Ferrari President Luca di Montezemolo soon responded to Alonso by saying that Ferrari is not interested in signing the Spaniard, as a Raikkonen-Alonso pairing would be a dangerous situation.

"I want two equal driver who work together," he said, hinting that Alonso may have blotted his copybook with his antics last year at McLaren.

We hear that several other teams are not very keen on the Spaniard for similar reasons, although all seem to accept that he is a useful addition to any team if he is the undisputed number one driver.