APRIL 15, 2007
Marlboro explains tobacco liveries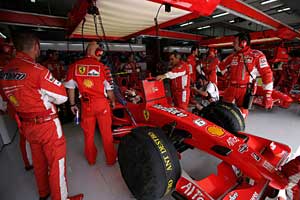 Formula 1 viewers around the world may have noticed that the Ferraris racing in Bahrain featured Marlboro branding, despite the fact that tobacco advertising was supposed to have disappeared from the sport at the end of 2006, as part of an agreement known as the "International Tobacco Products Marketing Standards", signed by Philip Morris (Marlboro's parent), British American Tobacco and Japan Tobacco on September 11, 2001.

That agreement received very little coverage at the time because of the events that took place that day in New York but the deal existed nonetheless and in it, the three companies pledged to "comply with these standards as quickly as possible, and in any event no later than 12 months from the date that it subscribes to the standards or, where existing contractual provisions prevent earlier compliance, in any event by December 31, 2002".

According to Maurizio Arrivebene, the Vice-President of Marlboro Motorsport Marketing, the agreement was "not successful" because "the self-imposed restrictions envisioned by these voluntary marketing standards were not broadly adopted, provided no gain to society and put us at a competitive disadvantage."

History, however, does not agree with the Marlboro interpretation of what happened to the agreement.

In February 2006 Japan Tobacco announced its intention to withdraw from Formula 1, "in order to keep its commitment to the International Tobacco Products Marketing Standards, an agreement made in September 2001 by representatives of Philip Morris International, British American Tobacco and Japan Tobacco which included the declared intention to end sports sponsorships on December 1, 2006 on the understanding that the sports involved required 'above-average physical fitness for someone of the age group of those taking part'."

In October last year British American Tobacco announced its withdrawal from F1, saying that it was "honouring a commitment to leave F1 by the end of this year - a move consistent with the International Marketing Standards which it voluntarily subscribed to in 2001 along with its two major international tobacco company competitors".

Marlboro's interpretation of the agreement thus seems to be out of step with those of the two other signatories. There is not much that can be done about this but the move is unlikely to go unremarked in the sometimes rabid world of anti-tobacco campaigning.