JANUARY 25, 2007
Honda unveils the new RA107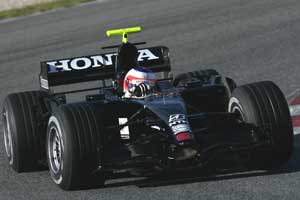 Honda has launched its new RA107 in a black and white testing livery, planning to get the maximum coverage by launching the car at this stage and the livery some time next month. The RA107 is, not surprisingly, a development of the same theme as the RA106.

"This year we aim to build on the latter part of the 2006 season and successful pre-Christmas testing, during which we completed more testing than any other team," Nick Fry said. "We intend to benefit from continuity of drivers and key personnel, combined with performance improvement designed into the new RA107 using our full-scale wind tunnel which was completed last season, to move closer to realising our World Championship ambitions."

The RA107 is the result of 10 months of design, development and manufacture which began almost as soon as the RA106 made its race debut. It combines the efforts of the Honda staff in Brackley and Bracknell with longer-term projects from Honda R&D in Tochigi in Japan.

"The main design challenge has been achieving improved aerodynamic efficiency whilst accommodating tough new safety regulations specific to the car's crash structures," said Shuhei Nakamoto, Honda F1's Senior Technical Director. "We have been able to achieve this objective at the same time as reducing the overall weight of the car. The RA107 also boasts some innovative packaging solutions, particularly around the exhaust and radiators, which allow for much tighter bodywork within what is generally a nicely-integrated aerodynamic design package."

The team started tested yesterday with Rubens Barrichello at the wheel.

"We had an encouraging first day of running and my first impressions were good ones," Barrichello said. "I am impressed by how the car and the team have evolved during my first year here and it is clear that the RA107 is a step in the right direction."